REVIEW: 'Arthur & George' brings Holmes-like tale to 'Masterpiece' on PBS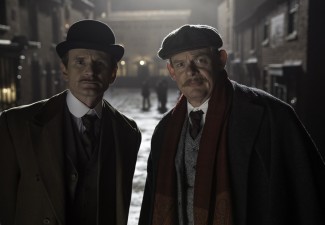 Arthur & George, which recently aired on PBS and is now available on DVD and Blu-ray, is a cleverly constructed and thrillingly executed miniseries that follows the real-life Sir Arthur Conan Doyle as he seeks justice for a man he believes to have been wronged. It's based on a true story and the novelization by Julian Barnes.
Martin Clunes plays the detective … er, writer. That's the joy of Arthur & George. Even though Sherlock Holmes, Doyle's most famous creation, is nowhere to be seen in the three-part miniseries, the detective's presence can still be felt. Doyle, perhaps tired of writing the books and greeting his adoring fans, decides to pick up the magnifying glass himself and explore the world much like his literary creation. If audience members blink twice, Arthur & George will look almost identical to a period retelling of a Holmes mystery.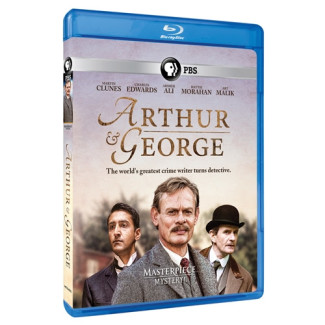 If Clunes is the Holmes-like character, then Charles Edwards, of Downton Abbey fame, is the Watson-like charter, or Alfred Wood. The two gentlemen take on the case of George Edalji (Arsher Ali), an Anglo-Indian solicitor who was found guilty of mutilating livestock. He served his jail sentence for three years, and his reputation is permanently tarnished, essentially preventing him from finding employment as a solicitor. He seeks the help of Doyle and Wood to clear his name and find the true animal butcher.
Doyle recently lost his wife and is trying to evolve his relationship with love interest Jean Leckie (Hattie Morahan). In this somewhat floundering state, where he's unable to find a purpose in life, Edalji's story is dropped in his lap. The famous writer is instantly impressed with the solicitor, taken in by his professionalism and attention to detail. Edalji shows respect but also remains steady in his pursuits. A revealing scene shows their respective characterizations. Edalji, politely but surely, lets Doyle and Edwards know that they have mispronounced his last name. Edwards rolls his eyes, while Doyle seems even more impressed by the young man.
The plot is nicely paced and mostly easy to follow. It's a classic whodunit that holds one's attention from beginning to end, and that's thanks in no small part to Clunes, Edwards and Ali. They are solid actors who imbue their respective roles with a sense of purpose and dignity.
Doyle is the risk taker in the group. He's willing to open doors without permission and ask penetrating questions; even the local police are subject to his furrowed brow. Edwards is far more hesitant a detective and wishes that his employer would simply give up the chase to find the true slaughterer. Edalji is mysterious but kind; quickly his purported innocence is called into question by Edwards, so it's up to Doyle to figure out his true motives.
One of the reasons Arthur & George works so well is that, even though it follows the tried-and-true formula of a Sherlock Holmes mystery, its subject matter is pulled from the headlines, and the topics discussed are still present in today's society. Edalji, for example, appears to be the victim of discrimination, a person who loses his battle with the close-minded community who resists his cultural background.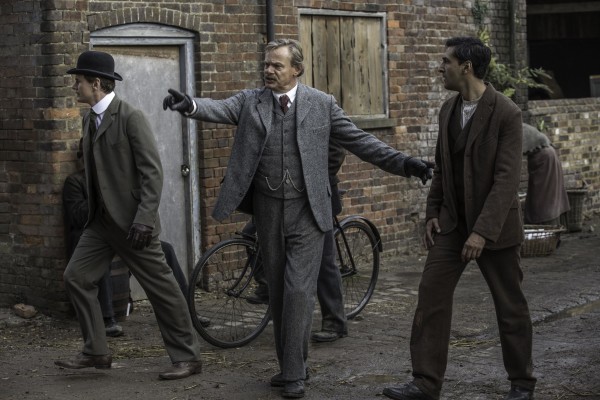 The miniseries loses some of its steam in the third act. Most of the subtlety is dropped, and Arthur & George becomes solely about finding the slaughterer. There's no problem giving the audience what they most desire, especially in the finale, but the added number of suspects feels almost like cheating compared to the careful characterization and layered plot of the first two installments.
The costume and production design departments deserve much credit for effectively recreating the settings and dress of the time period. Although, for Masterpiece fans, such attention to detail is expected.
Arthur & George, in the same vein as Holmes, Maples and Poirot, is a welcome addition to the TV detective landscape.
By John Soltes / Publisher / John@HollywoodSoapbox.com
Arthur & George is now available on DVD and Blu-ray. Click here for more information.