REVIEW: Great Jack O'Lantern Blaze brings thousands to Hudson Valley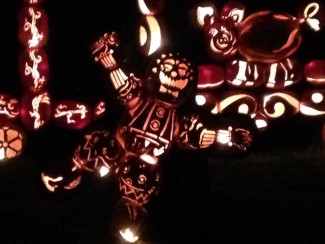 CROTON-ON-HUDSON, N.Y. — The Great Jack O'Lantern Blaze is an annual Halloween tradition in the Hudson Valley that draws sold-out crowds to the historic Van Cortlandt Manor, a few miles north of the legendary Sleepy Hollow, N.Y. The artistry and eerie surroundings of this mega-event are something to behold, and if attendees are able to score a ticket, they'll share the experience of the Blaze with throngs of people.
Most dates for the Blaze sell out in advance. As of Oct. 25, the only remaining dates for 2015 include Sundays, Nov. 8 and 15. Luckily, many of the pumpkins at the Halloween extravaganza are hand-carved "art pumpkins," which preserves them for several weeks after the holiday. However, even though many of the pumpkins aren't real, the artistic skill needed to carve them is all real … and beautiful (brought to life by a team of artists). The depicted scenes are worthy of close inspection as visitors pass through the shaded pathways of the Blaze. At times, the carving is finely detailed and wholly original. There's more creativity in these pumpkins than most other generic displays this time of year.
Visitors start by shuffling their way into the crowded parking lot and then walking to welcoming tents. Ubiquitous holiday merchandise is for sale (check out some of the Hudson Valley originals), plus plenty of donuts, brownies, cookies and apple cider. Once visitors' time slot is called, they are able to enter the Blaze.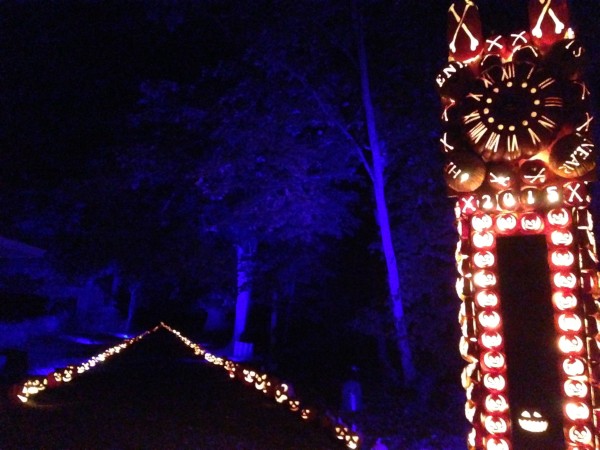 Typically, the first hundred yards are slow paced and set the mood. Carved jack-o-lanterns are accompanied by atmospheric music emanating from hidden speakers. There are several elaborate displays throughout the exhibit, which takes place on the estate grounds of the manor house (i.e. dress warm; it's all outside).
Spoiler alert: Visitors can expect to see dinosaurs, classic Universal monsters, snakes and a carnival train, among many other creations. The highlight needs to be the actual re-creation of The Legend of Sleepy Hollow, with the headless horseman, flying pumpkins and a mysterious road that seemingly goes on forever.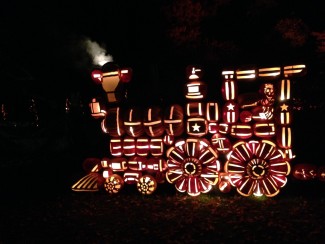 Because so many visitors flock to Croton-on-Hudson, N.Y., every night of the Blaze, expect some traffic. However, the timed entries help move people in and out. Still, there's no getting away from crowds within the Blaze itself. When visitors need to form skinny lines on the paths, bottleneck traffic is guaranteed. It's best to visit the jack-0-lanterns with a good dose of patience, and listen to the helpful advice of the workers (take pauses to the left, walk to the right). Most visits take 30-60 minutes.
The exhibit is perfect for families, although the general darkness and eerie atmosphere may dissuade the youngest from enjoying themselves. This is not a haunted house, so there's no worries about costumed ghosts, jump-out scares or horror-filled scenes.
Ticket prices are $20-$25 for adults, and $16-$20 for children 3 to 17. Children less than 3 are free. Paid members of Historic Hudson Valley (like this writer) receive discounts and free tickets. Again, the only remaining dates are Sundays in November, and even those dates only have a few spots available later in the evening.
The Great Jack O'Lantern Blaze is a hoot and a half, a Hudson Valley tradition that couples Halloween-infused eeriness with intricate artwork. If chosen dates are sold out, consider Historic Hudson Valley's other offerings: Horseman's Hollow at Philipsburg Manor in Sleepy Hollow, N.Y.; Jonathan Kruk's storytelling performance of Washington Irving's The Legend of Sleepy Hollow (all dates sold out in Sleepy Hollow, N.Y.); or The Legend Behind the Legend, a special tour of Irving's Sunnyside mansion in Tarrytown, N.Y.
By John Soltes / Publisher / John@HollywoodSoapbox.com
Click here for more information.
Revised