INTERVIEW: Marky Ramone continues his 'Punk Rock Blitzkrieg'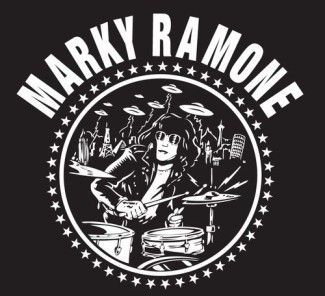 Marky Ramone is as iconic as they come. With his dark shades, leather jacket, long hair and drumsticks at the ready, the legendary percussionist of the Ramones is a living testament to the enduring legacy of punk rock.
Marky joined the New York City band after its original drummer, Tommy, decided to leave. That decision to travel and record with the Ramones changed Marky's life. He would spend 15 years with Johnny, Joey and Dee Dee, helping to bring to life such classics as "Do You Remember Rock 'N' Roll Radio?" and "I Wanna Be Sedated." Memories of his time with the Ramones — lasting two stints, 1978 to 1983 and 1987 to 1996 — are the subject of Marky's new memoir, Punk Rock Blitzkrieg: My Life as a Ramone. Within these pages, fans can find wild stories of the drummer's upbringing, his music career before the Ramones and his latest work with Sirius XM.
"Well, 15 years being in the Ramones started it and 1,700 shows, but it's about the times also before I joined, what was happening in New York and what led up to the creation of CBGB's and the fact that there was really no place for punk rock to be played, except there in Max's Kansas City," Marky said recently in a phone interview. "But I did five albums before I joined the Ramones, so there's other history also involved and other bands that I played in. But the main story, obviously, the bulk of the book, is my experience in, you know, the Ramones and up until now. So it's a very comprehensive book because of the time that I spent in the group."
The book opens with a vivid memory of Marky and a few of his band mates getting delayed on the tucked-away highways of Florida before a big gig. The Ramones story perfectly encapsulates the adventures to come and the personalities of his colleagues.
"Why did I put it [that story] in the beginning?" he asked. "Well, because it didn't reveal everything. Obviously, there are chapters in there that are a lot more intense, but it was just a setup for the reader to see all the, well, craziness, just getting involved with this huge fire, with my friend living out there, then having to go through alligator alley, getting to the show in a pickup truck in the back and then jumping out of the back in the front of the line of the people. It was very absurd and very surreal."
Marky was first signed to a record label at the age of 17 with the hard rock band Dust. He had the chance to play with his two friends, Kenny Aaronson and Richie Wise for the Karma Sutra / Buddha label.
"We liked playing heavy," he said of that first foray. "We liked playing hard, and we were all from Brooklyn, a very hard neighborhood to grow up in. It's the equivalent of Liverpool in England, a lot of import/export on the piers. That was happening at the time around the Brooklyn areas. Surrounded by water, so, you know, it brought a lot of bars and intense fighting in the streets and in the bars. I mean there was a lot of stuff going on, even after school with bullies. You always had to watch your back. So what we did was we put that intensity in our music."
Marky said that at that time, when he was a teenager, he had to stand his ground, but the drummer was quick to point out that he deplores violence.
"Dust was one of the first heavy metal bands in America," he said. "And we did two albums, and I never went to school. I went to summer school and night school. That's how I finished high school, but I did get a diploma. And I framed it and gave it to my parents."
Marky predicted that if his fellow band mates at the time were a few years older, they would have known more about the business and possibly lasted a bit longer. Still, the members went on to illustrious careers. Wise produced for Kiss, and Aaronson is a "sought after studio bass player."
"So I just wanted to do more albums," Marky said. "And I did a blues album with Johnny Shines, who was a good friend of Robert Johnson. He grew up with him in the Mississippi Delta. He was a real blues guy, which I really love doing because I really like the blues, too, besides punk and surf music, etc. … And then it was New York City. So I just started hanging out there at CBGB's and Max's, and auditioned for the New York Dolls, and then I joined Wayne County and Richard Hell and the Voidoids."
Marky said he met Hell at Max's Kansas City, an establishment that was the "competition of CBGB." Their collaboration resulted in the seminal 1977 album Blank Generation.
"There were things on that album that we continually worked on at rehearsal," he said. "We would tape the rehearsals, and I would go home and say, 'Hey, let's put a different accent here. The guitar break should be a little longer.' Richard would agree. I would talk to Bob Klein about it, too. He would agree. They would say, 'Mark, why don't you do this here? Do that there?' I'd go, 'Hey, you're right, you know.' So that's how we kind of worked on that album. That's why it came out so cool. I liked the dirtiness and the sludge-sounding song, 'I Could Be With You in Another World' at the end of the album where it was just so punk sounding at the time that I probably play that every week. But we did it, and we loved making that album. And the 'Blank Generation' turned into a punk anthem."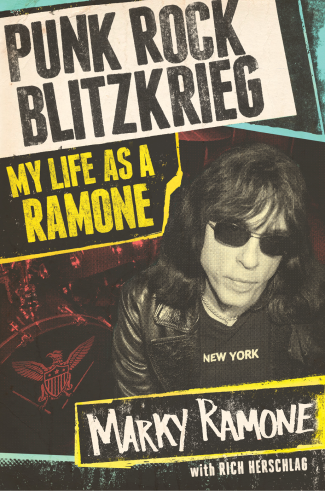 Marky's introduction to the Ramones was several years in the making. The band would often see Marky and Dust in Greenwich Village. Plus, they hung out together at CBGB on Manhattan's Lower East Side.
"They knew my drumming," he said. "They liked my look. If you look at the first Dust album cover you can see how I'm dressed, and the brick wall on the front and the leather jacket on the back. That really didn't matter because that's how I dressed all the time, but they were into that look. And they said, 'Let's get him on.' I did three songs with them at the rehearsal studio, and when I joined the group, we were friends. It wasn't like all of a sudden I had to get to know them. You know, I already knew them."
One of his first songs to work on was "Sedated," which he believed ran too slow in its original form. "There was no drum solo or anything," he remembers. "And I just felt it was a little bland, so I said to them, 'Let's speed up the tempo a little bit, put a little drum fill in the break of the song coming back into the chorus,' which I did. It sort of put the icing on the cake, and that's how I worked on that album."
That album was Road to Ruin, and the rest, as they say, is history. The band enjoyed much success with Marky on the drum set, especially after 1979's film Rock 'N' Roll High School. "Curiosity seekers and rock 'n' roll fans went to see the movie, and you know punk rockers," he said. "Yeah, we started getting offers everywhere. I mean 115 shows a year, I would say, something like that. … So besides that, you have to rehearse an album. You have to do obviously the videos, and there are other things you have to do. So you didn't really have a moment's rest. We didn't want to rest. We wanted to continue to play and play and play, but after a while, in any kind of situation, you need to have some space. But that's what we did. After Rock 'N' Roll High School came out, that put us on the next tier."
His first five years of the band were memorable, but they ended in a realization of something darker going on. In 1983, Marky was asked to leave the Ramones. "I wasn't a druggie," he said. "I loved beer. I liked martinis. I liked wine, and I was a periodic drinker. I didn't drink everyday, but when I did, I had a lot of fun. I don't regret it, but I realized I was f***ing up. I was glad that I was told that they didn't want me in the band anymore looking back because if I didn't get that I could have been dead, or I could have killed somebody. And I said let me continue on the path I always wanted to be on, and that was just to play, you know, continue playing, be in good shape and making myself a good example."
Marky said there were "signs and indications" of his problem with alcohol, including accidents and run-ins with the law. He knew it was time to hit the pause button.
Luckily, in 1987, Marky rejoined the Ramones and remained with the band until their final concerts in the 1990s. Marky's recollections in the book include a lot of thoughts on his cherished band mates, including their difficulties with health problems and eccentricities. "We all had our own quirks," he said. "We're all different people. Maybe that's what made the sound. Maybe that's what made the band."
Today, sadly, Marky is the only surviving member of the Ramones,who have been inducted into the Rock and Roll Hall of Fame. Tommy, Dee Dee, Johnny and Joey have died, although their music and the memories live on. Among those memories, Marky has several highlights. He said he loved the Ramones' album Rocket to Russia, which features Tommy. Other favorites include Road to Ruin, End of the Century and Pleasant Dreams. There's also a special place for Mondo Bizarro.
When the band's playing days were coming to an end, it wasn't sudden news. "Well, we — me, Johnny and Joey — were in a hotel room in '94, and we discussed the end," Marky said. "So the end just doesn't come immediately. You've got to do the last shows all over the world, so for two years we played as our last show. So in '95 we made Adios Amigos, knowing that we wanted to tour with an album out. So that's why we put that album out because it was really like a goodbye."
He added: "The thing is it was the right time to stop. Joey was already feeling the beginnings of the cancer, and, you know, John had decided that it was enough already. I, for one, wanted to. I had 30 original songs written, and I was writing for the Ramones, as a Ramone, on the last two albums, so I wanted to do my own thing."
Today, with his successful radio show on Sirius XM, his own touring schedule and branded tomato sauce for sale, Marky has the ability to meet Ramones fans and celebrate the history of the band. "I still see all of them come to the shows," he said. "I mean not all of them, but the ones that can still go out and have a good time. Because there is a whole new generation that comes to the shows, and they weren't even around when we stopped. It's amazing it keeps going and going and going."
By John Soltes / Publisher / John@Hollywood Soapbox.com
Click here for more information on Marky Ramone, who will be appearing at Chiller Theatre in Parsippany, N.J., Oct. 23-25.