RECAP: NY Comic Con invades Big Apple with exclusives, big stars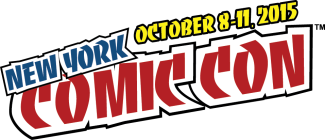 NEW YORK — The New York Comic Con has come and gone, but the memories linger. Most of the major players were present and accounted for among the packed corridors of the Jacob Javits Center on Manhattan's West Side. From Marvel to DC to Valiant to Dark Horse to Image and Skybound, comic book fans had a lot to enjoy.
Although the celebrities who grace the main stage are often the focus of the convention, the best experience of enjoying NYCC is by walking among the vendors, artists, industry booths and fellow fans. It's certainly exciting to see the likes of David Duchovny, Clark Gregg and Chloe Bennet, but how can one turn down a sketch from a talented artist, grab some freebies from a generous worker at a comic booth or buy some convention exclusive toys? That's where the magic of NYCC can be found.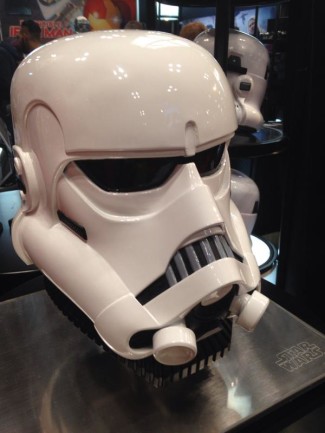 Here are some memories …
• Dark Horse has one of the best booths at New York Comic Con, and the team of workers knows how to welcome fans. On two sides, they had comic creators signing autographs, often handing out free posters and comics for those wandering by. Word is Frank Miller even stopped by.
One of the most important announcements (and autograph signings) came when Dark Horse revealed Brittney Williams will help bring The Legend of Korra to life in graphic novel form. She'll join writer and co-creator Michael Dante DiMartino with the book.
Williams signed some sketches of Korra on Sunday. What started as a wristband event eventually became an open signing for fans to meet the artist who is working on one of the most anticipated releases of 2016.
Dark Horse also had some exclusives (many, in fact). Some of the coolest included a crown from Games of Thrones and variant cover of Fight Club #2.
Well done, Dark Horse.
• Nearby was Valiant Entertainment, which hosted a motley variety of talented artists and writers at its centrally located booth. One of the most exciting titles is Bloodshot Reborn, and artists Mico Suayan and David Baron commanded long lines for their free sketches. Fred Van Lente, the man behind Archer & Armstrong, welcomed fans as well.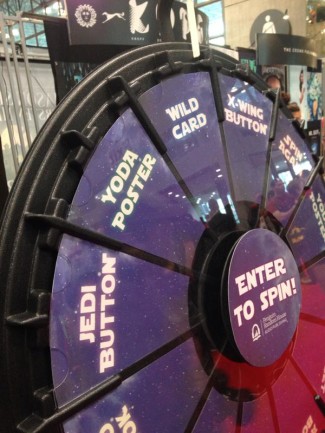 • Image Comics and Skybound, always sandwiched in between Dark Horse and Marvel, offered a gluttony of Walking Dead comics and props. They know how to sell a product … and sell it well. Image has definitely become a major draw (at times, the major draw) of the industry side of the convention. When Robert Kirkman, the man behind The Walking Dead and Outcast, signs for fans, everything seems to stop.
"Hey, man, is that Kirkman?"
"Yeah, let's go get an autograph."
"You need a wristband."
"Are there any left?"
"It's Robert Kirkman, man. Do you think there's any left?"
Nick Dragotta, an awesomely talented artist, signed copies of East of West, an awesomely beautiful book on the apocalypse. Those who purchased a $50 edition of Book One received a free sketch of the character of their liking. Greg Rucka was in attendance at the booth, plus the talent behind the new book Paper Girls.
Image and Skybound are simply tops.
• DC had some big news as far as their movies, comics and TV shows are concerned. However, the company still takes the outside-the-main-hall location as fans enter and exit. This makes it extremely difficult to find their booth and see the Batman props. Still, DC is an enormous draw, one of the only companies that can get away with being in the entrance hall.
Certainly a highlight had to be The Dark Knight 30th anniversary panel (I didn't attend) featuring Jim Lee, Andy Kubert and others. Other panels focused on Batman: The Bat-Universe and MAD.
• Marvel is big and bad when it comes to its NYCC pandemonium. Fans line up for show exclusives, artist signings, free comics and whatever might happen on their mini stage.
One issue to consider: The problem has less to do with the content and more to do with the logistics of navigating this booth. There are almost no times throughout NYCC when visiting Marvel is an easy endeavor. The worst times are when the workers throw out T-shirts and freebies into the crowd. It's a wonderful gesture, but the hoopla is deafening and too crowded. At these times, it's enjoyable to watch Marvel from afar and offer comments on materialism.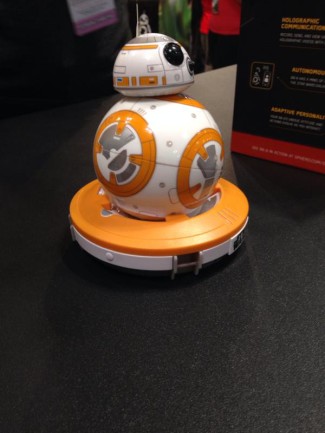 That said, Gregg and Bennet stayed for a loooong time to meet fans, and it was almost guaranteed that a fan would receive an autograph and perhaps a selfie with the Agents of SHIELD stars.
• Viz Media had a great show. They brought, arguably, the most important guest with the first Stateside appearance of Naruto creator Masashi Kishimoto. The legend, who officially ended Naruto this month, signed autographs around New York City and was set to visit the Hammerstein Ballroom and introduce the latest film in the series, Boruto: Naruto the Movie.
The company also offered some of the best exclusives of the convention, including Naruto collectible figures, a $50 Naruto poster, pre-street releases and the title character's iconic bandana. By Sunday, most of the exclusives were sold out.
Other items surrounded Tokyo Ghoul and Sailor Moon. Lines to buy the merchandise were, at times, monumentally long. Ditto for the lines to spin a wheel of chance and win exclusives, including posters of Naruto and Tokyo Ghoul.
• Bandai offered some awesome Power Rangers toys. Tickets were needed, although on Sunday, anyone could walk up to the booth window. Eventually, they sold out. Funko had perhaps the longest line; tickets were required (except for late on Sunday), and the exclusives were numerous and marvelous to behold. From The Nightmare Before Christmas to The Walking Dead to Sesame Street to Star Wars, the toy offerings were every child and adult's dream.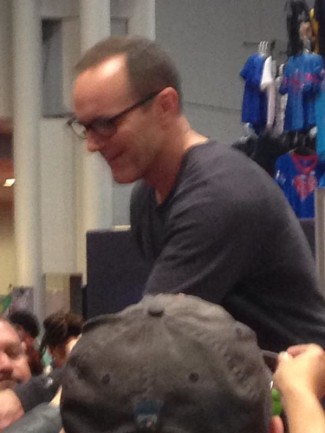 The Marvel Collectors Corps was also in full action, offering their past mystery boxes filled with merchandise from the following franchises: Secret Wars, The Avengers and Ant-Man. Up next for the subscription service are Marvel's Villains and Star Wars: The Force Awakens.
• Many of the major book publishers were selling some of the hot titles of the fall. On Sunday, books were oftenT given out free or buy one get one free. Harper Collins, for example, offered a free, signed print from Terry Gilliam, of Monty Python fame, plus his new memoir was buy one get one free.
DK Publishing had plenty of their huge encyclopedias dedicated to major franchises. The Star Wars books are simply gorgeous but also heavy to carry around at the convention. A good suggestion for next year: Let fans leave their purchased books behind the counter for pickup at the end of the convention, especially if offering buy one get one free. DK was also cool to allow trivia contests to fans of superheroes and Star Wars. Winners walked away with free books.
Plenty of authors populated the Penguin, Del Rey Books and Random House booths. Terry Brooks was a major draw, probably because his The Shannara Chronicles is being adapted by MTV.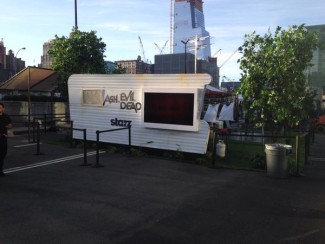 • Cirque du Soleil's new show based on James Cameron's Avatar allowed fans to take a picture and see how they transform into one of those iconic blue creations. Toruk: The First Flight starts next month.
• Ash vs. Evil Dead, the new TV series, welcomed fans outside with a full-on display that harkened back to the days when the vehicle from The Walking Dead had that prime spot a few years ago.
• Todd McFarlane is easily the "man of the convention." This legendary figure, who worked on Spider-Man and Batman, offered so much engaging content at his McFarlane Toys booth. The creator of Spawn would draw sketches, with a camera team nearby, and project images on a big screen for the throngs to see. He would then ask the crowd a trivia question and give away the sketch.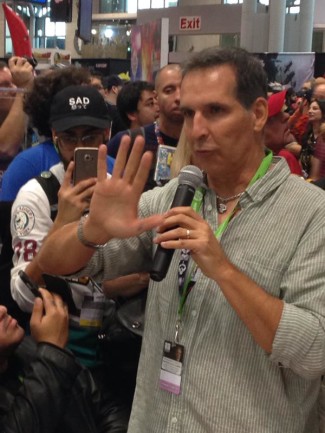 For those unlucky enough to score a drawing, McFarlane would often stick around and sign autographs. And, I mean, stick around. He never seemed to say "no" to a selfie or scribble of his iconic signature. With his toys and many pieces of art, McFarlane is an approachable legend, one of the good guys in the industry who now gives back.
New York Comic Con, which returns Oct. 6-9, 2016, is quite simply the best convention in the world.
By John Soltes / Publisher / John@HollywoodSoapbox.com