INTERVIEW: Horror icon Barbara Crampton on 'We Are Still Here'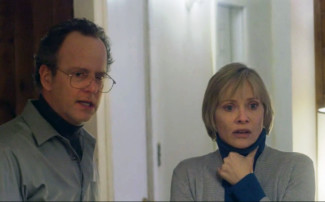 Barbara Crampton is an actress well known to horror aficionados. Her long résumé includes such classics as Re-Animator, From Beyond and the recent, critically-acclaimed flick You're Next. This year, she's starring in We Are Still Here, a haunted house thriller from writer-director Ted Geoghegan.
In the film, Crampton plays Anne Sacchetti, a grieving mother who recently lost her son in an automobile accident. She and her husband, Paul (Andrew Sensenig), move to an old house in the New England countryside to get away from people for a while and live with their memories. However, after moving into the house, the locals and their secrets begin to change the Sacchettis' perception. Larry Fessenden, Lisa Marie and Monte Markham co-star in the ghostly film.
"Well, Ted Geogahn, the writer-director, was and is a publicist, and he had been working on You're Next," Crampton said of how she joined the project. "So I met him a couple of years before this, and, you know, you meet somebody sometimes, and you just hit it off. And we became quite good friends very quickly, and we live in different cities. But I had seen him at some film festivals and some conventions, and we just kept in touch. … He sent me an email and said, 'I've written this script, and I would like your take on it and what you think of it.' So I read it, and unbeknownst to me, he had me in mind for the part of Anne but didn't tell me that initially."
After the film received some financing, Crampton found herself joining the small ensemble to tell this scary, scary tale.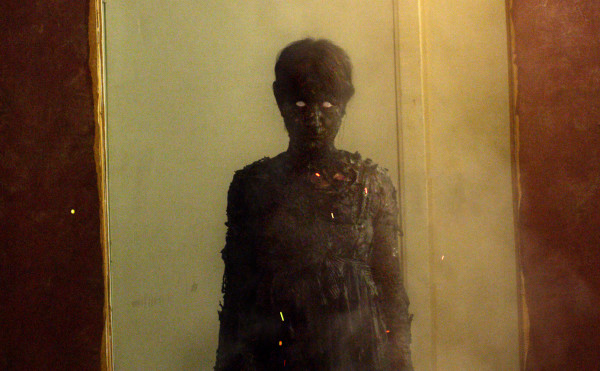 "You know, it's a haunted house movie, and so the house is a very important part of the story and almost its own character in the movie," she said of the filming process. "And so just being there in the house and, you know, having the feelings of being haunted by my son who had passed away and potentially something else that's lurking in the house was something that was easy for me to play because I thought the environment that they picked was so wonderful. I loved the house that we worked in, and it was quite a big house and had a lot of different rooms, and was creaky and old. And it felt like its own character, so it was easy to work in that environment because of the story. It was the right place for the story."
To prepare for the role, and the grieving that was necessary to play a mother who lost a son, Crampton interviewed a couple of people to understand their perspective on such a difficult experience. "I did interview two different women who have lost children in auto accidents — one in an auto accident, one by a motorcycle accident," she said. "And actually these women were women that I knew in my life. … After [one of the mothers] told me the story of her son, and I asked her, you know, I said, 'Actually I'm doing this movie, and I'm wondering if you'd be willing to, you know, talk to me. And can I ask you some specific questions because I need some help to, you know, get the emotion right for what you went through.'"
Crampton had pages of notes from these interviews, and she would often read those notes in the morning before filming a particular scene. "I just wanted to keep that loss, that sense of loss with my character, you know, at every moment," she said. "So that was something that was very important to me to work on for the character."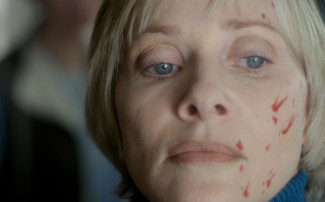 With such a small ensemble it was imperative for Crampton and the other actors to have a close working relationship. Luckily, they got along well during the filming. "I think sometimes when you don't have chemistry with somebody, it's your job to make that chemistry happen," she said. "I didn't have to make it happen with him [Sensenig] at all. It was just there. We became quite good friends early on, and when you're working with somebody that close, and you don't know them, you have to find things that you really like about a person. And you have to really open yourself up and try to be close. I mean we were a married couple that had known each other for years and had a deep tragedy."
The marriage depicted in the film sometimes struggles but also feels realistic. There are pauses between sentences and sometimes the couple talk over each other. Crampton learned of this possibility for tension from the interviews she conducted. "And sometimes the marriage suffers, and people don't make it," she said. "You almost want to blame your partner for the loss or the feelings, and the grief is so strong that it's almost hard to be with your partner after that. And a lot of marriages break up, and he [Geoghegan] wrote that into the script. But he also wanted us to be a loving couple and to try and be as supportive of one another as we could."
This level of introspection into the character is a common part of Crampton's process as an actor. If a backstory is not given, she invents one that fits the role. From where the person grew up, went to school, how she met her partner, this information is used to layer the character and make the role more real for the audience.
"If I wasn't an actor, I probably would be a psychologist because I really like people, and I like to understand why people do the things they do and to be able to justify their actions or non-action," she said. "And so it's exciting for me, and I always try to make the characters as smart as I can make them and try to figure out where they're vulnerable, and where they're smart and what frightens them. And there's definitely a lot of material in this particular movie for me to work on."
As Crampton's career has progressed, she has become more of a horror-film fan. At this point, she's part of the horror community, making frequent stops on the convention circuit and filming several movies a year. She will appear at this month's Chiller Theatre in New Jersey, an event that will also host The Walking Dead's Michael Rooker, Adam West, Burt Ward and Marky Ramone.
"I've been actively watching movies that are classics that I didn't pay attention to or maybe I missed over the years," she said. "So I'm really trying to catch up and do my homework, I'd say, over the past few years, and I'd say I'm more of a fan now of the genre than I ever was."
Audiences have responded in kind. Crampton has received critical praise, which sometimes is a rarity in the genre. Her resurgence was cemented when You're Next was released a few years ago. Directed by Adam Wingard and written by Simon Barrett, the film put the actress in touch with a new wave of horror filmmakers.
"I had a great time working on that movie, and some of those people that I worked with are really just auteurs in their own right," she said. "I mean Joe Swanberg and Ti West, I really wasn't aware of them as much until I worked with them. And then I looked up their work, and I started watching some of the movies that they had been parts of. They were fantastic to work with. And Amy Seimetz, and all of those people, everybody on the set was extremely collaborative on that movie, and even in different scenes they were reworking things and changing lines. And Adam Wingard was grabbing the camera from his DP and shooting some of the stuff on his own. It was an extremely exciting set to work on, and Simon Barrett, who's the writer, would frequently come up and say, 'You know, do you like what you're saying in this scene, or is there something you want to say differently? How are you feeling about this?' … And I think they hit the ball out of the park. I'm extremely grateful to have come back on the scene in that wonderful movie."
Often when Crampton appears for media interviews she is billed as a "scream queen," which is a title she doesn't mind. "If somebody wants to call me a scream queen, great," she said. "I just think it's such a broad term now. I've certainly screamed in a lot of horror movies, and been running away and running toward terror and horror, so if they want to qualify me as a scream queen, OK, I'll take it. There's some wonderful other women that are in that category and in that group. I think, for the most part, it's said lovingly and in a positive light, so I'll take it."
By John Soltes / Publisher / John@HollywoodSoapbox.com
We Are Still Here is currently available on DVD and Blu-ray. Click here for more information.