INTERVIEW: Montego Glover plays iconic Fantine in Broadway's 'Les Misérables'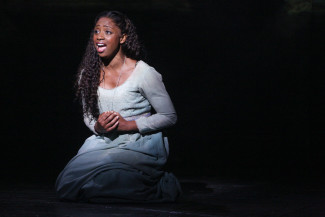 Montego Glover, the Tony-nominated actress from Broadway's Memphis and It Shoulda Been You, has taken over the iconic role of Fantine in the revival of Les Misérables at the Imperial Theatre in Midtown Manhattan. The character, one of the most popular in musical theater history, offers the actress quite the dramatic arc throughout the show. She also has the chance to sing "I Dreamed a Dream," always a highlight of any Les Mis production.
"Yeah, it's going beautifully," Glover said recently during a phone interview. "It's an iconic role in an iconic piece of theater, and it's just thrilling to step into every night."
The actress met the crew of the successful musical a few weeks ago, sang a bit for them and then landed the role. "And the way it happened was really kind of unbelievable and a whirlwind," she said. "I got a phone call saying I had the job. I closed It Shoulda Been You that night. I flew out to do a symphonic concert over the weekend and started rehearsals for Les Misérables on the following Tuesday. Yeah, it was really a Friday-to-Monday whirlwind."
When approaching a new role, Glover usually has "wonderful, excited anticipation." She was excited to dive into the world of Fantine, a down-on-her-luck mother who is forced into prostitution to care for her baby and herself during 19th-century France. That daughter, Cosette, plays an integral part in the journey of the musical's hero, Jean Valjean. The Victor Hugo masterpiece, adapted for the stage by Alain Boublil and Claude-Michel Schönberg, is one of the strongest and most successful titles in the producing credits of legendary theater figure Cameron Mackintosh.
"I'm drawn to her because I find her compelling," Glover said of Fantine. "She is complex, and loving, and deep, and feeling, and beautiful and tragic. She is spectacularly tragic, and there's something redemptive about the entire arc of her that I am very much drawn to. That's how I approach it, with this sense of wonder and excitement."
After every performance, Glover discovers a new quality of the character or the world she inhabits during the French Revolution. It's a constant sense of self-discovery, eight times a week. "And so at the end of the show, I'm what I call spent," she said. "But spent in the best possible way. I come up with gold. It's like mining for gold, and at the end of the day, you have it. It's hard work, but it's totally worth it. And you get the prize at the end."
One of those prizes is surely the chance to sing "I Dreamed a Dream," which the actress called "gorgeously constructed." The song offers boundless depth and chance to display full-on vocal power. "It's challenging, and it requires a great deal of vocal agility and skill," she said. "But that's the kind of thing that makes the work interesting and makes the sound so memorable."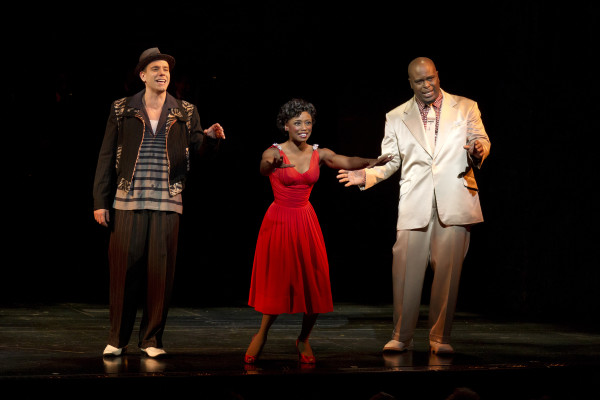 Glover is one of the most sought after actresses on Broadway. Ever since that memorable performance in Memphis she has been in demand in New York City and around the nation. Every so often, she's prone to pinching herself as she's living the professional life so many actors yearn for.
"I must be one of the luckiest girls in the world, and if someone had said to me six weeks ago, by the way, you're going to end up playing Fantine in the Broadway company of Les Misérables, I would have said, 'That's absurd,'" she said. "But it totally happened, and it's happening every night. And I get to pinch myself every single time we start the show."
Glover's passion for musical theater goes back to when she was a child. At a young age, she was interested in music, opera, symphonies and the ballet. She would often sit in front of the television set and watch public television's offerings of dance and theater performances.
"That was really my first exposure as a very young child to this kind of work, and I remember being transformed by the experience, just really getting lost in the music, or the playing of the music, or the singing of the music or the dance of the music," she said. "That idea of storytelling, in so many ways, really spoke to me, and it stuck because if you fast forward in time, at the age of 12, I had the great fortune to begin studying acting. And it felt completely natural, and I felt very much at home with the process of storytelling, of acting, of digging into the lives of different people."
Her early education in the field included a soup-to-nuts practicality. She and her young colleagues would learn their lines, build their costumes, construct their sets and apply their makeup. She became a person of many talents. "I remember the very first production that we did, standing at the edge of the play, at the end of the play, with my fellow student company members, and we were taking a bow," she said. "I just remembering standing there, holding the hands of my friends and colleagues, looking out at the faces of faculty, and parents and friends, and thinking I'm so happy. This is exactly what I want to do, and that's never changed."
She added: "What I've always known is that I wanted to act. I wanted to tell a story, and it so happens that I cut my teeth, I was introduced to storytelling in the theater. So, in many ways, yes, the theater is my first love, but the larger picture is acting is my first love, is my point, is my focus. So as long as I get to do that, I'm happy to work in television, or film, or music, or the theater or music theater."
Throughout her journeys on Broadway, Glover has relied on and become a part of the legendary theater community. Broadway knows how to come together when times are tough and when times are soaring. They are a network of like-minded professionals who live an unconventional life of eight performances a week. Theatergoers pay good money to watch them … be.
"The nature of our work as actors means that we know each other and interact with one another in very close ways," Glover said. "I mean you may fall in love with a person eight times a week, or you're the villain to someone else's hero eight times a week. It requires that we, as people, build communities and build relationships based on the work that we do together. So that activity naturally leads to a community outside of the work, and what's wonderful about New York City is that in these 13 blocks in Midtown, in Manhattan, you have these jewels, these houses that have stood for years, and years and years, that are the homes of all these relationships that have been formed. And we're close to each other. I can walk out of the stage door at the Imperial Theatre, and walk 10 steps to the stage door of the Richard Rodgers and see my fellow community members who happen to be working on, for example, Hamilton at the moment. Or right across the street to the Lunt-Fontanne and see my fellow community members who are working on Finding Neverland."
The Broadway community has welcomed back one of its stars — not that she ever left.
By John Soltes / Publisher / John@HollywoodSoapbox.com
Click here for more information on Les Misérables on Broadway.