REVIEW: 'Misunderstood' looks at parenting mistakes from child's perspective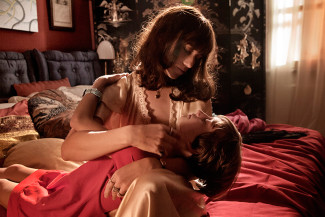 Aria, the main character in Asia Argento's new IFC Films release, Misunderstood, is a young girl trying to figure out the many obstacles of life. Unfortunately her parents, played by Charlotte Gainsbourg and Gabriel Garko, are not the best influences. They often use Aria (Giulia Salerno) as a pawn piece in their never-ending game of marital strife. The child doesn't get along with her sisters, and sometimes has no one to turn to when dealing with so many new experiences.
This is a sad, sad tale.
The movie features quality acting from Salerno, Gainsbourg and Garko. Their dialogue is smart and harsh, and that's thanks to screenwriters Argento and Barbara Alberti. These three actors are able to bring depth to their respective roles, although the spotlight largely falls on Aria.
Misunderstood can be frighteningly frank, although a humorous situation is never too faraway. At times, because of her bad influences, it seems like Aria is raising herself. However, being that her parents are so hot and cold, dishing out praise and disgust on a whim, it's difficult to tell what's the best environment for the inquisitive young mind.
Gainsbourg's Yvonne is an artist, while Garko's Padre is a well-known actor with frequent autograph seekers. They are both successful, and this puts added pressure on Aria, especially among her schoolmates. The young girl has a best friend, but after losing her companionship, Aria has no idea how to deal with the loss. She doesn't get along with the immature boys who follow her home from school, and her older sisters never help her throughout the coming-of-age story. She's alone, and that's made abundantly clear when she wanders the streets of Rome (circa 1984) looking to connect with someone who can offer a helping hand.
As actors, Gainsbourg and Garko are wonderful. Their characters, though, feel unreal and so self-involved that it's hard to take them truthfully. It's difficult to find commonality to everyday people when they are living such celebrity lives. They float around from artistic project to artistic project, obviously caring more about contracts than proper parenting. They don't like each other that much, and their eventual fissure causes Aria's yearning for something steady in her life.
Salerno is the real find among the actors. She has a tough, almost adult-minded role. Aria is unique and strong, but at the end of the day, she feels let down and somewhat scared. Salerno shows all of these emotions, and more, when depicting the main character. As the title suggests, this little girl is misunderstood by her parents, her sisters and her friends. However, the movie asks the question, every so deceptively, whether "understanding" is an obligation of a parent. It certainly seems so after watching the negativity that pervades this household. One wants to reach out and help Aria, let her know everything will be OK, that there will hopefully be more positive influences later in life. But she's young and dotes on her parents, even when they let her down and send her packing on a moment's notice.
Argento builds a believable world, even though the parents seems too far-fetched as dramatic creations. She gathers expert performances and knows how to let the story evolve into heartfelt drama and realistic humor.
The film will remind audiences of What Maisie Knew, an expertly rendered drama starring Julianne Moore and Alex Skarsgård. That movie, also depicting a young girl stuck with poor influences in life, is based on the famous Henry James novel. It appears that adults disappointing the young people of the world will continue to offer filmmakers enough material for many more years, and that's a sad truth.
By John Soltes / Publisher / John@HollywoodSoapbox.com
Misunderstood
Directed by Asia Argento
Written by Argento and Barbara Alberti
Starring Giulia Salerno, Charlotte Gainsbourg, Gabriel Garko, Carolina Poccioni, Alice Pea and Anna Lou Castoldi
Running time: 105 minutes
Not Rated
Rating: