INTERVIEW: Lawrence Block returns with 'Girl With the Deep Blue Eyes' book
Lawrence Block, the celebrated mystery and suspense writer, is as prolific as ever. He's well known for his successful series, which include appearances by his famous characters Matthew Scudder, Bernie Rhodenbarr, Keller and Evan Tanner. Standalone novels are frequent as well, and his latest is The Girl With the Deep Blue Eyes, recently released by Hard Case Crime.
The new novel follows Doak Miller, an alum of the New York Police Department who is working as a private eye in Florida. After he falls for a client (the title character), Miller is faced with some serious questions and consequences for his actions. The Girl With the Deep Blue Eyes joins his several other books for Hard Case Crime, including 69 Barrow Street, Strange Embrace and a reprint of his first novel ever, Grifter's Game.
Recently Hollywood Soapbox exchanged emails with Block about his new novel and his decades-long career. Questions and answers have been slightly edited for style.
How has it been working with Hard Case Crime? Have you enjoyed the experience?
It's been nothing but a joy. Charles Ardai has been a passionate fan of my work for ages, and in fact chose one of my first Gold Medal novels as his first Hard Case title. Over the years he's reprinted quite a few of my early books; some needed editorial work, and he showed his great skill in putting them right. A few years ago, when I wrote a very edgy novel called Getting Off, I chose to publish it with Hard Case, not least because of his enthusiasm for and understanding of the book. It was Hard Case's first original hardcover novel. Before I was halfway through writing The Girl With the Deep Blue Eyes, I knew Charles would be the ideal publisher for it; the book is a contemporary descendant of the Gold Medal titles of the 1950s, with its noir concerns set in an up-to-date universe, and it really cried out to be a Hard Case book. And Charles loved it, as I was pretty sure he would, and as I write these lines, on the day following the book's 9/22 release, I think we're both happy with the way it's all shaping up.
When you began writing The Girl With the Deep Blue Eyes, did the character of Doak Miller emerge first and then you built a story around him? Or perhaps another character or the plot points came first?
I got a portion of the idea suddenly and spontaneously, without really looking for it. And over the next couple of weeks I found myself thinking about it and letting it come together. I didn't write anything down, just let the process happen. By the time I sat down to write, I had a pretty good sense of Doak and knew how [the] book would open, though not where it would go. And, happily, everything worked.
One thing I didn't know when I sat down at the computer was that the sexual element in the book would reach such intensity. But from the very first chapter, it was clear that was the way the book wanted to go. (My Hollywood agent has incisively pitched the book as "James M. Cain on Viagra.") And this aspect, incidentally, made it an easy call to go with Hard Case. Charles had already demonstrated in publishing Getting Off that he's fine with erotic candor, and I knew he wouldn't shy away from it in The Girl With the Deep Blue Eyes.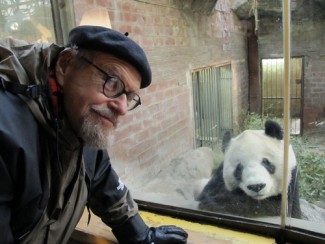 What attracted you to setting the story in Florida?
I don't know.
Most of my decisions as a writer are made not intellectually but intuitively. Something will occur to me, and if it feels right I'll go with it. I must have known early on that Doak's story would take place in Florida, because that much was set in my mind when I saw down to write the opening sentences.
I did live in Florida for a couple of years in the late 1980s, but we were in Fort Myers Beach, a long way south of where Doak is based. Quite a while earlier, in 1976, I drove north from Naples, Florida, and stayed overnight at a motel in Perry, which is approximately where The Girl With the Deep Blue Eyes is set. All I recall of the experience is that the motel had orange wine for sale, and gave out sample cups of it when you checked in. It was one of the worst things I've ever tasted.
There's no orange wine in the book.
To be a good crime, mystery and suspense writer, does one have to know and learn from the greats in the genre (such as the ones you documented in The Crime of Our Lives)?
I don't know that one has to do anything. In my own case, it seemed obvious that I ought to immerse myself in the work of others in the field who seemed to know what they were doing. Having sold a story (You Can't Lose) to Manhunt, a crime fiction magazine, I went out and read everything I could find in the field — thousands of stories and hundreds upon hundreds of novels. I'm sure my own work benefited from the experience.
The Crime of Our Lives is a collection of pieces I'ver written over the years, all of them related to the crime fiction genre. Some are my recollections of absent friends — Donald E. Westlake, Evan Hunter, Ross Thomas, Henry Kane, Charles Willeford. Others are critical pieces commissioned by magazines — Dashiell Hammett for Japanese Playboy, Raymond Chandler for GQ, an overview of American crime fiction for American Heritage. And some are introductions I was asked to write for various books. I put everything together and published TCOOL out of a reluctance to see anything go to waste, and the book's reception has been very gratifying. But I don't know that anybody needs to read it, or the works of the writers references therein. (Still, what could it hurt?)
From standalone books to your many series, how do you know where to devote time? Do you work on multiple books at the same time, or move from project to project?
It's said that Unitarians believe in one God at the most. Similarly, I work on one book at the most — and nowadays spend most of my days and weeks and months between books.
And as to how I decide what that book will be, it's a matter of finding something I feel like doing. That doesn't happen very often these days.
The dialogue in your books, including The Girl With the Deep Blue Eyes, can be so distinctive and revealing to better understand the characters. Do you like writing the dialogue portions? It seems to be a particularly challenging art of not only providing characterization but maintaining the pace of the book.
I think my characters reveal and define themselves — to me as well as to my readers — by what they say and how they say it.
By John Soltes / Publisher / John@HollywoodSoapbox.com
Click here for more information.