REVIEW: 'The Visit' brings horror elements to strange tale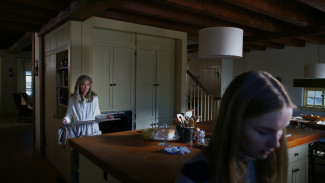 M. Night Shyamalan is back. Well, he never left. However, now he's back with a fairly awesome movie that will remind audience members of his earlier, more celebrated films, including The Sixth Sense, Unbreakable and Signs.
The Visit is not as good as his career best, but the scary flick packs enough horror punches to work on several levels. Starring Deanna Dunagan and Peter McRobbie as two grandparents who display odd, creepy behavior, the movie is an exercise in methodical pacing, creepy bumps in the night and a revelation that is truly satisfying.
Becca (Olivia DeJonge) and Tyler (Ed Oxenbould) have been shipped off by their mother (Kathryn Hahn) to visit their grandparents for the first time. A falling out several years ago left their mother estranged from the family farm; however, it appears reconciliation is possible, and the kids are sent as the first envoy in the peace talks.
The action takes place over the course of one week at the grandparents' bucolic country home, with Shining-like title cards announcing the days of the week.
At first, Becca and Tyler get along with Nana and Pop Pop. There are cookies baking and fresh snow on the ground outside; they grandparents are a little eccentric, but all seems to be well, like this were some Norman Rockwell painting.
By Tuesday of the week-long stay, doubt begins to seep in. Becca is an aspiring filmmaker and has decided to film the entire visit like a documentarian. It's her "footage" that provides the film with its intimate feel. Tyler is an aspiring rapper who substitutes the names of famous female singers for profanities. They are inquisitive, adventurous children, and this causes them to come into conflict with the grandparents, especially at night when Nana likes to roam the house and cause a stir.
Becca tries to reassure Tyler that all is well; this is what old people do. However, the actions of the grandparents becomes increasingly strange and violent, and the kids are forced to face reality and figure out a way to survive.
Throughout the narrative, Shyamalan is able to enhance the drama with jump-out-of-one's-seat moments and intimate camerawork. There is definitely a heightened tension that he achieves.
The Visit doesn't work on all levels. The "found-footage" technique, with Becca's cameras providing the camera angles, feels like a narrative cop-out. Why would she continue to document the horror? Would she actually hold the camera like that? There's no reason why The Visit needs to be a "found-footage" thriller, but one can forgive the director this small transgression.
The performances are perfect. Dunagan and McRobbie are the right degree of creepy, and DeJonge and Oxenbould are smart, effective actors with tough roles. There are a few side characters, but most of the action rests on these four central parts. Kudos to Shyamalan and his team for choosing such awesome actors to bring this oddity to life. Dunagan can be truly scary, and DeJonge/Oxenbould make for an impressive hero/heroine duo. McRobbie's part is slightly underwritten.
The Visit is not going to be his career best, but one hopes it brings Shyamalan back from the depths of critical derailment.
By John Soltes / Publisher / John@HollywoodSoapbox.com
The Visit
Written and directed by M. Night Shyamalan
Starring Deanna Dunagan, Peter McRobbie, Olivia DeJonge, Ed Oxenbould and Kathryn Hahn
Running time: 95 minutes
Rated PG-13 for disturbing thematic material including terror, violence and some nudity, and for brief language
Rating: