COMMENTARY: 'Hannibal' needs to live on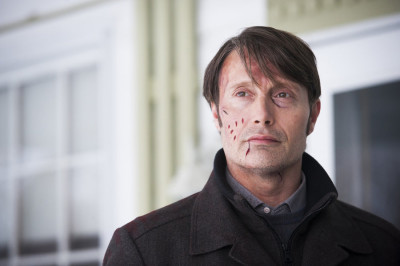 Hannibal, the gruesome and brilliant NBC show from Bryan Fuller, may soon end its remarkable run. The show is currently in the middle of its third season, but it appears NBC isn't interested in a fourth. Will the serial killer drama survive total cancellation, or survive to see another day?
No matter its future, Hannibal deserves to stay on television. The series, based on the original story by novelist Thomas Harris, has proved to be a welcome surprise on network television. The characters are finely drawn and intricate creations. The plot is convoluted but simple enough to follow from episode to episode. The dialogue is terse and cerebral. The style, atmosphere and music are unsettling and original. There's nothing like Hannibal on television, especially when it comes to the programming on CBS, FOX, ABC and NBC.
The cast includes Hugh Dancy as Will Graham, an FBI profiler who has an unhealthy friendship and fascination with Dr. Hannibal Lecter (Mads Mikkelsen). Technically Graham works for the good guys, and Lecter is one of the bad guys. But the first two seasons had much crossover in this department. Lecter was employed by the FBI as an expert in the troubling field of understanding a killer's mind. Graham, in order to solve some heinous crimes, would go in and out of hallucinations that sometimes turned violent. As the series crept along, Lecter learned to respect Graham, while Graham began to understand the true identity of Lecter.
The doctor, you see, is a cannibal. He not only stages elaborate murders, but he also takes some trophies for his kitchen. These scenes, mostly appearing in seasons one and two, have earned Hannibal the deserving title of most gruesome show on network television. There's a lot of blood spilled and guts on display. Truth be told, some of the killings and their aftermath are over the top and unbearable to watch. There's only so much dread an audience member can take.
The series' strongest point is with that atmosphere. The writers and directors let the action slowly evolve (perhaps too slowly for some viewers), and the dialogue is thoughtful and eerie. There's not a murder a minute. Instead, the characters talk, talk, talk — in therapy sessions, in cars, in Graham's countryside home, at Lecter's dining-room table. They talk about life, death, existence. Sometimes the conversations turn pretentious, but most of the time this dialogue saves the show from being solely a bloodfest.
The acting from Dancy and Mikkelsen is excellent. It's almost as if the audience is watching some elongated chess match between the two actors. Laurence Fishburne, Caroline Dhaveranas and Gillian Anderson are also strong in their supporting roles.
It's actually understandable (although not acceptable) why Hannibal has seen a short life on NBC. It's edgy and outside the box, and that simply doesn't work anymore on network television. The show doesn't fit comfortably into the 46-minute, commercial-break mold. Perhaps the series was doomed from the start and would have been more at home on cable. It's a shame that these actors will only have three seasons together. There's a lot more exploration that can be done.
NBC, or some other network, should resurrect this dark, solidly interesting tale of macabre. But buyer beware: The show is disturbing.
By John Soltes / Publisher / John@HollywoodSoapbox.com