REVIEW: Pixar's 'Inside Out' is cleverly smart, endearingly poignant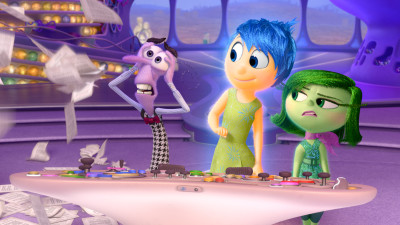 Disney-Pixar films are the stuff of legend. From Toy Story to Wall-E to The Incredibles, the company's cinematic offersings are almost perfect (I'm looking at you Cars 2). Their latest is the clever classic Inside Out, which charts the emotional buildup and breakdown of a young girl who has moved from Minnesota to San Francisco. The movie is a hallmark event — not for its humor, not for its visuals, but for its important message to children on what emotions are, how to deal with them and how to receive the message that everything will be OK.
Amy Poehler provides her voice talents to "Joy," the main emotion of Riley (voiced by Kaitlyn Dias). Joy is a bright pixie-like creation who seems almost like a 2015 version of Tinkerbell. As her name suggests, she's joyful all the time, finding the positivity in difficult situations. In Riley's mind, she tries to control the action, savoring the many memories, pictured as marbles, that are sent in every day.
Joining Joy are four other emotions, including Sadness (Phyllis Smith), Fear (Bill Hader), Anger (Lewis Black, naturally) and Disgust (Mindy Kaling). They're not enemies of one another, although Joy would like to run the show and keep the other emotions at bay. The problem is when Riley and her parents (Diane Lane and Kyle MacLachlan) need to move the family from the land of ice fishing and hockey games to the big city on the Bay. Although Riley, at first, has a lot of Joy for the visit, reality sets in, and Sadness, Fear, Anger and Disgust take over.
It's up to Joy to turn around Riley's emotional upheaval; otherwise, the young girl may lose some of her most precious memories, including thoughts of her former imaginary friend (Richard Kind).
The animation style is enjoyable although not terribly original. Inside Out doesn't have as distinctive a look as the other Pixar films; however, the scenery of Riley's mind is an amusement park of colors and creativity. From the "Thought Train" to the maze of long-term memories, the setting is key to the film's success. There's more creativity in five seconds of Inside Out than most other movies coming from Hollywood. For example, while navigating the maze of long-term memories, Joy and Sadness find a janitorial crew clearing out some old memories, including president's names no one knows and old phone numbers.
The real joy in this Joy-filled tale is the message it spreads to children about their changing emotions. There are many lessons to be learned. Co-directors Peter Docter and Ronaldo Del Carmen have done the young ones a great service with a symbolic fun-fest that offers a bunch of laughs and well-deserved pondering.
The voice talent is uniformly excellent. Poehler is a natural at bringing Joy to life; she's funny and sweet, never letting sadness creep into her dialogue. Ditto for the other emotions. The real voice star, though, is Kind as the imaginary friend, Bing Bong. He's a combination of several animals (mostly looking like an elephant) and has a lot of fun with the hilarious, but touching role.
Inside Out may not stand as one of the best Pixar films; time will only tell on that subject. However, it may win the award as the most educational of the company's movies. The creative team has done the world, of both young and old, a great, great service.
Joy!
By John Soltes / Publisher / John@HollywoodSoapbox.com
Inside Out
Directed by Peter Docter and Ronaldo Del Carmen
Written by Meg LeFauve, Josh Cooley and Docter; story by Docter and Del Carmen
Starring the voice talents of Amy Poehler, Lewis Black, Phyllis Black, Diane Lane, Bill Hader, Richard Kind, Mindy Kaling, Kaitlyn Dias and Kyle MacLachlan
Running time: 95 minutes, with Lava short film preceding the main film
Rated PG for mild thematic elements and some action
Rating: