REVIEW: 'Pigeon Sat on a Branch' is latest Andersson black comedy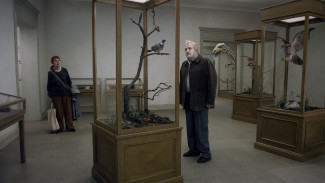 A Pigeon Sat on a Branch Reflecting on Existence, opening at New York City's Film Forum Wednesday, June 3, is an absurdly dark comedy that follows a host of characters as they lead seemingly subtle, melancholic lives. It's tough to pinpoint exact story lines and connective tissue among the many vignettes that director Roy Andersson offers the audience, but that's part of the experience of Pigeon, the last film in a trilogy.
Sam and Jonathan (Nils Westblom and Holger Andersson) are traveling salesmen who try to bring "fun" to their clients. Their chosen commodity are scary-looking masks and vampire teeth (in both the classic and long-fang variety). They travel around, talking to would-be clients in a variety of settings. They seem depressed and unfulfilled. From their posture to their lack of conversational wit, something is holding them back from enjoying life. They are selling "fun," but enjoyment seems to escape them at every turn.
The movie tells Sam and Jonathan's story in a series of vignettes, some of them with titles, that grow increasingly dark and odd as Pigeon progresses; some of the vignettes stand alone with no connection to the overall narrative. Audiences will see everything from an historical king (Viktor Gyllenberg) arriving on horseback at a modern-day bar to a dance instructor (Lotti Törnros) who takes advantage, time and time again, of one of her male clients (Oscar Salomonsson). There's also a scene of animal research/cruelty on an unfortunate monkey (one hopes the creative team used CGI for this distressing vignette).
The scenes build in a snowball fashion, but catharsis doesn't seem to be in the cards for Andersson and company. Sam and Jonathan learn about humanity, for sure, but their revelations are small and steeped in symbolism. There's a scene later in the film, for example, when one of the salesmen daydreams about a "horrible" reality, but he can't tell whether it was real or not. The imagery is shocking, mostly because of the complicity evident by the characters who bring the scene to life. They stand there, looking at the horror, as if at a dinner party.
The cinematography and production design in the film can be transfixing. Everything is a washed-out off-white. The salesmen live in nondescript apartments where a manager turns off the lights at a certain time, almost as if they were in prison. The faces of many characters are full of melancholy and reserved expressions, as if showing too many emotions is the wrong societal norm.
Andersson is quite skilled in his directorial choices. The camerawork is steady and simplistic; he sticks to his overall vision — even when it's difficult to decipher that vision — from beginning to end. Note the lack of closeups on the characters; almost every scene features a cast of characters either at a bar or restaurant. Sometimes it's even tough to tell who is talking. Intimacy is both achieved and put off, the camera never getting too close to these creations.
Some audience members will undoubtedly scratch their head so much that watching Pigeon will feel like a tiresome experience. The pacing is methodical and slow, the characters are not showy, the plot is fractured between blackouts and absurd humor. However, there's so much obvious skill and dedication on display for this unconventional storytelling. Yes, this independent film, which won the Golden Lion at the Venice Film Festival, is absurd, but keeping company with these somber, reflective characters can be similarly reflective. Enough humanity (and lack thereof) is on display to warrant deep introspection, penetrating questions about what is going on and a thought or two on how this connects to the real world.
A Pigeon Sat on a Branch Reflecting on Existence is, to be sure, absurd, but the absurdity might not feel too far away after 100 minutes.
By John Soltes / Publisher / John@HollywoodSoapbox.com
A Pigeon Sat on a Branch Reflecting on Existence
Written and directed by Roy Andersson
Starring Holger Andersson, Nils Westblom, Viktor Gyllenberg, Oscar Salomonsson and Lotti Törnros
Running time: 100 minutes
Rated PG-13 for brief sexuality and some disturbing images
Rating: