Eytan Fox's 'Cupcakes' is generic but still fun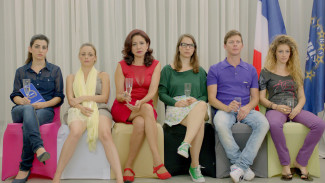 Cupcakes, a comedy from director Eytan Fox, is a formulaic, but still enjoyable film that charts the ups and downs of a group of Tel Aviv neighbors who compete in the UniverSong contest. What starts as a funny sing-a-long to comfort and cheer up Anat (Anat Waxman), a baker who recently split with her husband, becomes a musical sensation in Tel Aviv and all over Israel. Soon enough, the friends find themselves on the international stage competing against other musical acts for the top prize.
The structure of Cupcakes, which will be released on DVD next month, will be recognizable to most audience members. There's a contest and an unlikely contender; by the end, there's a big musical number that's meant to prove to the world these singers have what it takes. Ho-hum.
However, Fox and his talented cast of actors are able to elevate the material, making Cupcakes an engaging and always smiling film.
Among the group members are Dana (Dana Ivgy), Keren (Keren Berger), Yael (Yael Bar-Zohar), Efrat (Efrat Dor) and Ofer (Ofer Shechter). They each are given subplots that help the film become a little more than another contest movie. One character is a blogger whose writing on the Web becomes narration for the movie's plot. One character is having a bad experience with a hotel-affair lover and wants to gain some independence. One character is trying to branch out from a conservative father. One character is the actually singer among the neighbors, but her career has stalled. The only man in the group enjoys his profession of teaching children, but he struggles with a boyfriend who is not open with his parents (these parents coincidentally run a hummus company that is sponsoring the group's entry in the contest).
The most interesting character is Anat, who receives the most subtext; she's someone the audience roots for throughout the duration of the 90-minute comedy. One wants Anat to find happiness and resolve some of the issues she has with her children.
The actual contest, UniverSong, features mostly campy routines that are hard to classify as worthy of international acclaim. The group from Israel has a catchy tune and downplay the camp, but it's difficult to fully get behind their mission. In fact, it's tough to clearly define what their mission is in the first place. Understanding Anat and her struggles for recognition in her troubled marriage makes sense, but the others have story lines that are not given enough weight to warrant this entry into the music contest.
Fox, who wrote the script with Eli Bijaoui, has crafted a light-hearted comedy that is difficult not to enjoy. There are smiles and some laughs, even though everything seems too familiar. Its commentary on the kindness of neighbors is much appreciated.
By John Soltes / Publisher / John@HollywoodSoapbox.com
Cupcakes
Directed by Eytan Fox
Written by Fox and Eli Bijaoui
Starring Anat Waxman, Dana Ivgy, Keren Berger, Yael Bar-Zohar, Efrat Dor and Ofer Shechter
Running time: 90 minutes
Not Rated
Rating: