Chita Rivera offers powerful performance in 'The Visit' on Broadway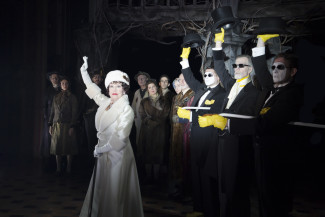 NEW YORK — Chita Rivera, a veteran of musical theater and a living legend of Broadway, is turning in a memorable performance in The Visit, currently playing the Lyceum Theatre. The Tony-nominated musical, a final collaboration between equally legendary composers John Kander and Fred Ebb, offers Rivera a wonderfully layered role, and the actress meets the demands of the character with an ease only a professional of her stature could probably achieve. It's a performance to remember for the ages.
The Visit is an interesting, sometimes tough-nut-to-crack musical that runs a quick 95 minutes. The plot follows Claire (Rivera), a wealthy, transfixing woman who has returned to the home of her upbringing. She left this place in the dust many years prior, but today the townsfolk are hoping she opens up her purse for a charitable donation. Their lives depend on it. The town has fallen on hard times, and without her financial help, the future will be quite bleak.
In town is Anton (Roger Rees), Claire's old lover, a man who has led a simple married life ever since the two broke up. Claire, both devious and determined, tells the town that she's more than happy to donate millions of dollars to their betterment; the only stipulation is that Anton, who infamously jilted her so many years ago, must die.
The musical is a simplistic affair. The set by Scott Pask is centered around an arcade that's dark and dreary. Characters play their scenes downstage and often step around in circular motions, letting time symbolically pass by and perhaps clinging to the hope that the movement will heal old wounds. Director John Doyle, a master of interpretation, keeps the evening flowing and freeing, shedding a warm spotlight on Anton and Claire's old relationship (brought to life by younger actors) and new sparks (ably brought to life by Rivera and Rees). Doyle's greatest achievement is harnessing the star-power skills of Rivera, letting her touching moments linger and her bravado shine.
Kander and Ebb's songs are short and not so sweet, but they fit the overall pallor of the evening. The few numbers that allow for happy moments and frivolity are gems. The flashback scenes are laced with love and expectation; the present-day songs are filled with hurt and realization.
Rees is quite good as Anton. He's believable as a down-on-his-luck resident of the town who finds himself caught between his wife of many years and his lover from so many decades before. His response to the death threat is realistic and even-handed, especially considering the obvious foreshadowing of the request.
Rivera is masterful, both in the acting and vocal departments. Her singing is smart and appropriate for the aging character, and she's able to couple her wit with a heartbreaking contemplation on love and death. In many ways, Claire is facing finality herself, and this causes her to connect with Anton so as not to face the inevitable alone.
The Visit is a tough sell on a Broadway stage. However, many shows this season appear to be tough sells. Perhaps this is a welcome sign to come that Broadway is not an exclusive rest stop for touring concerts and movie-to-stage adaptations. I'll take Kander and Ebb's beautiful and stirring score over so much of the entertainment down the block. I'll take Rivera's performance over just about anything else.
This one is good, if the audience allows its wonderment to take over.
By John Soltes / Publisher / John@HollywoodSoapbox.com
The Visit, starring Chita Rivera, is currently playing the Lyceum Theatre on Broadway in Manhattan. The show, directed by John Doyle and featuring music from John Kander and Fred Ebb, also stars Roger Rees. Click here for more information.