'Avengers: Age of Ultron' is awesome popcorn entertainment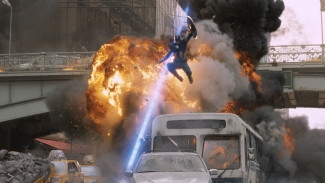 Avengers: Age of Ultron is not as good as the original, but writer-director Joss Whedon has once again created a stirring blockbuster that will likely delight superhero fans for years to come. The action is enthralling, and the visuals, at times, stunning. As always, Whedon incorporates much humor into the story, which offers a bit of levity amid the apocalyptic destruction. Mark this one down as a surefire popcorn hit.
The Avengers — Iron Man (Robert Downey Jr.), Thor (Chris Hemsworth), Captain America (Chris Evans), Black Widow (Scarlett Johansson), Hulk (Mark Ruffalo) and Hawkeye (Jeremy Renner) — are back and ready to take on the villainous scheming of Ultron (voiced by James Spader). The plot is simplistic, perhaps too much so, but that makes it easier to focus on the visual elements. Decisions are made, dies are cast and the prospects for humanity are questionable.
As a villain, Ultron is mighty cool. He's a cross between a computer program and Transformer, someone with a metal body and penchant for destruction. Spader's voiceover work is spot-on, bringing a sense of calm, yet crazed, dominance to the role.
The Avengers are enjoyable, much like the original film and their individual movies as well. Tony Stark's humor is still quite funny, although Captain America and Thor's back and forth seems to steal the spotlight. Black Widow and Hulk enter into a relationship, at least when Hulk is the calmer Bruce Banner. Hawkeye, or Clint Barton, is given a backstory with a wife and children in the American heartland.
The team assembles, and when working together as a cohesive unit, there's a lot of fun to be had. With any mega-superhero franchise like the Avengers, there's not much time for exposition or character development. To learn more about Stark, it's best to watch the three Iron Man films. Ditto for Thor and Captain America. This is a fast-paced action-fest — and that's about it.
Some newcomers who progress the plot along: Aaron Tyler-Johnson as Pietro Maximoff and Elizabeth Olsen as his twin sister, Wanda. Their special skill is that they move fast, too fast for even the Avengers to stop. Paul Bettany provides his voice as Jarvis, Stark's righthand computer program. There are also some surprise cameos that are better left a secret.
Age of Ultron is a worthy summer blockbuster. It's brainless in some ways. The plot, after dissected, is extremely thin. However, it fits nicely into the overall universe that Marvel has built in the last few years. It's great fun to spend nearly two hours and 30 minutes with this team of funny, fierce superheroes.
By John Soltes / Publisher / John@HollywoodSoapbox.com
Avengers: Age of Ultron
Directed by Joss Whedon
Written by Whedon; based on the comic book by Stan Lee and Jack Kirby
Starring Robert Downey Jr., Chris Evans, Scarlett Johansson, Mark Ruffalo, Chris Hemsworth, Elizabeth Olsen, Jeremy Renner, James Spader, Paul Bettany and Aaron Taylor-Johnson
Running time: 140 minutes
Rated PG-13 for intense sequences of sci-fi action, violence and destruction, and for some suggestive comments
Rating: