INTERVIEW: '39 Steps' returns with original Broadway cast member
Arnie Burton is a man of many roles in the off-Broadway revival of 39 Steps. In the span of a two-hour performance, Burton plays so many characters he can hardly keep count. What keeps everything (and everyone) in order is probably the fact that Burton has played these roles for years, having originated the performance when 39 Steps played Broadway for an extended run in three theaters. Now it's back, this time playing the historic Union Square Theatre in downtown Manhattan.
Burton said he received a phone call about two years ago from one of the producers of the show, seeing if he would be interested in another run. At the time, the actor was performing on Broadway in Peter and the Starcatcher.
"It's a show that meant a lot to me," Burton said recently in a phone interview. "And so when [the producer] first mentioned it I was intrigued, but then it's taken a couple of years for it to actually come to fruition. … It was a show that was dear to my heart."
The play is a comedic journey featuring four actors who decide to retell the murder-mystery story behind this classic Alfred Hitchcock movie. The set is simplistic but inventive, and the stagecraft is both creative and sometimes mind-boggling to behold.
"I've actually kind of forgotten how tiring it is," Burton said. "You're kind of exhilarated for an hour after the show, and then you kind of collapse. And you have to really watch your energy during the day so you have enough at night."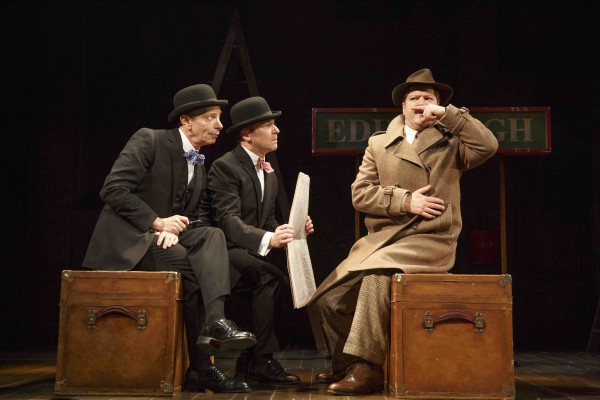 Even though performing 39 Steps is tiring, Burton said he likes the pacing and the fact that he's almost always on stage. "You start from the beginning, and you just go to the end two hours later, and you're done," he said. "You kind of don't stop, so there's kind of a joy in that. I've done some shows where I'm on at the beginning, and then I'll be off for half hour and then come on again. And that in some ways is more exhausting because you're sitting around backstage doing nothing. So I'd much prefer running around like crazy like I do in this show, but yeah I have to say it's one of the physically more taxing shows. But it's also one of the most kind of joyous and most fun shows I've ever done."
When Burton first auditioned for the Broadway version back in 2007, he watched the movie several times. Today, he knows Hitchcock's film frame by frame. Plus, his upbringing, which included a love of older movies, seemed to inform his performance.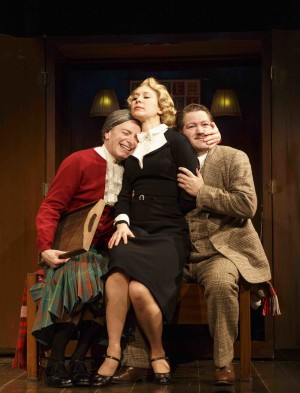 "I was this weird, very shy kid growing up," he said. "I was kind of obsessed with horror films from the '30s and also just any kind of old movie, any black-and-white movie. So I kind of knew that style and knew the kind of language, just kind of the world of those movies from the '30s, and '40s and '50s. And that was kind of in my back pocket, and I also had loved The Carol Burnett Show growing up. So it was kind of a mixture of those two worlds."
Of the many roles that Burton plays on the Union Square Theatre stage, he has a few favorites. One is a professor villain who appears in the final scene of Act One with Robert Petkoff's character of Richard Hannay. Another scene is a highlight: "No one even sees me in it because it happens behind a big screen, and we do this kind of shadow-puppet part of the evening … where the hero Hannay escapes the police. And he's running through the Scottish countryside, and it's all done by hand puppets and airplanes on sticks. And we're all backstage running around trying to tell this story. And it's the most fun because it's heavily orchestrated, and we're doing the stupidest little stick-puppet way of telling the story, really storytelling in its most elemental form. But the audience enjoys it so much, and I look around, and the cast and crew and everyone is working so hard to make this moment happen that it's just kind of a great moment of teamwork and ensemble work. And I get such joy out of that."
The appeal of 39 Steps, Burton said, is that it's not mean-spirited or ironic comedy.
"The story is about four actors trying their best to put on their best version of the Hitchcock movie that they can," he said. "So underneath all this it's kind of this love of theater and love of what actors do that kind of propels it. So the humor is never at the expense of anybody or anything."
In some ways, Burton has returned home. "I have to say it feels familiar in a great sense," he said. "This is one of those plays that just fit me really well, and it just feels like I'm at home."
By John Soltes / Publisher / John@HollywoodSoapbox.com
39 Steps is currently running at the Union Square Theatre. Click here for more information.