'Whiplash' finds brutality in jazz instruction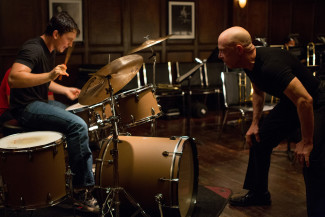 J.K. Simmons, Oscar winner for Whiplash, turns in a frightening and disturbing performance in the engaging new drama from writer-director Damien Chazelle. Playing Fletcher, a brutal, sadistic instructor of jazz music at an elite performing-arts school, Simmons has a unique way of spewing the vitriol and playing mind games with his students. At times, he comes off as nice and encouraging, someone who is simply trying to motivate the young men to be the next Charlie Parker, but most often, he's a hate-filled teacher who slaps students, throws them out of the core group for one wrong missed note and manipulates their respect of his musical skill.
In the drama, Fletcher's targets fall on Andrew (Miles Teller), a new drummer at the school who quickly makes his way into the instructor's rehearsal room. Fletcher tells Miles to arrive at 6 a.m. for instruction, and yet class doesn't begin until 9 a.m. At first, Andrew receives praise for his drumming and takes away the coveted seat from a more veteran percussionist, but Fletcher both giveth and taketh away. Over the 105-minute running time, the audience watches Fletcher build up and tear down Andrew so many times that it's a wonder he's still alive at the end. The determination of this drummer can be found on the bloody bandages that wrap his hands.
Simmons' portrayal could have easily followed the tried-and-true cliches of so many other teacher roles in Hollywood. However, his Fletcher doesn't follow any guidebook. Instead, Simmons keeps the audience guessing at every stage. It's clear that the character is wrong — extremely wrong — in just about everything that he does, but there's still a hope that Andrew will overcome the odds and make the final cut. The better hope would be for Andrew to leave the school altogether and call the authorities. Simmons' performance is so convincing that it's not difficult to see how Fletcher's manipulation can work so dreadfully on these impressionable minds. He's a true enemy of everything positive in life.
Teller offers a breakout role for his career. He's an actor who has the less showy part in the movie, but it's still filled with much heightened drama. Fletcher is the same character from beginning to end, but it's Andrew's rise, fall, rise, fall that the audience watches with such a close eye. This constant back-and-forth probably makes the part a tough one to play, but Teller is able to bring a dedication and drive to the character.
The supporting cast, including Paul Reiser as Andrew's father and Mellisa Benoist as Andrew's girlfriend, offer the audience a chance to see the potential positives waiting for Andrew, if only he left the hurtful spotlight of Fletcher.
Whiplash's direction is solid and slick, and the rehearsal scenes can be gut-wrenching marathons to behold. Much of that should be credited to Simmons and Teller, but Chazelle is an able filmmaker who knows how to elevate the proceedings. His dialogue is harsh and laced with profanity, but it outlines the characters and their relationships.
It's tough to say the movie is perfect because it follows a well-trodden path, but when it breaks from the routine — or in jazz terms, when it improvises a bit — Whiplash is suspenseful, almost sweat-inducing drama.
By John Soltes / Publisher / John@HollywoodSoapbox.com
Whiplash
Written and directed by Damien Chazelle
Starring J.K. Simmons, Miles Teller, Paul Reiser and Melissa Benoist
Running time: 105 minutes
Rated R for strong language including some sexual references
Rating: