'Birdman' can be transcendent, biting commentary of Hollywood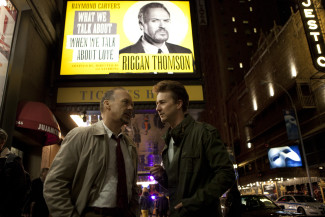 Birdman: Or (The Unexpected Virtue of Ignorance), the Oscar winner for Best Picture, is an often effective film about Hollywood and Broadway and their effect on the many actors who call this strange entertainment world home.
Michael Keaton turns in a career-defining performance as Riggan Thomson, an actor best known for his role in a superhero series known as Birdman. Nowadays, although he's stopped by autograph-seekers on the sidewalks of Manhattan, he's a has-been, someone who's broke and needing of respect in an industry that eats up and spits out young talent.
To reinvigorate his creative muscles he's decided to adapt, direct, produce and act in a Broadway play based on a Raymond Chandler novel. The rehearsals aren't going well, although his agent, played by the always reliable Zach Galifianakis, is a master at putting out fires.
One of the surprising touches of Alejandro González Iñárritu's film is that Riggan has the ability to act like a superhero, although it's unclear whether these superpowers are only in his mind. So, if an actor on stage isn't playing the part up to the leading man's liking, a conveniently located spotlight can fall on that actor's head and instigate a replacement.
Surrounding Riggan is a motley crew of actors similarly struggling with success, or the lack thereof. Edward Norton is a wannabe method actor who crosses the line with just about everyone he meets. Naomi Watts's character is dedicated to her role on stage, but having relationship issues. Emma Stone is Riggan's daughter, a young woman recently out of rehab and trying to help out as an assistant. Amy Ryan plays Riggan's ex-wife, and Lindsay Duncan is unfortunately wasted as a theater critic who sets her targets on Riggan's new play.
The supporting characters, with the exception of Duncan's somewhat cliche and unbelievable character, populate the film so intricately and in such an interesting manner because of the exquisite camerawork. There's a feeling that the entire movie is one long take, with cameras flying in and out of doorways, following characters as they bicker and make amends. Time certainly progresses from rehearsals to previews to opening night, but it's almost as if these two hours are filmed in real time. This effect allows the supporting cast to work their wonders in a cinematic maze, coming and going, always feeling realistic and cleverly zany. There's almost a farcical vibe achieved.
What Birdman has to say about entertainment is profound, although not original: The industry sometimes forgets how to handle older actors, and there may be no space left in the business for true acting and temporary becoming of another person.
The movie truly resounds in the writing department, thanks to a spot-on script by Iñárritu, Nicolás Giacobone, Alexander Dinelaris and Armando Bo. The monologues from Riggan are effective, and the two-person scenes, especially one memorable dialogue between Norton and Stone on a rooftop, are something to cherish.
It will be up to individual audience members to decide whether Birdman elevates itself to the point of "Best Picture" material. As much skill is apparent, there are some minor detractors. Duncan's critic role is such an easy fix. Maybe I'm naive, but it's hard to believe a theatrical critic looking to destroy a leading man before even seeing the play, and most press see a performance before opening night (they actually release their reviews on opening night). So the heightening of the drama over the first official performance is based on a false premise.
Also, the scene changes and technical flourishes sometimes get in the way of the story. The social media sub-theme, in which Riggan doesn't understand how to navigate the Twitterverse, seems a tad underwritten. Birdman can't cover everything in two hours, and it needs to make sure it's commentary is more focused. In some ways, the film is more form over substance, but, in the end, it's easily able to win over audience members.
This is an original film with a powerful performance from Keaton. Kudos to the leading man and Iñárritu's ability to harness his skills for a memorable role.
By John Soltes / Publisher / John@HollywoodSoapbox.com
Birdman: Or (The Unexpected Virtue of Ignorance)
Directed by Alejandro González Iñárritu
Written by Iñárritu, Nicolás Giacobone, Alexander Dinelaris and Armando Bo
Starring Michael Keaton, Edward Norton, Naomi Watts, Emma Stone and Zach Galifianakis
Running time: 120 minutes
Rated R for language throughout, some sexual content and brief violence
Rating: