INTERVIEW: Going 'On the Town' with Michael Rosen, who's living his dream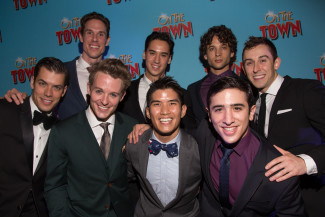 On the Town, the mega musical currently playing the Lyric Theatre on Broadway, features an iconic score from Leonard Bernstein, direction from John Rando and choreography from Joshua Bergasse. Based on an idea from Jerome Robbins, there are many hands — both current and legendary — at work on the musical revival.
Michael Rosen, a part of the musical's ensemble, is one of the many actors and dancers who bring the New York-set musical to life on a nightly basis. The show follows the romantic exploits of a trio of sailors on leave in the Big Apple. "New York, New York" is one of the most famous numbers.
An alumnus of Broadway's recent revival of West Side Story, where he took over the role of Chino, Rosen is living a professional life that includes the glitz and glamor of being in a big, well-received Broadway musical.
It all began, like so many actors, with an audition and a good word from a good friend.
At first, Rosen was asked to fill in for a concert of On the Town, one in which leading man Tony Yazbeck (the role of Gabey) couldn't appear. The dancer made an impression on Bergasse.
"I got to do this wonderful, positive partnering section for him at City Center, and then when the time came for the auditions for the workshops of On the Town, I got seen really quickly," Rosen said recently during a phone interview. "I guess they just kept me in mind, and I eventually got an offer for Broadway."
Rosen said the show features some of the "most technically demanding choreography" he's ever had to learn.
"I was in West Side Story when I was really young," he said. "I was about 17 when I started that job. That was the 2009 Broadway revival, and that was hard dancing. And I'd say, at least for me, I do a lot more in On the Town, so it's pretty intense but really fun because Josh's stuff is very musical and very natural, at least for my body. … I don't ever feel like I'm fighting my natural instinct with his movement. It kind of all happens with the music, but it's hard."
The actor said he loves to dance because he loves music, and the score for On the Town is one of Bernstein's most recognizable and toe tapping. After West Side Story, it's actually the second Bernstein score he's been able to appreciate on a Broadway stage.
"I have to say there's nothing like it," he said. "He [Bernstein], for Broadway, just wrote the best stuff, especially for dancers because of the way his music is so expressive, and that really helps me every day. When you hear the first bump, and the curtain rises, and there's just this low hum, I think, of strings and maybe a few horns, and then Philip Boykin starts in with that crazy voice. It's pretty wonderful. It gets you pumped up even if your back's out and your knee's hurting."
Rosen was quick to compliment Rando, an accomplished director who often is represented on New York stages. The actor said that Rando was eager to encourage the company to bring "something of their own to the piece."
This character work can be different than his previous work in classical dance at the School of American Ballet, the official school of the New York City Ballet. "And while you're definitely encouraged to be artistic and make choices at [the school], there's definitely less autonomy," he said. "On Broadway, you're supposed to be your own person. You have to be an individual New Yorker on stage, and that was exciting to me. And when I got my first taste of it, it was like a drug. I got addicted, and I decided to stay working in the theater because I really find you can be very empowered even in the ensemble on Broadway. And that's a special thing, and as far as having a large company, it's the more the merrier. I mean when you're trying to evoke something as sort of wonderfully diverse and sort of visually exciting as New York, I think it's fun when you have something you kind of need a lot of people. The show requires it, and we have fun kind of adding our own little quirks and stuff, probably stuff the audience doesn't even see or doesn't even register. They might see it unconsciously and process it."
Rosen said there were several moments when he realized theater was the right career choice. One moment that sticks out in his memory involves his time at the New York City Ballet.
"I had always been interested in Broadway, but I sort of got sucked into the glamor and the beauty of New York City Ballet," he said. "I had actually gone to ballet only to develop my techniques as to be a better American theater / jazz dancer, but … I fell in love with ballet. And I stayed a lot longer than I thought I would. But when I was 17, I was a junior in high school, and things were pretty well at the ballet. But I heard they were auditioning for West Side Story and a new Broadway revival, and it had always been a dream of mine to be in West Side Story."
With a friend, Rosen Googled the location of the open audition and stopped by. After four months of a lengthy process, he was offered a place on the Palace Theatre stage.
"I was thrilled but also conflicted because I wasn't sure if I really wanted to leave the ballet because I had invested so much time," he said. "I was just about to be eligible to get a contract with the company as an apprentice, and I wanted to see if I, you know, had a shot. But it seemed too good of an opportunity to pass up, so I eventually I decided to leave the ballet."
In West Side Story, Rosen first played an ensemble member among the Sharks. The legendary Arthur Laurents, who was directing the musical he originally made famous, could be intimidating, especially for a first-time actor on the Rialto.
The director "sort of took me under his wing and for whatever reason saw something in me that he wanted to cultivate and had me audition for the understudy role of Chino, which is one of the more featured acting roles that you can get as a young ensemble person in West Side Story as a Shark."
Laurents apparently liked the audition, and Rosen was on his way to playing the role on Broadway. Throughout the process, the director would pull the actor aside and encourage him to stick with acting, Rosen remembers.
"I was young for a 17-year-old kid who had only ever studied ballet. It was pretty wild and so exciting, and eventually as soon as contracts were up, he [Laurents] had me take over the role. And I played Chino for about a year, and it changed my life. I was so excited and so happy and so interested in the work that I was doing."
After that, Rosen enrolled in Yale University to study drama. His studies cemented his dream of pursuing a career in the theater. He left school to act in some plays, eventually finding himself in a workshop for An American in Paris (currently in previews on Broadway) and the On the Town tryouts.
"I sometimes can't believe where I am today," he said.
By John Soltes / Publisher / John@HollywoodSoapbox.com
On the Town is currently playing the Lyric Theatre on 42nd Street in New York City. Click here for more information.