'Would You Rather' rather ridiculous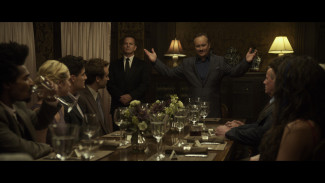 Jeffrey Combs, the great character actor of The Frighteners, Star Trek and Re-Animator fame, tries to enliven the rather lifeless plot of Would You Rather, a short horror movie built on a minimal conceit. Combs tries, but he's unable to save this rather depressing, dreary experiment in human frailty.
David Guy Levy directs a cast of characters that also includes Oscar nominee June Squibb. The premise surrounds a rich man (Combs) who invites a group of strangers over to his secluded mansion to win some money — and their survival. They simply have to play the game "Would You Rather." For the uninitiated, this game offers contestants two challenges, and they need to pick one as their preferred route. In a tamer, hypothetical situation, one may be asked would he or she rather go swimming with sharks or be dipped into a bath of tarantulas. Normally the answer produces a chuckle, and the next challenge is given.
In real life, these ultimatums are only spoken, not actually acted out. In the movie, the crazed millionaire has his guests act out the horrible challenges. At first, they are unpleasant and hurtful. Quickly they become deadly and gross.
The 90-minute film has no plot beyond this premise, and the story simply becomes a warped episode of Survivor. Most of the plot points are obvious, and there are few surprises. The only people to gather enjoyment or engagement from this rather sadistic tale are genre fans. As an exercise in human decision making, there are some interesting points, but everything feels like a retread of Saw.
There's not much acting in the film, other than the requisite screaming, crying and moo-ha-has from Combs. The characters are paper thin, and the talents of Combs and Squibb can't give them three-dimensionality. Brittany Snow plays the main heroine, but it's a largely underwritten role.
Working off a script by Steffen Schlachtenhaufen, Levy can't keep the audience's interest. This 2012 feature is mostly forgettable.
By John Soltes / Publisher / John@HollywoodSoapbox.com
Would You Rather
Directed by David Guy Levy
Written by Steffen Schlachtenhaufen
Starring Brittany Snow, Jeffrey Combs and June Squibb
Running time: 90 minutes
Not Rated
Rating: