INTERVIEW: Rebirth Brass Band's Keith Frazier looks back, looks ahead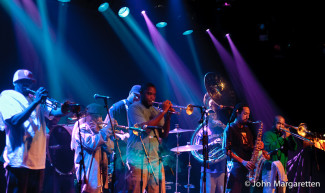 Rebirth Brass Band is one of the chief exporters of New Orleans music. Ever since their formation more than three decades ago, the brass instrumentalists who make up this funky group have reached numerous career highlights. From winning a Grammy Award for their Rebirth of New Orleans album to being featured on HBO's Treme to continuing a multi-year Tuesday night residency at the Maple Leaf in NOLA, Rebirth has been born and reborn several times over.
Founded by brothers Phil and Keith Frazier, and Kermit Ruffins, the brass band continues in 2015 behind the strongly received Move Your Body album. Ruffins branched out a long time ago for a solo career, although he's never too faraway. Earlier this month, Rebirth and Ruffins shared a bill at Tipitina's in New Orleans.
For Keith Frazier, who plays bass drum, the year ahead looks promising.
"Yeah, we're really excited about the year," he said recently during a phone interview while on tour in Florida. "We have a lot of great gigs coming up. … We're really excited about the direction the band is going."
More than 30 years after co-founding the band, Keith still enjoys the open road. The band has been known to travel up and down the East Coast and still make it back to New Orleans for that Maple Leaf Tuesday night residency. "I don't mind getting on the road and playing out on the road," he said. "Playing at home is exciting, but it feels good to go out and play in front of new audiences."
The new album, Move Your Body, came after the band members realized that moving one's body was a common attribute of Rebirth concerts.
"Rebirth makes you move your body," as Keith put it, so it seemed fitting to name a song and album after the fact. Beyond the title, there are some new, interesting elements on the recording, which was released by Basin Street Records. Included among them: collaborations with Trombone Shorty, Glen David Andrews and Erica Falls.
"We try to have different artists come in, and collaborate with them and see what their take is on the brass band music," Keith said. "So we like trying different things, and the collaboration with those musicians was great. … Most of the songs that we played we play them on the road and at other gigs anyway, so it's pretty simple to just get in the studio and put the songs down. It's in the studio, so if you mess up, you can always go back and fix anything that you've messed up on."
After this many years of playing together, Rebirth is professional but still always fun. A recent concert at New York City's Highline Ballroom personified this dichotomy. The band filled the stage and blared every musical note to the dance-inducing tunes, but they had an air of improvisation, as if they were feeling the crowd and customizing as they progressed.
"We look at the audience, and we can tell if they want something real upbeat, we'll give them something upbeat. If it's a more laid-back audience, we give them something more traditional. It all depends on what the audience looks like and what the energy in the room is."
Those crowds are not only made up of longtime fans who have been with the band for decades. Many are new to this style of New Orleans brass music.
"We've seen an uptick in a lot of young people, college kids," he said. "We have to make sure they identify with some of the tunes that we're playing, so we need to play something from the radio or something that is a popular tune that they can easily identify with. And we just play it our way. The young kids, they're getting into instruments or music now, so we think it's a great thing."
One of the most recognized forms of legitimacy in the music industry is attaining the gold prize known as a Grammy Award. This can be a tough feat for a New Orleans band, but Rebirth stands as one of the few successful groups in that regard. They are now and forever "Grammy Award-winning."
"It was very surprising. You know, to win a Grammy, it's really hard to do. People don't understand how many different genres are involved and how many different musicians in each genre of music, so to just be nominated, we were excited. We were like, OK, we're nominated. We're really excited about that, but then when we actually won the Grammy, we were like, wow, man. We won a Grammy of all the musicians and all the different types of music."
Winning a Grammy seems like a long way from those early days when Keith and his brother, and Ruffins were a bunch of high school students trying to find a gig. Their first concert was supposed to be at the Sheraton in Downtown New Orleans. "When they got there, they wouldn't allow them to play because they were serving alcohol," Keith remembered. "You guys can't play. So my brother Stewart said, 'Hey, man, let's go out on Bourbon Street.' … That's pretty much how it happened."
More than 30 years later, the band is made up of musicians who feel like "brothers." Keith called them a family — a family that has never lost sight of its roots in New Orleans. And they are definitely a hometown act: Throughout the year they play various venues around the city and are managed by the Howlin' Wolf, a premier music spot. The also continue to play the Maple Leaf, Keith said, because it keeps Rebirth connected to the community and welcoming to tourists who first arrive in the Crescent City.
So much success can make a man reflective.
"It just started as a high school project," Keith said. "We were just young kids, musicians, and we always thought maybe one day we'll be able to do this as a profession. And to actually do it, it's like a dream that actually has come true."
By John Soltes / Publisher / John@HollywoodSoapbox.com
Click here for more information on Rebirth Brass Band.