REVIEW: Kermit Ruffins brings NOLA fun to packed house in NYC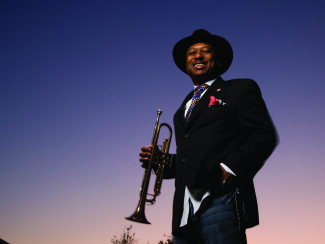 NEW YORK — Kermit Ruffins and the Barbecue Swingers offered their New Orleans-inspired party music to a packed house at le Poisson Rouge in Manhattan's West Village Saturday, Dec. 6. Fans of Ruffins, many of whom have come to expect his raw night of boisterous sound, danced and sang along to the well-known set list. Many times during the 90-minute performance, concertgoers could close their eyes and imagine they were in a legendary club in the Crescent City, say Vaughn's, the Blue Nile or Little Gem Saloon. Ruffins and his band bring the best of NOLA with them on the road, and he's seemingly as famous in the Big Apple as he is in the Big Easy.
The night began with a dance-inducing, one-hour set from New Orleans-based funkers Flow Tribe. The six-person band fuses  several sounds, but funk is their predominant style. The lead singer easily commanded the audience's reactions, accompanying each note with a requisite dance move. His fellow band members frequently joined in the fun. Sometimes Flow Tribe has three people on simultaneous percussion, making for an assaulting sound that is all party all the time. The most memorable band member played a washboard that hung over his shoulders like a superhero's vest.
Highlights of Flow Tribe's set included "Hungry For You," "Walk Like an Animal" and "Fire on Esplanade." Watch for this band to continue lighting up the indie funk scene. They're that good.
Kermit Ruffins took the stage at 8:30 p.m., and, despite microphone-sound troubles, offered some effective slower songs to transport the audience to the Crescent City ("When It's Sleepy Time Down South" and "On the Sunny Side of the Street"). The beat began to sky-rocket with "Iko Iko," a classic Mardi Gras tune. Other highlights included a brief take on Trombone Shorty's style and some selections off Ruffins' Christmas album. "A Saints Christmas," where Ruffins asks for the Saints to win the Super Bowl, and Charlie Brown's "Christmas Time is Here" went over well for the holiday-themed show.
The most impressive feature of Ruffins' performance is his trumpet playing, which seems effortless and spot-on. His backing musicians, including a bassist, percussionist and pianist, know his sensibilities and the journey he takes with each song. The sound has a way of starting off scattered and then coalescing into something quite enjoyable, certainly unique and always thumping. During numbers he hoists up a bottle of beer, collecting praise from the audience, and he frequently jokes, laughs and bounces around the stage. At one point, he even faked a mosh-pit dive into the crowd.
Nayo Jones took the stage mid-set to give Ruffins a break. She offered stirring renditions of "At Last," "Killing Me Softly" and "The Girl From Ipanema." Her powerful voice grabbed everyone's attention and offered a calming before the final Ruffins songs, which ended the night.
Audiences left right before 10 p.m. with a sing-a-long to "Treme Song," the hit theme of HBO's Treme.
Ruffins, who always mention his "We Partyin'" slogan, will return to the New York-New Jersey area in February for a week-long residency at the Blue Note (for Mardi Gras, in fact) and a return visit to Michael Arnone's Crawfish Fest in Augusta, N.J., in May.
By John Soltes / Publisher / John@HollywoodSoapbox.com