'Frozen' is quality family entertainment, but is it overrated?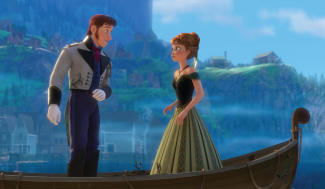 Frozen has turned the animated world upside down. Few could have predicted the runaway success of the Disney flick, but now, a year after its initial release, audience members have obviously fallen head over princess heels. The movie has broken records. The soundtrack is a hit. The songs, especially "Let It Go," are recognizable and even heard on the radio. Princess costumes lined the aisles around Halloween, and now Frozen-themed merchandise is part of many Santa lists. Theme park rides and talks of sequels are on the horizon, to be sure.
The world is Frozen.
One small detail that sometimes is lost in the fray is whether the movie is any good. The story follows two sisters, Anna (voiced by Kristen Bell) and Elsa (voiced by Broadway star Idina Menzel), and their often tumultuous relationship. Elsa, who has the power to kill the people she loves most by turning them into ice, decides to banish herself to a tucked-away ice castle. Anna, determined to win back her sister, teams up with a motley crew of supporting characters to figure out a way to thaw Elsa's heart. The requisite love interests also make appearances.
The songs throughout the narrative are clever tunes that add to the fantastical setting. And, yes, "Let It Go" is a powerful anthem that hits at the right time in the movie. The supporting characters are tolerable, even though Olaf (voiced by Josh Gad), a magical snowman that offers some sidekick humor, comes close to Jar-Jar Binks' annoyance.
There's no doubting that Frozen works on most levels, and it also offers a unique twist on the princess tale. Credit should be given to writer Jennifer Lee, who also co-directs with Chris Buck, and her ability to re-imagine these often-used archetypes.
The animation style is not quite up to the same par as Pixar, but few animated films are. The computer graphics for the scenery, especially Elsa's ice fortress, are stunningly beautiful, featuring glistening slopes and death-defying cliffs. The animation style for the characters is less effective and largely forgettable.
As a case study on how to take older fairy tales and present them to modern audiences, Frozen succeeds beyond most expectations. As far as earning the disputed top spot as best animated movie of all time, the movie falls short. Even though it's an updated narrative with strong female characters, it's difficult to take the entire movie and place it against such stalwarts as Beauty and the Beast, Peter Pan and Snow White. However, Frozen is a step in the right direction for Disney, and it deserves credit as a strong animated film in a competitive landscape where Pixar rules.
By John Soltes / Publisher / John@HollywoodSoapbox.com
Frozen

Directed by Jennifer Lee and Chris Buck

Written by Jennifer Lee; based on the story by Hans Christian Anderson

Starring the voice talents of Kristen Bell, Idina Menzel, Josh Gad, Jonathan Groff, Santino Fontana and Alan Tudyk

Running time: 100 minutes

Rated PG for some action and mild rude humor

Rating: