INTERVIEW: Brooke Miyasaki from 'Fuerza Bruta Wayra' changes it up every night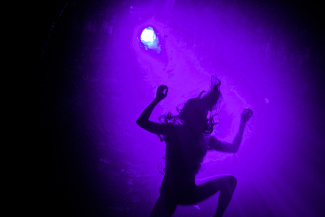 Fuerza Bruta Wayra is quickly becoming another mainstay in downtown Manhattan. Much like its predecessors, Fuerza Bruta and De La Guarda, the show promises to take audience members on a wild theatrical experience. From pounding drums to dancing in the rain to a mysterious actor running on a treadmill to loud, pulsating music, Wayra is a high-adrenaline time at an off-Broadway venue.
One of the people responsible for the crazed theatrics is Brooke Miyasaki, an alumna of the Fuerza Bruta franchise, having performed in variations of the shows for several years. Recently Miyasaki spoke with Hollywood Soapbox about her time in the immersive spectacle, plus working with creator Diqui James, the difference between weekday and weekend theatergoers and finding inspiration in the wonder of it all.
On her history with the show and its previous iteration …
"I originally began working with the creator of the company, Diqui James, originally in De La Guarda, so I had worked with him in that capacity and traveled with that show years ago. And then he branched off from his partner, his other fellow creator, and created Fuerza Bruta. And we opened in New York in 2007 as Fuerza Bruta and closed in January of … this year and reopened as the new version of it, which is Fuerza Bruta Wayra in June of this year. I've traveled doing Fuerza Bruta in other countries, and I've also done Fuerza Bruta Wayra in London most recently."
On the similarities and differences between Fuerza Bruta and Fuerza Bruta Wayra … 
"The old structure of the show is still there, so what Diqui's done is he's sort of transformed the feeling of the show. It's a little bit more like a celebration. The other show, even though it didn't have a narration, there was maybe more of a throughline that an audience member could follow in a sense, and this is much more like vignettes of the old show with at least about four or five new scenes added, in addition to live drumming. So I think it's just more of a culmination of bringing lots of elements that he's comfortable with, and he's worked with in his shows altogether, and enhanced from the old one. It's just a spin on the old one but with scenes that are certain to make people feel free and feel enjoyment — so celebratory. To me, in my personal opinion, it's a lightening up of the old show."
On her fellow performers at the Daryl Roth Theatre … 
"We don't claim to be Cirque du Soleil, so not everyone is coming from this highly trained acrobatic background. It attracts people of all types: actors, dancers, acrobats of course, regular people even just who enjoy physical theater or enjoy anything physical, athletes. It requires a vulnerability and a very uniqueness of spirit to work in this kind of ensemble day after day and continue creating the feeling and the spirit of the show with each other. So, it feels a little bit more relationship-driven, and I think when you see the show, you realize, oh, it's not just hand-to-hand balancing. It's people doing things that, OK, they do look acrobatic and, yes, they may be difficult and require training and skill, but there's a feeling behind it that is evocative, I think, for viewers."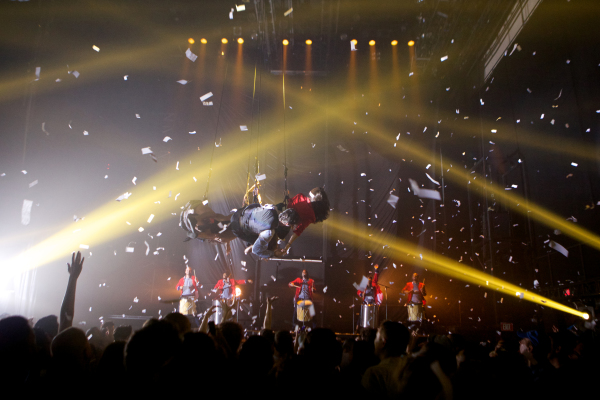 On being charged at the end of the night …
"You leave just feeling up. You leave feeling on a higher note than when you came in, or at least we hope. But for us particularly, you need a couple of hours to wind down doing a show like this, so I think the hardest part about doing a show is the day in and day out, getting to a level where you feel like, all right, my muscles are ready, my mind is ready. I know it's going to take a lot of energy, and I know what I have to do walking into it. So we warm up before every show. We do group warmup. Everybody has their own things to do to just get into preshow headspace and body space."
On the different audiences experiencing Wayra …
"I think on Friday and Saturday we get audiences that are ready; they come to the show, and then they are ready to go out afterward, which is always a wonderful combination if that's what you're going in to do. So, yes, we do see that type of audience more on the weekend, but you'd be so surprised. We could have amazing Tuesday shows, and people are really open and receptive. Maybe they have a little more space to move, and they're actually freer to join in on the party. It's interesting because what you expect with one audience may not be what you receive from them mid-show. … There's sort of a transformation the audience goes [through] from beginning to end as well, and it's kind of nice to see people that maybe you didn't think would ordinarily open up by the end. Their barriers are down."
On the immersive theater trend …
"It's certainly a trend in theater, at least in New York and also Europe, this immersive interactive thing. I guess it begs the question what is it that people want? Is it that they want some sort of connection more and more? … Because this type of theater happens in the 360 experience, and it doesn't require you to understand any one particular language. I think you do have interactions that are very specific with certain performance members. I think it allows people in on an experience. It allows people in on theater in general, in a nice way that it is new and different and refreshing."
On which role she prefers to play …
"The interesting thing about our show is every single performer does something new every single night. … You walk in as a performer not knowing what you're going to do for the night. An hour before the show you know, and then you can prepare for what you have to do.
"That's one of the things that keeps the show refreshed and charged for all of us. It's challenging to know all of the roles, A, and then B, it really does take a long period of time of doing the show day in and day out to really truly understand who you are within the character of the show because a lot of it is sort of us becoming the character and the character becoming us, which is different from any typical theater role. We're allowed to put a lot of our own unique personalities and emotions and characteristics into the show, so I think it is quite a unique show that way to perform in. And I think we're really lucky as actors and professionals to have that sort of changeability and that sort of need to adjust all the time."
By John Soltes / Publisher / John@HollywoodSoapbox.com
Fuerza Bruta Wayra is currently playing at the Daryl Roth Theatre at 101 E. 15th St. at Union Square in New York. Click here for more information.