INTERVIEW: Rock Comic Con co-creator prepares for NY Super Week
New York Comic Con is set to descend on the Big Apple in a couple of weeks. As tens of thousands of cosplayers, gamers and comic-book fans take to the streets of New York City, heading to and from the Jacob Javits Center on the West Side, the metropolitan area will join in the fun by hosting New York Super Week.
The multi-day fan fest features a motley variety of theme-oriented events, everything from a reunion of the cast from Star Trek: The Next Generation to a live taping of StarTalk Live. X-Japan is even coming stateside for an exclusive one-off concert at Madison Square Garden.
Squeezed in the middle of the mayhem is Rock Comic Con, a regular mainstay of alternative programming for comic book and music lovers. This year's concert, which will take place at the Marlin Room at Webster Hall Thursday, Oct. 9 at 7 p.m., will feature such nerdy bands as Harry and the Potters, Math the Band, H2Awesome! and Kirby Krackle. Expect tons of pop-culture references and some inside Hogwarts jokes. Tickets are $19.
Recently Hollywood Soapbox chatted with Jeff LaGreca, co-founder of Rock Comic Con and musician in H2Awesome!
On Rock Comic Con's origins …
Our first one was in 2010. It was started by my brother Charlie LaGreca, myself and our gutiarist in another band. We had a nerdy band. We still have a nerdy band called H2Awesome!, and we started H2Awesome! about 2008 and played around the New York area a little bit. And in 2010 … Charlie lost his job at Disney as an artist, and I was a comedy writer. So I never had a real job in the first place.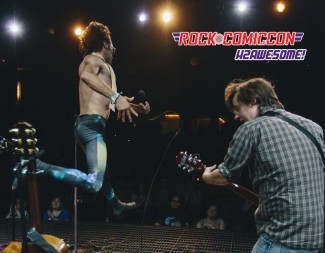 We were goofing around … and we love New York Comic Con. We love Comic-Con. We have been going every year since its first year, and we decided that it was the perfect crowd to sort of create this event.
The first one was pretty small. … The second one definitely, we have pictures from it, it looks like the Beatles in Hamburg, just this brick basement. We started in 2010, and we've sort of grown since then. This is the fifth one in New York. We've done three others in Denver, and we're playing with the idea of maybe doing another one somewhere else. Let's see. So that was it. We discovered that there was also a big sort of underground, maybe underground is not the right word, but this sub-sub-culture of music, like this nerdy music. And we started to discover other friends and other like-minded people who were writing some fun music, and it was all based around different fandoms and that kind of stuff.
On this year's big event … 
We have Harry and the Potters. We've played with them one other time, and they're fantastic. I love those guys. Joe and Paul DeGeorge, two brothers out of Connecticut. Those guys are amazing. Talk about a band — high-energy show. They just put it on, but they're also really well-respected punk-rock-wise. …
They toured all over with these library tours that they created and just were amazing DIY. They have a huge fanbase, and they're also just great songwriters, great performers. And all of the pictures we have of them, they're jumping. In fact, we picked all the bands this year because in their pictures they are all jumping with the guitar. I think that's important. … That's a good sign of a good show when the band is all jumping.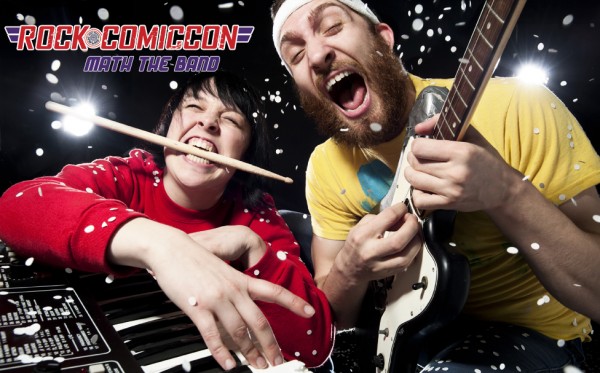 We have another new band that is new to me. They've been around for a little bit — Math the Band. They're fantastic, too. I've just been able to watch their videos, but I think they've grown their popularity very much on the Internet. I just love it. They've got this sort of manic, very synth-pop sound that is very fast, very energetic, completely energetic. They've got a great sense of humor.
You know one of the things we do when we choose bands for Rock Comic Con is we do look for a sense of humor because we try not to take ourselves too seriously in H2Awesome!. And we certainly know some of the things we're singing about, they're mostly fun things. It's pretty light. It's going to be a light, fun, comedic night. …
We've got Kirby Krackle. Kirby Krackle has played quite a few Rock Comic Cons, and Kyle Stevens heads that band up. He's great. We were able to tour with him last year out to San Diego Con and up the West Coast. And just like a solid band, solid songwriting, great superhero fans.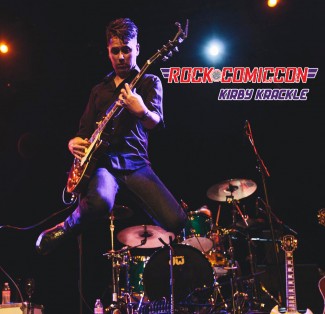 On the prospects of New York Super Week …
It's an interesting experience because it's the first time they've done it. We were ecstatic to be asked to be a part of it. They gave us a call back in spring, and we were producing another show, another Rock Comic Con back in spring. And we got called. …
So we were very excited about the partnership. As I said, we've always been ardent fans of the New York Comic Con, have been there every year, had a booth or something. And so we just loved the environment, and one of our founders, Charlie LaGreca, he's also an artist. He worked at DC Comics, he worked at Disney, he worked at Nickelodeon, and so he's very connected to that community of artists. So even in the true sense of the comic con, like comic book, which is where it all started before it became this Hollywood thing. There's always been a really personal connection to that, so we're very excited for that. It's daunting because it's the biggest space we've ever had to fill [Marlin Room at Webster Hall], and so we're working our butts off round the clock trying to promote the event.
There are quite a few events to be taken in at New York Super Week. New York is a big pond, as they say, so we're hoping that we can at least be a large tadpole or a medium-sized tadpole. We'll take medium-sized.
By John Soltes / Publisher / John@HollywoodSoapbox.com
Click here for more information on Rock Comic Con.