CRITERION #2: 'Seven Samurai'
This is the second column in a new series looking at the extensive catalog of The Criterion Collection. For newbies, Criterion is the best of the best when it comes to DVDs. They offer deluxe editions of important films, both foreign and domestic, both commercial and independent.
Akira Kurosawa's Seven Samurai is a revelation. The sweeping 16th-century epic features everything a movie could ask for: an engaging story, beautiful visuals, contemplative acting, morality, villains, heroes and a wonderful message. This 1954 foreign film earns its status as a bona fide classic.
Although all of the acting is top-notch, the major draw here is Kurosawa's scope and vision. The legendary Japanese director breathes creative life into his characters, and the results are a privilege to behold.
Seven Samurai charts the tortured difficulties of a poor farming village as a cadre of bandits threatens its way of life. Seeking protection, the villagers employ the help of seven wandering samurai.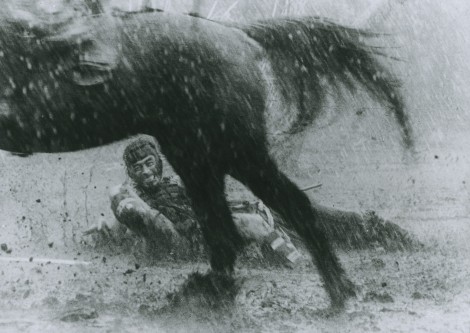 Although the premise promises bloodshed, the movie is not a savage revenge flick. Seven Samurai proves methodical and gradual. The samurai don't barge into the village, ready to mow down the bandits with their intricate swordplay. They decide to bolster the efforts of the villagers, lending them both the peaceful and militaristic tools they will need to stave off an onslaught.
The final showdown is a carefully orchestrated battle of good versus evil.
Kurosawa uses his many talents to convey the 207-minute story. Using a good number of close-ups, tracking shots and landscape views, the director pulls everything out of his tool-bag to bring beauty to the screen. The images of these poor villagers will stick with you for days, even more than the story or the characters. Seven Samurai is a visual feast for the eyes, commandeering your senses with such purity.
Of the actors, Toshirô Mifune gives one of the more memorable performances. As Kikuchiyo, a stubborn samurai, many of his actions and lines of dialogue give the movie much of its humor. Seiji Miyaguchi offers probably the best performance as Kyuzo, the stoic samurai who leads the defense. He has a philosopher's way of grounding the villagers' plight, teaching them the power of calmness and serenity.
The Criterion Collection presents Seven Samurai in glorious fashion. The three-disc set includes a restored high-definition transfer, plus two commentaries from film scholars. There are a couple of documentaries and some theatrical trailers as well. A helpful booklet filled with essays on the film is also included. It's a fitting complement to a film that deserves hours of study and plenty of accolades.
By John Soltes / Publisher / John@HollywoodSoapbox.com
Seven Samurai

Directed by Akira Kurosawa

Written by Kurosawa, Shinobu Hashimoto and Hideo Oguni

Starring Toshirô Mifune and Seiji Miyaguchi

In Japanese, with English subtitles

Running time: 207 minutes

Special features: An all-new, restored high-definition digital transfer; two audio commentaries; 50-minute documentary on the making of Seven Samurai; My Life in Cinema, a two-hour conversation between directors Akira Kurosawa and Nagisa Oshima; Seven Samurai: Origins and Influences, a documentary looking at the samurai traditions and films that helped shape Kurosawa's masterpiece; theatrical trailers and teaser; gallery of posters and photos; a booklet of essays

Bubble score: 4 out of 4

Click here to purchase Seven Samurai on DVD.