'Blackfish' is one of the most important documentaries in decades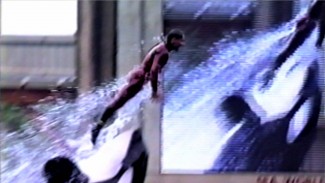 There's no way to watch Blackfish, the celebrated documentary about orcas in captivity, and not feel a great deal of emotion for these majestic animals and their current situation at Sea World parks and other facilities throughout the world. Director Gabriela Cowperthwaite has harnessed the campaign to free these orcas into a stirring documentary that presents fact after fact after fact about why captivity is not the answer for these animals. It's hard to turn away from the film and do nothing. I'm changed forever.
The story focuses on Tilikum, a killer whale that, while living in captivity, killed several people. Rather than simply casting the marine animal as a villain or victim, the director looks into the reasons behind Tilikum's captivity. What she finds is almost too difficult to bear: Tilikum and other orcas are plucked from nature and sent to facilities for entertainment purposes. According to the film, they live unnatural lives where incidents (sometimes deadly) can occur with the handlers. Sea World's history is prominently featured in the movie, but Blackfish proves to be an indictment of all facilities currently housing orcas. These animals seem to be too large for the tanks that hold them back.
The subject of humans encroaching on the rights of animals is nothing new for documentary film. After all, The Cove won an Oscar a few years ago after it exposed the hellish dolphin trade in Japan. The work of Ric O'Barry, dolphin advocate, is featured in that film, and some of the same lessons can be applied to Blackfish. The documentary, which was a smash hit after multiple viewings on CNN, not only tells the story of how orcas end up in captivity, but it also begs the simple question: Why? Why are orcas performing multiple shows daily for adoring fans, all to the backing of rock music? Even for a casual, disinterested viewer that scenario should scream "unnatural."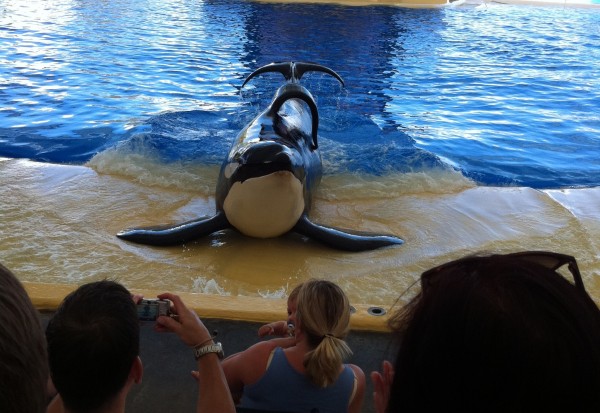 The talking heads in Blackfish never overpower the film. Cowperthwaite has a clever way of interspersing actual footage of orcas in captivity, including some unbelievable shots of a whale dragging a handler down to the bottom of the tank numerous times. While viewing these scenes, it's impossible not to be moved to action. And, for those tracking the influence of Blackfish, that's exactly what has occurred. This little film has arguably become the most talked about documentary since Michael Moore's Fahrenheit 9/11. Many months after its original release, the film is still debated and turns up frequently in the news. That's the mark of a good film, for sure, but it's also the mark of an issue that needed to be addressed.
"Save the Whales" has become a cliche among environmentalists and naysayers. There used to be a legion of people decrying these "Whale Huggers" for their constant harping on marine-life issues. After Blackfish, "Save the Whales" sounds like a perfectly fitting battle cry. There are too many animals in the world that need help, and documentary film is one of the glorious places showcasing their hurt and highlighting the real solutions needed to end bad practices.
By John Soltes / Publisher / John@HollywoodSoapbox.com
Blackfish

Directed by Gabriela Cowperthwaite

Running time: 85 minutes

Rating: