INTERVIEW: 'Mumbai Confidential' recasts India as noir landscape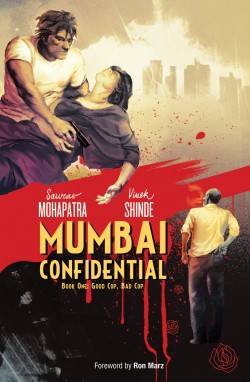 Mumbai Confidential, a graphic novel from Archaia, imagines the famed city of India's west coast as a backdrop for violent, ambiguous characters stuck on the line between justice and revenge. The reader follows Arjun Kadam as he tries to live a life away from the "Mumbai Encounter Squad," a group of police officials who dispense executions in lieu of prolonged legal battles. He's a widower whose pregnant wife was killed, and now he's out to stop the organization that gave him his battle scars.
The first stories of Mumbai Confidential, labeled "Good Cop, Bad Cop," are the brainchild of Saurav Mohapatra, an alum of Virgin Comics. With Viviek Shinde, illustrator and cover artist of the graphic novel, Mohapatra has created a world based in hyper-reality that should seem both exotic and familiar.
"I used to work for this company called Virgin Comics," Mohapatra said recently during a phone interview. "We all used to work for this company, and we sort of formed this informal group. There were not many people in India working in comics, or at least back then there weren't. So we formed a loose group."
Mohapatra and Shinde realized they had a lot in common and wanted to break from the comic-book pack. From these interests grew Mumbai Confidential, a cross between L.A. Confidential and Sin City, "but in an Indian context," as Mohapatra put it.
"It had never been done before. So the idea was to produce a very high-end visual, visceral experience in a genre that would be new to the market."
Mumbai Confidential also touches upon Bollywood's pomp and glamor. In fact, Mohapatra said the graphic novel is sort of like the movie that he always wanted to see out of Bollywood.
Mohapatra and Shinde worked together from a great distance away, trading emails and uploading files to Google Docs. "My day job is a software engineer," Mohapatra said. "I work with people all over the world, so I am used to working like that." Mohapatra would offer a "word sketch" to Shinde, and then the artist would recreate the scene. Eventually they had 10 chapters and more than 100 pages of rich, noir-infused content.
"If you see the Mumbai that is portrayed in Mumbai Confidential, it's a cross between the real Mumbai and a sort of Sin City-type hyper-stylized city," he said. "[Shinde's] style is kind of this … hyper-real painted style. That I think has helped us a lot in terms of achieving a substantial look. The book looks like nothing out there in the market."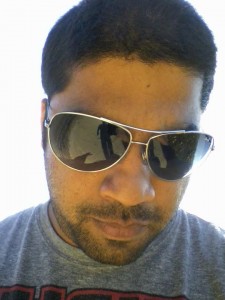 The Kadam character was created as a guy down in the dumps — not quite hero, not quite antihero. Mohapatra called him a "habitual liar" who "blames everyone else for his problems." Kadam operates in a world that is based somewhat on reality. Mumbai Confidential, Mohapatra said, is a combination of fact and fiction, rumor and innuendo. It explores a simple question: "When the line between a criminal and a cop becomes blurred, what happens?"
"We don't need to worry about what's true, what's not. You just go for whatever is more entertaining and [a] more satisfying story arc. … The book's whole theme is cynicism and anger. It's like frustration at society, at the whole collapse of a system. I mean it's a system of one billion people, so think how bad that collapse can be."
Mohapatra grew up in the eastern part of India and spent six months in Mumbai, also known as Bombay, for an engineering internship. He likens the city to New York City. When people think of India, they think of Mumbai. When people think of the United States, they think of New York City. "You get exposed to multiple versions of Bombay," he said. "We tried to blend all of that. … In Mumbai Confidential, the central character is Mumbai."
The book has been released in the United States and recently in India (sans one story called "Full Moon"). Mohapatra is working on a sequel called Mumbai Midnight that will continue to explore the theme of justice vs. revenge. No doubt Mumbai will still be a vital character.
By John Soltes / Publisher / John@HollywoodSoapbox.com
Click here for more information.