INTERVIEW: The man behind Audra McDonald's Billie Holiday performance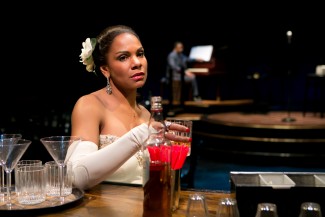 Shelton Becton probably has the best seat in the house.
The accomplished musician plays the piano player and bandleader supporting Audra McDonald's historic Tony-winning turn as Billie Holiday in Lady Day at Emerson's Bar & Grill. The Broadway show, which has been extended into September, is a 90-minute play that reimagines a Holiday concert in the singer's final years. Becton is in a pivotal role, tasked with keeping the show moving along and providing musical accompaniment to the sometimes irascible Holiday.
Becton can credit this acting role — his first ever — to his musical work on The Color Purple, which played Broadway a few years ago. "I was called by the arranger/orchestrator," Becton said recently during a phone interview. "He had seen me perform when I was doing The Color Purple on Broadway, and he invited me to come and audition for this part."
The piano player knew a lot about Holiday's legendary status and musical output, but he still needed to practice a lot to recreate that identifiable sound. Plus, there were the nerves of tackling his first acting part. "I had to really study for the acting part because I had never acted on Broadway before," he said. "In fact, this is my first acting role, so I luckily had the great director [Lonny Price] and Audra as well. They helped me through that period when I was learning to be the character."
Becton and the other band members conducted research on actual Holiday recordings. His goal was to capture both the sound and the style. Price was "adamant about making sure that the sound was as authentic as it could be." How about this for authenticity? On stage at the Circle in the Square, where Lady Day performs nightly, Becton plays a vintage Baldwin piano because it sounds like the pianos of the time period.
With the style, sound and acting down, it was time to face the audience. Lady Day, because it's a concert play, has a fair amount of improvisation and interaction with the audience. This keeps Becton and the players on their musical toes. "There are no plants in the audience, by the way," he said. "Everything is natural, so she's playing off of what she's getting at that moment. So each show is a little different. Even the way she interacts with me can change up in a moment's notice, so I have to always be on my P&Qs with her."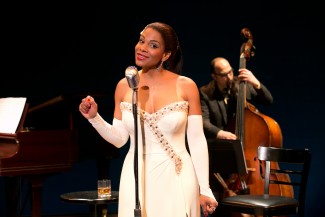 Becton sees his role as a "facilitator" of sorts, a person whose responsibility it is to get Holiday through the entire performance. No matter her boozing or scolding of the audience or bouts of depression, the musician tries to keep her eye on the prize. His character "definitely [has] a serious concern for her and always a genuine respect for who she was as a person and as an artist."
Becton has been playing the piano since he was 4 years old. At a young age, his family members were avid churchgoers, and by age 7 he was taking part in his first choir. From church, he would go home and mimic the songs on the piano. By age 8 he started taking lessons, and that continued until he was in college. His career has made him an in-demand musician for the likes of Judy Collins and Roberta Flack. He has also performed in the pits of Broadway musicals.
"Roberta [Flack] being the kind of artist who would change up on you every night," he said. "You just have to know her material to know where she's going, but in a theater piece, there are certain cues that you have to do every time. So playing in front of a theater group is different, especially with me being on stage. Normally I'm in the pit where I don't really see the audience, but because I'm right on stage with this, it really is different. I get to feel more of the audience, their action and also the artist's action."
He added: "I may not play the same song the exact same way every night. I may play a different substitution chord. I may play a different rhythmic structure, but there are certain things we know that [McDonald's] listening for that we will do. But then it gives us freedom to do other things that keeps the show fresh."
Becton will be keeping the show fresh until Sept. 21 when Lady Day's extended run comes to an end.
By John Soltes / Publisher / John@HollywoodSoapbox.com
Click here for more information on Lady Day, currently playing at the Circle in the Square.