Summer's new TV shows are mixed bag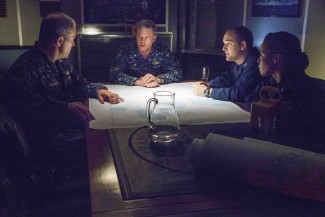 Summer is here, and so is some interesting TV programming. The pilots that have aired are big-budget affairs, but their potential for full-blown seasons is iffy.
The Leftovers on HBO has the greatest potential. This smart, sleek drama follows a community three years after a rapture-like incident that indiscriminately left 2 percent of the population missing. Justin Theroux, too young for this particular character, is a local sheriff with two children and a wife (Amy Brenneman) who has joined a religious group (although there are a lot of question marks about this character and the vows of silence her group has taken). The pilot episode is some of the best television of 2014.
The Last Ship on TNT is at the other end of the spectrum. The first two episodes of this rather brainless thriller can be exciting like an action movie, but the spotty acting, weak script and uneven pacing make it only a passing enjoyment. The premise is intriguing: A naval ship has returned from a four-month mission in the Arctic to find the world's population infected with a crippling virus. Michael Bay executive produces, so there are plenty of explosions. Eric Dane and Rhona Mitra do their best with the sub-par material.
Tyrant on FX is the most provocative series of the summer. The network bills the story as the tale of "an unassuming American family drawn into the inner workings of a turbulent Middle Eastern nation." The plot focuses on two brothers who have grown apart. Bassam (Adam Rayner) lives in the United States with his wife and two children, working as a pediatrician. His brother, Jamal (Ashraf Barhom), lives an extravagant life thanks to his father's dictatorial rule, and he wields power with an iron fist. They are brothers torn apart and now brought together. This one is worth following; the jury is still out on whether it can keep one's interest like Homeland.
Other new and returning programming: Syfy's Dominion and Defiance, HBO's True Blood and CBS's Under the Dome.
By John Soltes / Publisher / John@HollywoodSoapbox.com