LACMA's 'Fútbol: The Beautiful Game' perfect accompaniment to World Cup viewing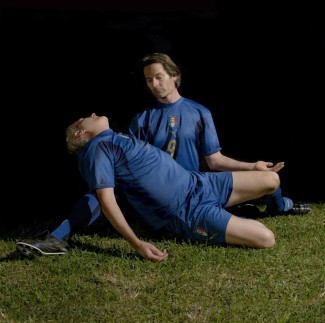 LOS ANGELES — Fútbol: The Beautiful Game is a timely exhibition of soccer-centric art at the renowned Los Angeles County Museum of Art. Pieces, both small and massive, populate the third level of the BCAM building, and it should definitely be a welcome dose of added energy for World Cup fans. This is an American art institution realizing there's a world outside its boundaries.
Focusing on themes of masculinity, nationalism and identity, among other broad topics, Fútbol opens with Nelson Leirner's Maracana from 2003. The massive installation features a fantasized fútbol match where superhero action figures take on one another with a bevy of devotional Jesus statues watching over the action in an almost protective oval. It immediately ties the theme of commercialization with the ever-popular sport.
Perhaps the most popular work to see is Andy Warhol's portrait of Pele. In the artists's characteristic style, the famed soccer player has his iconic picture painted over with crude swaths of green and light purple. It's a fine rendering of one of the greatest players of all time.
Ditto for Kehinde Wiley's Samuel Eto'o portrait with the sports figure is pictured against a backdrop of falling keys. Perhaps the most obvious, yet most powerful, piece on exhibit is a photograph from Generic Art Solutions called Pieta. The 2008 piece envisions the Christian triangular scene of Mary and Jesus, but this time with two soccer players in a somber display of loss.
Look for Chris Beas' iconic red paintings. The vibrant color against black-and-white images draws the eye to either the foreground or background.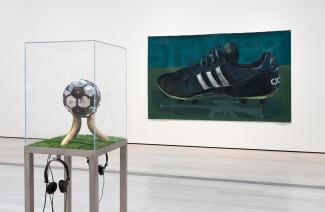 Robin Rhode's Hondjie may be the best of the several videos on display. The digital animation follows a group of amateur fútbol players on the street as they kick an imaginary ball (represented by black chalk lines) back and forth; the ball's path is never erased, leaving behind a stop-motion shadow of the past.
Other pieces focus on the nationalistic pride that comes with the "beautiful game". There are flags hanging low and foosball tables on display. A few memorable images from important soccer games have also been immortalized by various artists.
Fútbol: The Beautiful Game is not terribly exhaustive, but it provides an easy hour of engagement away from the soccer pitches in Brazil. Catch the exhibition through July 20.
By John Soltes / Publisher / John@HollywoodSoapbox.com
Click here for more information.