INTERVIEW: Brett Ryback detects something's wrong in 'Murder for Two'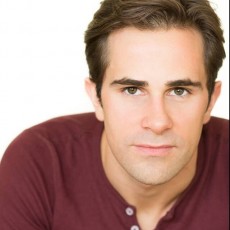 Murder for Two, the celebrated off-Broadway musical that will soon end its extended run at New World Stages, features a detective played by Brett Ryback trying to solve a murder with a slew of suspects, all played by Jeff Blumenkrantz. The two populate the stage for some singing, acting, piano playing and good-natured, whodunit fun.
For Ryback, the journey, which has lasted more than a year, has been a great one.
"I definitely had the hope that this show would do very well and go somewhere else," he said recently during a phone interview. "The script was so funny just reading it on its own, and building it just felt really magical. And it felt like a lot of things lined up correctly. I just thought, you know, this would be a good one to continue. I did not expect it to go as long as it has, and I certainly could not have imagined what it felt like to have been doing something for this long."
Ryback said the show, which is in a similar vein to A Gentleman's Guide to Love and Murder and The 39 Steps, is the longest running production he has ever worked on.
"It just feels like such a reward for a tiny little show that could, but something that I think we all believed in. But at the same time, it's extremely exhausting, and that was kind of a surprise. I've never been sort of worn out by a show. … It's a very physically demanding marathon of a show. It's not a marathon; it's a sprint. It's a 90-minute sprint."
The endurance needed to perform Murder for Two is quite high, indeed. Although Ryback was quick to say that Blumenkrantz has the harder of the two roles. "There's been many times over the course of the run where I've kind of had to remind myself to plug into good technique and support because otherwise you can really wear yourself thin," he said. "Jeff, especially, with all the different notes of his range that he has to hit in the different voices of the characters. He has a much more vocally demanding job just accomplishing that. But it's very loud, it's very fast-paced and it's just two people. So there's very little time where you're not talking, or singing or doing something. And yeah it can be tiring both physically and vocally. But it's weird. There's a weird sort of thing that happens. I think there are those nights where you're just exhausted, but usually at the end of the show, I'm quite wound up more than anything. I'm sort of ready to do things."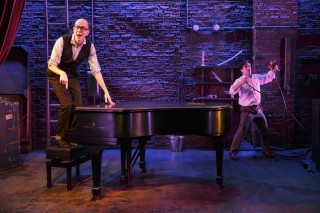 Marcus, the detective that Ryback plays, often fights with the suspects on the best way to tell this sordid tale. For the actor, his favorite aspect of the character is when he shows delight in trying to solve the mystery. "He has a sort of childlike excitement about that, and I think that's really fun. … As somebody who has lived in L.A. for the past 11 years, I've never fully thought about what it would be to come to New York and get to do a show, and let alone a show that has been so well-received. So for me that was the same kind of excitement. Oh my gosh, I'm doing it here in New York, and it's this. And I think Marcus has that same type of thing. Oh my gosh, I'm solving the murder of Arthur Whitney and what a great opportunity, so it was kind of mirroring my own experience."
After the show concludes its run, Ryback plans to head back to Los Angeles, a city built around the television industry. The actor said there are less opportunities for theater in Los Angeles, especially theater that provides gainful employment.
"There is an attitude and a perspective on the art form of performance that differs between the two cities. New York has a much more, in general, a larger appreciation for the art form of it, and I think L.A. has a much larger appreciation for the business of it. And both of those things comes from somewhat genuine places, and you really get to understand the business side of things. It can be very exciting. There are good people making good decisions there, but it can also feel really … empty. But I think that's always the struggle that we go through as artists, is balancing the art with the business. They are two sides of the same coin."
While in New York, Ryback has laid the groundwork for future Big Apple projects. He's also working during the day on his composing. Recently, the actor played a concert at 54 Below featuring newly penned tunes.
"Putting together a show while doing another show, those are two conflicting full-time jobs," he said. "But the writing is something that I love to have the personal and private space to do. So I've been writing as often as I can."
By John Soltes / Publisher / John@HollywoodSoapbox.com
Murder for Two, currently playing at New World Stages, stars Brett Ryback and Jeff Blumenkrantz. Click here for Hollywood Soapbox's interview with Blumenkrantz.