INTERVIEW: Dr. Oakley walks on the wild side in 'Yukon Vet'
In the far reaches of Alaska, where the caribou outnumber the people, Dr. Michelle Oakley often hangs out of helicopters to tranquilize bison.
What a life.
With a sense of adventure in her eyes and thoughts of her family never too far away, Oakley is a veterinarian who often ups the thrill factor to help protect a new client. She has created a practice that caters to animals of all shapes and sizes. From bison and caribou to lynx, cats and dogs, there are few exotic or domesticated critters she hasn't encountered.
Oakley, the self-proclaimed "Yukon Vet," is the subject of a new Nat Geo Wild reality series. With episodes airing 9 p.m. Saturdays, Dr. Oakley: Yukon Vet offers a front-seat look at this unusual life.
Recently, Hollywood Soapbox interviewed Oakley about her career.
On her introduction to the 'wild' life …
I spent a lot of time around as many suburban animals or nearby rural animals I could, so I always was interested in this and wanting to be around animals and wanting to be a veterinarian. And so I just followed that path. …
When I was at University of Michigan … you can go as a research assistant for a PhD student who's doing a big project in some other place. So I had some choices between going to Australia or Yukon or Mexico, I think, and I honestly barely knew where Yukon was. I was like Yucatan, Yukon? So picked Yukon, ended up there, and it's just been amazing when I came here.
I was just so amazed by the wild and wide open spaces, and not unusual to see grizzly bears frequently, not unusual to see moose and caribou, wolves, and then these incredible mountains, vistas as well. Just kind of fell in love with the place. Then kind of had to find a way to make it work between being a veterinarian and being in a wild place. So the company came about naturally then.
On her work with domestic and wild animals … 
I probably work on more wildlife than domestic. It may be pretty evenly split right now, but I work for a couple different captive wildlife facilities — the Yukon Wildlife Preserve. … The animals aren't entirely free ranging, but it's huge enclosures. So you're basically trying to stalk them on cliffs when you want to dart them. It's pretty big open spaces.
And I also do wildlife work for a few different regions here in the North, so flying around in helicopters and darting animals. And that's kind of a certain time of year, usually in the winter. And then the rest of the year, I'm kind of at beck and call for mobile practice, you know, going to people's farms and even houses if they are off the grid.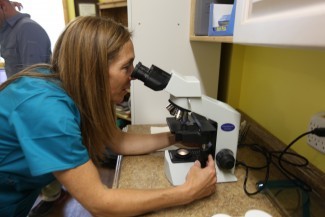 On treating a wide variety of animals …
There's a huge range of species and individual needs for types of animals, and not only just their needs but understanding what equipment, adapting equipment to work for them. Trying to get a mask, like an oxygen mask, over the mouth of a moose versus a tiny bird can be pretty different.
So it is a big range, but if you work as a zoo veterinarian that's your everyday reality. And I've also worked at a couple of zoos. But that is still the challenge of the zoo veterinarian or that line of work, is trying to keep up and trying to adapt a lot of the medications and a lot of the equipment that are designed for dogs and cats or horses to this huge range of species.
And I'd say another really big challenge for me is balance. You know, I have three daughters. I have a very patient husband, who is also a wild land firefighter. So he can be gone a moment's notice out on forest fires, and three busy girls, and two of them are teenagers. So you know I have a lot going on at home, too, and a lot of travel. Fortunately the girls are really into animals, so they travel a lot with me. They help me out on a lot of different cases, so I think we stay in touch a bit that way as well. But trying to keep balance is huge for me, too.
On her family's reaction to this unusual career path …
They've grown up seeing it, so they're not all that surprised by it. And they help out a lot, too. I mean my daughter is helping me chase down lynx kittens. … They get involved as well. They've kind of been raised around all this, so … they're excited about it. But they don't even realize how unusual it is, I think. That's kind of funny. I always tell them I'm taking off to go do captures, hanging out of a helicopter. They don't usually get to see that, so some of those things that are being filmed that they don't normally see is kind of fun, too, because they're like, oh, mom, you're so lame. …Typical teenagers when they see me hanging out of the helicopter, strapped in, darting a bison, it's like, oh, wow, did you do that today?
On the current season …
You never know what's going to be coming in for some of the wildlife cases, but coming up on the show, I know we definitely have some lynx kittens in the wing coming up. The Yukon Wildlife Preserve has a breeding pair of lynx, and they have excellent genetics. So that's really important for other zoos and breeding programs across North America.
We're catching the lynx kittens. The mom and dad are not really excited about that, and they're kind of trying to get in the middle and get at us. So that's kind of fun.
There's also another project where we're catching pregnant caribou in a herd that's about to go extinct in the North. The herd has gone from a few hundred down to 50 and now down to 25, and is about to completely disappear from the landscape. So we go out and we catch a bunch of pregnant females and give them a helicopter ride to a maternity pen where we're going to be doing a really big conservation project to try and prevent that extirpation. So there's that coming up.
We have lots of cases where dogs are either getting attacked by bears or involved in porcupines or just out in kind of really crazy mountain situations and getting in trouble. … Even the domestic case can often be a bit wild.
On her history with caribou … 
I was really interested in wildlife, so one of the first projects I started doing was for Yukon Fish & Wildlife was a conservation project where were trying to protect some pregnant caribou. And we were doing wolf vasectomies on wolves that were around the caribou herds. The wolves could still live a fairly normal life and be breeding, reproducing, because we have tons of wolves in this area but not enough caribou. The wolves they wouldn't have so many kids, so not so many babies to feed and mouths to feed.
On her small animal practice …
So conservation has always been kind of foremost in what I've been interested in doing. … But now that I'm doing a little bit of the small animal practice as well, dogs and cats, up here especially, I just love that, too. I mean there's so many neat people and unique people up here in the Yukon. A lot of them are so tough and so independent, and they really rely on their dogs, especially up here for when they're traveling in the bush to let them know if there's a bear around. There's a lot of people who still use dog sleds mostly for racing and recreation. So there's that bond. Seeing the human-animal bond is just so incredible up here as well.
On the future …
I am really satisfied with my life and really happy with being here in this remote place and with my family, and with all of these amazing people I get to work with, and amazing animals as well.
By John Soltes / Publisher / John@HollywoodSoapbox.com
Dr. Oakley: Yukon Vet airs 9 p.m. Saturdays on Nat Geo Wild. Click here for more information.