Bootlegging Bondurants come to life in 'Lawless'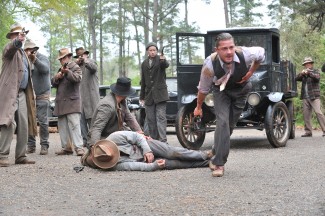 Fans of the outlaw reality shows Moonshiners and Tickle should rejoice during this cinematic history lesson.
The bootlegging Bondurant Brothers are the subject of Lawless, a 2012 Prohibition-set film starring Shia LaBeouf, Tom Hardy and Gary Oldman. Depicting a complex plot and compelling characters, the movie achieves a certain level of energized violence and historical interest; however, what holds back the narrative is that the Bondurants don't jump off the screen as anything more than a bunch of rowdy criminals. It's hard to root for them or against them.
That's not to say the movie is a misfire. On most fronts, Lawless is a highly watchable film with great attention to period details. John Hillcoat's direction is often beautiful, and it's easy to be taken away to 1930s Virginia where everyone seemed to be holding a secret and the law was quite negotiable.
Hardy and Oldman are enjoyable in their respective roles. Hardy is the brooding Forrest Bondurant, and this actor, an alumnus of Warrior and Tinker Tailor Soldier Spy, knows how to do brooding. Oldman is Floyd Banner, the rival who represents the greatest threat to the Bondurant's illicit business. Both actors have a way of using Nick Cave's dialogue and making it sound pure and realistic; both actors feel like creations from the 1930s, and the fedoras don't seem like props.
Jessica Chastain is Maggie Beauford, the love interest of Forrest's. Her role feels underwritten and underdeveloped, and unfortunately the strongest female voice in the male-dominated film is unable to leave an impression. (Mia Wasikowska is also in the film.)
LaBeouf is the one actor who seems out of place and out of time. His Jack Bondurant role is a young, energetic whippersnapper, someone who immediately butts heads with Charlie Rakes (Guy Pearce), the local police official in these parts. LaBeouf overplays the role to the point where he seems like an "actor" rather than a real "bootlegger." In a movie that favors realism, the portrayal doesn't fit.
The best feature of Lawless is the look of the film. Hillicoat and his production team easily transport the audience to the 1930s, a time when drinking a beer seemed more revolutionary than shooting a gun. Be prepared for strong bloody violence, as the R rating promises.
Lawless is not a perfect film, but it holds one's attention long enough.
By John Soltes / Publisher / John@HollywoodSoapbox.com
Lawless

Directed by John Hillcoat

Written by Nick Cave; based on the book by Matt Bondurant

Starring Shia LaBeouf, Gary Oldman, Tom Hardy, Jessica Chastain, Guy Pearce, Jason Clarke and Mia Wasikowska

Running time: 120 minutes

Rated R for strong bloody violence, language and some sexuality/nudity

Rating: