REVIEW: 'The Realistic Joneses' features Michael C. Hall, Marisa Tomei in dark comedy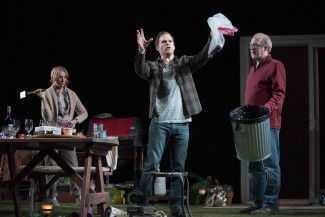 NEW YORK — I'm so glad that The Realistic Joneses has opened on Broadway at the Lyceum Theatre. Not that the 100-minute dramedy is perfect (far from it actually), but it's refreshing to have an edgy play that doesn't usually play the Great White Way set up shop for a few months among the many movie-to-stage adaptations that so often drown New York City.
Will Eno, an "it" off-Broadway playwright similar to Annie Baker and Young Jean Lee, makes his Broadway debut with The Realistic Joneses, a simplistic portrait of two couples trying to deal with life and mortality. When Eno's Middletown was presented at downtown's Vineyard Theatre, the results were breathtakingly original and risky. Here's a playwright willing to deconstruct the peculiarities of small-town life and the art of theater all within a short, digestible timeframe.
The Realistic Joneses continues that exploration into unconventional land. At first glance, the play is missing a plot. It has four nice characters — winningly brought to life by Oscar winner Marisa Tomei, Oscar nominee Toni Collette, Golden Globe winner Michael C. Hall and Pulitzer Prize winner Tracy Letts. But they frequent the Lyceum's stage with seemingly nothing to do but talk for 100 minutes. That's the first impression of this trickily divine play. After closer inspection, and this didn't come to me until a few hours after the final curtain, there's something darker and much deeper about the proceedings.
Bob (Letts) and Jennifer (Collette) Jones are living a fairly middling existence in a small town near a patch of forest. No children. A bug zapper in the backyard. Sliding glass doors separating their home from the rest of town. The main obstacle in their life, besides boredom, is that Bob has a degenerative disease that is causing an increasing level of pain. Trying to deal with their new reality, and Bob's mortality, is the main challenge for this otherwise typical couple.
John (Hall) and Pony (Tomei) Jones show up in Bob and Jennifer's backyard with a bottle of wine and new-neighbor good wishes. The couples don't exactly connect at first, but eventually they become used to each other's company. There's an obvious attraction between Pony and Bob, and John and Jennifer have some deep words themselves.
The play continues with an array of scenes, some indoors and some outdoors, all showing how the couples grow closer and yet somehow keep their distance. They talk about innocuous subjects and occasionally drop their inhibitions. Like any elongated conversation, they find times to smile and times to despair in embarrassment.
Eno is a master of words, and the English language seems to be what most interests him. There is not one character in The Realistic Joneses who can get away with a cliche phrase or throwaway line. If a person decides to talk, they need to face the consequence of their diction. This makes the conversing meaningful and fraught with anxiety.
Gold has the action, which is minimal, play out on an unusually effective set. There's grass for the outdoors scenes and a melange of indoor kitchen equipment such as a refrigerator. Separating the foreground from the obstructed background is a set of sliding glass doors. However, Gold gives us some idea of what lurks beyond. In between scenes he lights up the bricked background of the Lyceum's stage, giving the play a haunted vibe, as if the world were creeping into the Joneses' life.
The acting is enjoyable and varied. Hall and Tomei are the younger, happier couple. They come off as slightly buffoonish in the beginning, but they let their inner emotions bubble to the surface. Their forced smiles and stupid jokes may be defense mechanisms to hide the truth.
Letts and Collette play their couple as somewhat dejected and searching for something (someone) to change the trajectory of their lives. They can't come to terms with Bob's illness, and they would prefer not to change their social life to let this new couple into their backyard.
By play's end, both couples have changed, although Eno never makes the evolution obvious.
Of the four actors, Letts seems to have the best handle of his character. Watching him can be painful, and that's what defines Bob. He sits on a bench, grabbing at his back because of the pain. He looks into Pony's eyes, realizing his affection will likely not be reciprocated. He views his wife as a safety net and John as an invader.
The female characters are slightly underwritten. Perhaps a second act with more context on the Pony and Jennifer characters would have worked. Although Collette and Tomei are able to fully carve out their respective Joneses.
Hall is the one who plays the most surprising character. The steely determination of a serial killer this is not. Instead, John is a likable guy who says too much too often, and when he does, there's a glimmer of a troubled soul behind the welcoming visage.
As it stands, The Realistic Joneses is 100 minutes of thought-provoking theater. It's not for everyone, and, in fact, there may be more head scratching than pure enjoyment. Although the many laughs do land, Eno and company are trying for something darker and deeper. The playwright takes us on a journey of poetry, pathos and progress, and we don't even have to leave the backyard.
It's one of the most exciting new plays of the season, a treat that feels out of place in a big Broadway theater. And that's exactly why it should be there.
By John Soltes / Publisher / John@HollywoodSoapbox.com
The Realistic Joneses

By Will Eno

Directed by Sam Gold

Starring Maria Tomei, Toni Collette, Michael C. Hall and Tracy Letts

Running time: 100 minutes

Currently playing the Lyceum Theatre at 149 W. 45th St. in Manhattan. Click here for more information.

Rating: