'Captain Phillips' finds Tom Hanks trying to outsmart band of pirates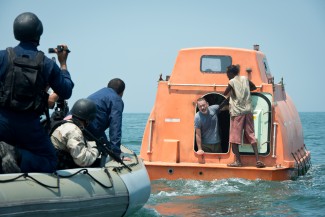 Captain Phillips, the exquisite thriller from director Paul Greengrass, features Tom Hanks in one of his finest roles in years. It's cliche to say that a movie can attain nail-biting intensity, but Captain Phillips comes close to just that. The story of how Capt. Richard Phillips (Hanks) and his team of sailors are able to outsmart a dedicated band of Somali pirates feels both timeless and ripped from the headlines. Based on true events, the movie is a textbook version on how to competently put together a Hollywood thriller.
The Oscar nomination for Best Picture is well deserved.
Although Hanks turns in a fine performance, Barkhad Abdi is the scene stealer as Muse, the captain of the pirates. With a loaded machine gun at the ready, and a seemingly endless bag of tricks, Muse and his men wreak havoc on the U.S. container ship Maersk Alabama. The ship's crew knew they were charting dangerous waters, but they could never have imagined how events would transpire.
The pirates, out for money rather than blood, speed alongside the container ship, attempting to board the vessel and hold the crew hostage for ransom money. These gun-toting men should have realized that their grandiose plan was too complicated to work, but, if Greengrass' film is to be believed, they came rather close to fulfilling the mission.
Throughout the narrative, which runs a quick 135 minutes, the camera focuses on the rivalry between Muse and Phillips. They both represent a group of men, and, in many ways, their individual lives are based on leadership. Muse is the burgeoning captain, a person trying to prove his worth, while Phillips is the steady presence at the wheel. One is prone to violence. The other is prone to calmness. Both rely on instinctual behavior.
Greengrass is one of Hollywood's best directors. From his early indie beginnings to his more recent Hollywood fare, the director has reinvented the thriller movie by focusing on important character development, realism and fast pacing. We come to care about the fate of Phillips and his men because so much time is invested in their ordeal. Greengrass' direction, clever and direct, makes us focus on the best qualities of these men. He gives them a chance to shine in the cinematic spotlight.
The final 45 minutes, featuring complex and invigorating entertainment, is scripted like a ballet. Every scene and utterance of dialogue are calculated to heighten the drama. It's a credit to the hard-working cast members that the intensity never drops one iota.
Captain Phillips is a solid thriller and one that should be respected by audiences. It's so rare to have a thoughtful mainstream film that uses the genre conventions to such brilliant intensity. The movie is one of the best of 2013.
By John Soltes / Publisher / John@HollywoodSoapbox.com
Captain Phillips

Directed by Paul Greengrass

Written by Billy Ray

Starring Tom Hanks, Barkhad Abdi, Barkhad Abdirahman, Faysal Ahmed and Mahat M. Ali

Running time: 135 minutes

Rated PG-13 for sustained intense sequences of menace, some violence with bloody images and for substance use

Rating: