INTERVIEW: Nat Geo starts 'Building Wild' with Paulie, Tuffy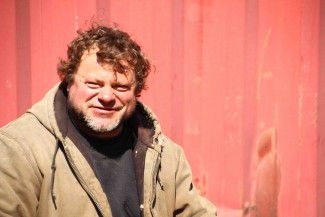 Traveling off the grid and getting away from humanity sounds like a pipe dream for many people. For friends and colleagues Paul DiMeo and Pat "Tuffy" Bakaitis, it's a business.
The two designers — DiMeo is the city boy, Bakaitis the woodsman — have set up shop and created Cabin Kings, a company dedicated to helping clients build unique camps in remote places. Their burgeoning business has been captured for the inaugural season of Building Wild, airing Tuesdays at 9 p.m. on the National Geographic Channel.
DiMeo is an alumnus of Extreme Makeover: Home Edition, and Bakaitis is making his reality TV debut. Recently, Hollywood Soapbox spoke with both of them over the phone about their quest to get off the grid.
On the origins of the show …
DiMeo: "Well, I had known Pat through one of the executive producers … of Extreme Makeover: Home Edition. He did the last two years of Extreme, and you're always talking about, well, what's next. If this thing does not happen, what's next? He said, 'You know, I want you to meet a buddy of mine — Pat 'Tuffy' Bakaitis — and just talk to him.' So I did, and I went up and spent some time with Pat. Pat's got five cabins of his own on his property, and he kind of does everything that I don't. … It makes sense that we kind of work something out, and Nat Geo was interested in following this from its inception. So here we are. Here we are."
On working well together and the challenges of the business …
Bakaitis: "We work well together. Sometimes it doesn't look like that. … We work really well together. We're good friends. There's no hard feelings. We're both professionals. … For me, the biggest challenge is just trying to get the project done in five days. That's a huge challenge getting the building material in there on time without it being early, on time, in the proper order. Obviously you want to start with your floor materials rather than roofing material. … That's a huge challenge."
DiMeo: "I do have a habit of promising the world, and I like to come through on those promises. … So [Tuffy] may have his plate already full doing something, and I come to him with more. So I knew that frustrates him in real life, and it frustrates him in TV, too. But it makes for a very challenging week. We keep challenging one another, and I think that's a good thing. I do believe that that's one of the toughest things is just fulfilling our own challenges."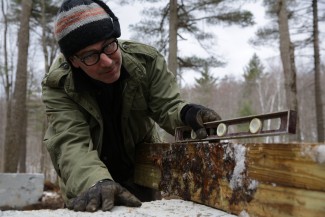 On the cabins and their specifics …
Bakaitis: "These are cabins in the middle of nowhere. There's no plumbing. There's no electricity. … If you have running water that means you have a septic system, and that's something we can't deal with, not on that short of time. Most of the cabins are wired permanently for a generator, so you can put a generator out in the woods, about 100-foot rip cord, and then you can power them up. These things are so far off the grid, I don't think you understand. They're 1.5 mile-2 miles in the woods. You're way off. You can't have power there."
DiMeo: "Whenever you're dealing with running water, it's not so much the water that's the problem. It's the waste. It's getting rid of that water in an environmental way. So it's true, we can bring water in and do that very easily, but people don't realize that you have to drain that water. And that's where you start running into problems with zones and that kind of thing."
Bakaitis: "Then you need a septic tank. … There's no way you can get a septic tank delivered to any of our sites. These places are way up in the mountain. It's the real thing. … People walk and enjoy the camp for the day, or they want to stay overnight. You know, you bring your own provisions. You bring a quart full of water. You bring your own food, and you can stay a day or two there."
On the budgets of building the cabins …
DiMeo: "We're able to keep budgets pretty manageable. … We would have you come with your labor pool. You would bring your friends to build this thing. And Tuffy and myself, we're there with a few carpenters also, but you're really doing a large part of the work. This is a great experience for you in these five days. It brings you and your family a lot closer together because you're working on this thing. The other thing we try to do is, since most of our clients either have farms or have land, they have collected things, whether it be an old school bus, whether it be a camper, whether it be a container, whether it be an old barn that we're able to dismantle and use that for some of the material. All these things together help us keep our costs down."
On dealing with a camera crew …
Bakaitis: "It's more of a safety issue with these camera guys. We work in a lot of mud. I swear to God, if there's not mud on the job site, we just bring it in. We just seem to have mud on all of our job sites, and these guys, they're looking through the camera. They're not looking down at their feet. I've witnessed a cameraman fall into a 3-foot rut full of water, and get soaked and covered with stagnant water. … Building these camps out in the middle of nowhere, I'm totally at home. This is my sandbox. This is what I do every day. I'm in the construction business. If you want to build a new home out in the woods, I'm the first guy there. There's no road. I create the road. I prepare the building site, so this is nothing new to me. I'm completely at home doing this."
On building a cabin for himself …
Paulie: "When will I have that little piece of paradise that my wife and the dogs can go up to and they're not on leashes? And you know you're not worried about carrying around your poop bags to pick up after your dogs and so on and so forth. Yeah, it makes [me] very appreciative of things like that."
On being on television for the first time …
Bakaitis: "I've never seen myself on TV before, and it's a little bit awkward to see myself on TV. My mother brought us up to teach us not to talk about yourself or brag about yourself, but this is what it's all about. People want to know about you or see you. So it's not how I was brought up. We were brought up kind of humble. You do things, and you know you don't walk around pat yourself on the back. But people want to see you, and this is what it's all about. So I've had to change my ways a little bit."
By John Soltes / Publisher / John@HollywoodSoapbox.com
Building Wild airs Tuesdays at 9 p.m. on the National Geographic Channel.