INTERVIEW: Pianist Roman Rabinovich tours U.S. with Haifa Symphony Orchestra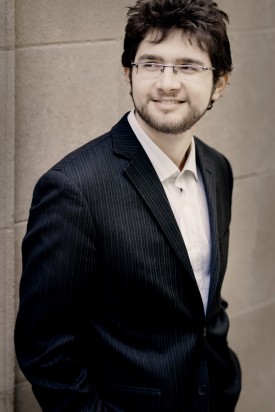 Roman Rabinovich, the celebrated Israeli pianist, has the dedicated craftsmanship of someone twice his age. Since he was 11 years old, the musician has extensively toured the globe and offered concerts with some of the top orchestras. Many a maestro have helped conduct Rabinovich's path. In the next few weeks, he will tour the United States on the inaugural stateside trip of the Haifa Symphony Orchestra of Israel.
Among their many stops will be a Feb. 16 concert at the State Theatre in New Brunswick, N.J., where Rabinovich will solo on Pyotr Ilyich Tchaikovsky's "Piano Concerto No. 1 in B-Flat Minor, Op. 23."
"It's two months of constant playing, and it's a wonderful experience," Rabinovich said recently during a phone interview from the Haifa Symphony Orchestra tour bus. "[Throughout the tour], I will be playing four concertos — [Ludwig van] Beethoven's 3, [Sergei] Rachmaninoff's 2 and 3, and Tchaikovsky's 1. So all the favorites. They're all great pieces."
Even though they are popular pieces for audience members, they don't come easy to orchestras and solo musicians. "Of course, they are very challenging pieces," he said. "Everyone knows every note of these pieces, so the performer has to bring something to the music [so] that the music doesn't stay stale. These pieces are so much played. You know? And a piece like Rachmaninoff 3 is probably one of the most difficult pieces. … There are a lot of challenges. It's essentially difficult, but when it works, it's very rewarding."
Rabinovich rehearsed with the Haifa Symphony Orchestra in Israel a few weeks ago. Hollywood Soapbox caught up with the musician on an eight-hour bus ride from Florida to Alabama in between shows. "We're rehearsing before every concert," he said. "We have rehearsal time, and it's going very well so far. We have a mutual understanding with the conductor where we're on the same page musically speaking."
That conductor, Boguslaw Dawidow, will lead the orchestra on several other pieces besides Rabinovich's solo. In New Brunswick, audiences can expect to hear the overture to Euryanthe and Dvorák's "Symphony No. 9 in E Minor, Op. 95."
"I have a long professional relationship with the orchestra for many years. The first time I played with them I was, I don't know, maybe 11 or so. I've been playing regularly since then, so we developed a very close working relationship."
With such a tight schedule, playing dozens of concerts in quick succession, it can be a challenge to introduce overwhelmingly difficult pieces, like say a Sergei Prokofiev composition. Rabinovich said it's important to make it not too difficult for the orchestra, the soloist and the audience.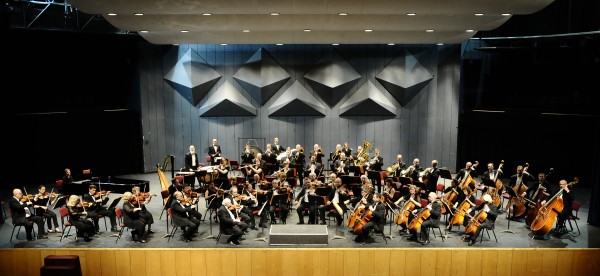 For Prokofiev lovers, listeners can turn to Rabinovich's new CD, Ballets Russes, a celebration of the influential ballet company from Paris. "[At a young age], I got curious, and I start listening to the music, and I just got very interested in this era of beginning century of Paris and Ballet Russes and the artists involved," he said. "And I wanted to make an homage to this time."
On the CD, one can find selections from Prokofiev's Romeo and Juliet, Igor Stravinsky's Petrushka and Rabinovich and Maurice Ravel's Daphnis and Chloe.
"It's permanent. With concerts … you play and it disappears. But recording, well, you can control it. Of course, in live concerts, that's the beauty of it — the sort of lack of control."
A second CD from Rabinovich is already in the process, and now with the pianist touring with the Haifa Symphony Orchestra around the United States, more classical-music lovers will have a chance to hear his unique interpretations. These projects are the end result of many years of hard work, a dedication that began when Rabinovich's parents, also musicians, pushed him toward music. Ever since he was 11 years old, he's been playing and performing for adulating audiences. His career has its fair share of accolades: winner of 2008's Arthur Rubinstein International Piano Master Competition and the Classical Recording Foundation Artist of the Year award for Ballets Russes.
"It definitely gets more and more difficult," Rabinovich added. "When I was a child anything went. Now, as I get more aware and selective about what I want in music, my inner ear always wants more. The ideal of how it 'should' sound is always reaching higher standards. This difference and adjustment between the 'ideal' in my head and the reality can be a tortuous process."
By John Soltes / Publisher / John@HollywoodSoapbox.com
The Haifa Symphony Orchestra with Roman Rabinovich as soloist has several upcoming tour dates, including Feb. 16 at the State Theatre in New Brunswick, N.J. For more information on the State Theatre, click here. For more information on the tour, click here. For more information on Rabinovich, click here.