'Enough Said' features excellent performances, typical plot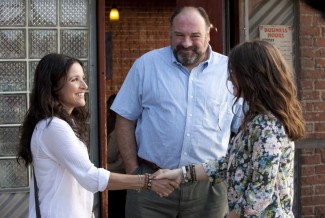 There's great potential in the new romantic comedy Enough Said, starring Julia Louis-Dreyfus and the late James Gandolfini. The two leads turn in some of their best cinematic work, and an overall pleasantness pervades every frame of the narrative. It's never difficult to sit and enjoy what Enough Said has to offer. For a rom-com in 2013, the movie delivers by actually telling a story about real people.
Still, it's difficult to completely back the film. As the plot progresses, the inevitable begins to happen, and the movie pushes and pulls between originality and usualness. Everything has a peripheral familiarity to it, as if this is a new kind of rom-com, but one based on an older model.
Louis-Dreyfus plays Eva, a smart, funny, beautiful woman trying her best in a difficult trade: She's a masseuse. The challenge for Eva has less to do with money and more to do with the quirky nature of her client list. One person constantly talks without asking Eva how she's doing, while a young man refuses to help the masseuse carry her equipment up a long flight of stairs. She grins and bears it, but deep down there's a feeling of being unsettled, of wanting more than administering shoulder rubs. The real joy in life comes from her daughter and Eva's role as the "cool mom," although as the young one readies for college, that part of Eva's life is facing a harsh reality.
Scouting for a possible mate, Eva heads to a party and is introduced to Albert (Gandolfini), a kind man with a nice smile. When the two talk, they seem like compatible adults. They both have children from a previous marriage, and they both want the hang-ups of modern-day relationships to be nonexistent. They are grown up and are tired of the trivialities.
One date leads to another, which leads to another. Eva can't believe she's falling for this man; her surprise mostly comes because of his physical image. Albert is a little overweight and not the drop-dead gorgeous man that Eva was expecting. Yet, his positives as a conversationalist and good father outweigh his outweighing.
If Enough Said continued down this path of Eva and Albert finding each other as a steady couple, the movie would be the rom-com for people who hate rom-coms, something akin to As Good As It Gets. The problems begin to surface with the supporting characters, namely Catherine Keener's Marianne. It would be too revealing to let on how Marianne fits into the story, but from the moment the audience finds out, it feels like a far-fetched cop-out. A movie so skilled in dialogue (thanks to writer-director Nicole Holofcener) should not be reduced to such typical fodder. Happy (or unhappy) coincidences don't work in movies, and grimaces definitely turn up when they appear in romantic comedies. Relationships need to organically evolve, but unfortunately Eva and Albert's story is hijacked by this senseless dedication to stereotypical storytelling.
Louis-Dreyfus and Gandolfini, expertly cast in the movie, save Enough Said. OK, some of the plot points grow tiresome, but these characters are original. Spending 90 minutes in their company is great fun, mostly because of the "adult" conversations they have. They are respectable, dependable, flawed adults with many different items to consider in life. From children to jobs, they are not in puppy-dog love, and this means that their conversations cut out all the garbage typically found in such movies. They deserve recognition for rescuing this film from its own spiraling into typicality.
By John Soltes / Publisher / John@HollywoodSoapbox.com
Enough Said

Written and directed by Nicole Holofcener

Starring Julia Louis-Dreyfus, James Gandolfini, Catherine Keener, Toni Collette and Ben Falcone

Running time: 90 minutes

Rated PG-13 for sexual content, some thematic material and brief language

Rating: