Coming of age with Miami on the horizon in 'Una Noche'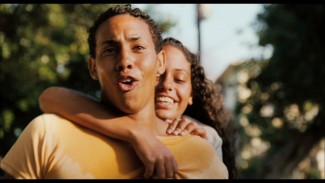 Una Noche, the new film from writer-director Lucy Mulloy, follows three young Cubans as they make the dangerous and life-changing decision to flee their native country and head for the so-called promised land of Miami. Before they make their way in a makeshift boat, we learn a little about their lives in Havana.
Raul (Dariel Arrechaga) walks the streets like he owns them, even though he's facing some tough pressures at home and at work. He's a short-order cook who makes barely enough to survive with his mother, an ailing prostitute on the verge of death. Raul drinks and explores the city streets looking for quick, cheap fun.
Elio (Javier Núñez Florián) and Lila (Anailín de la Rúa de la Torre) are brother and sister, and they adore each other. They both are fed up with their lot in life, but at least they're able to lean on each other for support. Elio's friendship with Raul is hampered by the fact that Elio has romantic feelings for his friend. He keeps his sexuality to himself until it becomes apparent to both Raul and Lila.
Through a series of adventures, most of them unplanned, Raul, Elio and Lila find themselves rushing to the ocean's edge and heading out in search of the United States. If they stay, the trio will face the police and more of the same. They want out, and they want out now.
Mulloy's film is remarkably gritty and raw. The streets of Havana pulsate with verve throughout the 90-minute feature, and there's a real understanding of the world inhabited by these three characters. Raul's relationship with his mother is given a fine focus. They love each other, but she's dying and he's sitting on the sidelines watching her leave. To help improve the situation, Raul tries buying illegal drugs, but this only leads to a series of events that spin out of control.
Lila, on the other hand, is given an unfortunate sight to see. She catches her father in an extra-marital affair, and this becomes her impetus for wanting to leave with her brother. Elio, unable to express his desires, wants to become comfortable in his own skin.
Mulloy's direction and writing are inspired, and there's never a scene in the movie that feels out of place. The journey from Cuba to Miami is harrowing with all of the troubles one would expect (and not expect). From sharks to the blazing sun, these three young adults grow up on the waters between one world and the next.
The acting from the three main actors is believable and heartfelt. They are young and filled with angst. Their romantic yearnings collide with the realities of the world, and they have obvious difficulty balancing the two. The proceedings are so real that sometimes it feels like Mulloy is a documentarian rather than a fictional filmmaker.
Una Noche is an exciting movie that tells a big story through the eyes of three worried souls.
By John Soltes / Publisher / John@HollywoodSoapbox.com
Una Noche

Written and directed by Lucy Mulloy

Starring Dariel Arrechaga, Javier Núñez Florián and Anailín de la Rúa de la Torre

Running time: 90 minutes

Not Rated

Rating: