INTERVIEW: Mink Stole travels to New Orleans without leaving New York City
Mink Stole and Penny Arcade, an unlikely yet compatible duo, are populating the stage at the New Ohio Theatre in downtown Manhattan for an extended engagement of The Mutilated, a rare Tennessee Williams play set in 1940s New Orleans. Stole plays Trinket Dugan, a woman who is constantly attracted to and repulsed by the friendship of Celeste Delacroix Griffin (Arcade), a shoplifter and prostitute. The two bicker and bemoan their lot in life, and Trinket's mastectomy is often an uncomfortable topic of discussion (and means of blackmail).

For Stole, most famous for appearing in all of the films from iconic director John Waters, The Mutilated project has been several months in the making. Thanks to a call from David Kaplan, curator of the Tennessee Williams Theater Festival in Provincetown, Mass., Stole found herself inhabiting the role of Trinket.
"So David Kaplan called me about a year and a half ago and said, 'How would I like to do this play?'" Stole said recently during a phone interview. "He sent me a copy of the script, and I was reading and I went, I know this play. And it turns out that I had read the play back in the early '70s when it first was published in an anthology called Dragon Country. And at the time, of course, I had never thought I would play the role. … I sent David an email saying that Tennessee Williams died without knowing it but I was born to play this part. You know, he reached out to me as if he had written the part for me because I identified with it. I just felt so connected to it immediately."
The production, directed by Cosmin Chivu, features a forgotten New Orleans where people hang on to the margins of society, still hoping to find purpose in life. The plot is accented by the jazzy music of an on-stage tin pan band headed by Jesse Selengut.
"This is a good play," Stole said. "And, yes, there are facets to Trinket that … are admirable and some of them not so admirable. I mean I think she has qualities on both sides … from one end of the spectrum to another. I'm hoping that I show some of them."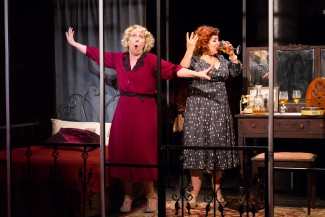 Stole's cohort on stage comes from a different performance world. Arcade earned her downtown credibility thanks to performance art, while Stole has been involved in film and theater. "Penny is very much like the character Celeste, so it's kind of a natural role for her," Stole said. "I have a very, very strong outlook on Trinket and me as well. I didn't have a mastectomy, but I know what loneliness is. I know what it's like to have friendships that are not particularly healthy in order to not be lonely. I think most people have had. We've stayed in relationships too long, or we've kept friends for too long because to lose them seems more dreadful than to keep them."
Even though Stole enters the Crescent City every night for The Mutilated, the actress has never been to New Orleans herself. Come February 2014 that will change. She has booked a couple of nights at a cafe called the AllWays Lounge, where she will likely play songs off her forthcoming album Do Re Mink. "I feel in a sense like I haven't learned to read yet," she said of her first trip to New Orleans. "It's something that should be a part of who I am, and I'm very excited that I'm going to actually be able to incorporate it into who I am."
Until she arrives in New Orleans for the first time, she'll have to do with the Christopher Street theater where The Mutilated plays through Dec. 1 (several performances are sold out). It's up to the company to nightly recreate the 1940s on the Gulf Coast, with Williams' sense of tragic enjoyment and fake pleasures brimming in the air. Selengut's music, set to the playwright's words, also helps set the mood.
"Penny and I are the only two women of a certain age," Stole said. "But overall it's a young cast, and they're wonderful. They're so excited. They're very happy to be with us, and they're full of energy and enthusiasm and talent. … That's a terrific energy that I love being a part of every night, and when we close the show, I'm going to miss them a lot, you know, because we've been together as a group most of us since June."
Acting in a Williams play is often the highlight of an actor's professional resume. For Stole, it's an opportunity to get to know the man who seemed to know women so well.
"I think he was very intuitive about women, much more intuitive than many men … And I don't think it was necessarily because he was gay, but I think he understood the powerlessness of women of that time. I mean it hasn't been that long since women were not even allowed to own their own property. … [He] understood intuitively the way women feel when they start to lose their looks and they start to age because society doesn't like us to do that. I mean there are strictures against women that do not exist against men in terms of getting older or, you know, being assertive or just dealing with life. … But at the same time, he doesn't romanticize women. He allows women to have flaws."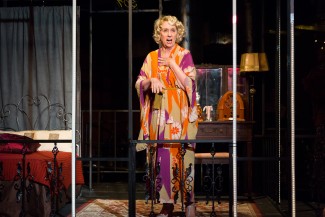 As the actress put it, women in the playwright's world aren't just "shrews" and "madonnas." They are a package of vulnerabilities and sympathetic behavior.
Even though Celeste and Trinket may be difficult friends to have in life, Stole said she sees them as brave figures attempting to combat loneliness by still living and carrying on. Despite the stresses and difficulties of waking up in the morning, they want to continue. They do not give up; they find an inner-resiliency and grasp it with an ever-clenching fist.
What sets Trinket apart from many of Williams' female characters are the scars, both physical and emotional. The character's mastectomy often is referenced and gives the play its name.
"It's the major vulnerability that Trinket has because although we're very open about breast cancer now, and we have all kinds of runs and marathons and walks and everybody wears a pink ribbon, in the '60s when the play was written and in the '40s when the play was set, we did not talk about it. It was a very shameful thing. Women did not talk about having breast cancer or a breast removal. They didn't talk about hysterectomies. We didn't talk about our women things because … it was unseemly and vaguely nasty. And so, it's kind of hard to relate to the shame of a mastectomy today as it was 40-50 years ago because the time is so different and our openness about these things. And now I mean everybody I know knows somebody who has had a mastectomy."
Stole added: "I had a hysterectomy myself back in the middle '80s … I didn't want to have it. I was sorry that I had to, and I tried not to. I mean I went to several doctors before I was convinced. But I had friends even back in the '80s who would whisper about it to me. I wasn't ashamed of it; I just didn't want to have to do it. But I had friends even then, even in the '80s, who would whisper about it because … they assumed that I was ashamed of it."
When meeting fans in New York City, and wherever Stole's career takes her, the conversation often comes back to John Waters. The film director featured Stole in so many films that their names are often mentioned in the same sentence. Being remembered for being part of Waters' troupe seems perfectly fine for this actress.
"One of the things about being me that I have had to deal with and have had to learn to embrace is the fact that no matter what I do, John Waters' name will be evoked," she said. "No matter what it is that I do, he will be referenced when people discuss it, whether he's had anything to do with it or not. And that's just a fact of my life. And because I love him, and because I'm very proud of the work I've done with him, I have had to learn to embrace that. … There are just things that are, and that's one of the things that is."
Stole lives a professional life of new forays into challenging projects (The Mutilated, Do Re Mink) and reminiscences of past films that somehow continue to live on decade after decade, generation after generation.
"It's quite on one hand humbling and on the other hand very ego-stroking that people will talk to me about work that I did 40 years ago as though it was something that I did yesterday because they saw it yesterday," Stole said. "To the viewer [the Waters' films are] still immediate even though to me they're ancient history. I mean we had no idea, obviously we never could have, that they would have such a long life, that they would still be relevant after this period of time and still … making such an impression on people."
With those memories firmly planted in mind, Mink Stole takes to the stage every night in a role seemingly written for her by one of the greatest playwrights of all time. She's traveling to New Orleans many times over, and she hasn't even stepped foot in the city yet.
By John Soltes / Publisher / John@HollywoodSoapbox.com
The Mutilated continues until Dec. 1 at the New Ohio Theatre. Click here for more information.