'You're Next' easily one of the best horror movies of the year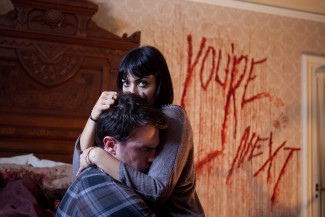 You're Next takes the home-invasion sub-genre and makes it completely original, thrilling and terrifying. The movie, which hit theaters this past summer and has been buzzed about for years, delivers all the horror goods one could ask for. Director Adam Wingard, working off a script by Simon Barrett, plays the movie like an inside joke for horror buffs. From the presence of Ti West (director, The Innkeepers) and Barbara Crampton (Re-Animator) among the cast members to the many genre conventions winningly utilized throughout the 95-minutes feature, You're Next is 100 percent horror and near perfection.
The setting is the middle of nowhere: a country estate where a wealthy family plans to spend a weekend together. The kids are all grown, struggling with jobs, grad school and relationships, but inside this beautiful house, the focus is on fine dining, reminiscing and taking care of mom (Crampton) and dad (Rob Moran). Each of the children bring home a significant other. There's Erin (Sharni Vinson, in a star-making turn) and Crispian (AJ Bowen). There's Felix (Nick Tucci) and Zee (Wendy Glenn). There's Drake (Joe Swanberg) and Kelly (Margaret Laney). There's also Aimee (Amy Seimetz) and Tariq (West).
The couples get along, but one can tell there is some uneasiness in the air. Mom and dad want everything to be peaceful, but around the dinner table, Drake has difficulty not pointing out the failings of his brother Crispian. Tariq is an independent filmmaker and instantly receives some rolled eyes about his profession. Zee is quiet and keeps to herself. These 10 people, all sitting ducks for the violence that comes their way, have trouble enjoying the stately house and seclusion from busy civilization.
And then the animals come.
Sporting freaky animal masks, a group of intruders decide to make this weekend in the country a memorable affair. The attack from the outside is violent and fast-paced. Audiences will be surprised how quickly characters drop to the ground and how intense the dread can be. Wingard is able to stage the plot in such a way that there's little room for breathing. Every second is filled with nail-biting intensity, and the action/horror never seems to abate.
The acting is enjoyable, and that's saying something for an independent horror film. Vinson, in particular, has the best role, and the actress is able to play to the strengths of her character. There is some background information associated with Erin that feels far too convenient, but after watching Vinson's performance, it's rather easy to accept everything as fact. Swanberg is just the right amount of annoying and smarmy. Crampton is a class act.
You're Next is the type of film that needs to be enjoyed as a visceral moviegoing experience. It doesn't say much about society, and it's not worth thinking deeper about the motivations and assumptions of the characters. Any heavy inspection into the columns propping up this piece of genre goodness will undoubtedly rob audience members of their enjoyment. Let's just enjoy this home-invasion thriller. No questions asked.
You're Next is one of the best horror films of the year, and that's saying something because 2013 is shaping up to be the year of the horror film
By John Soltes / Publisher / John@HollywoodSoapbox.com
You're Next

Directed by Adam Wingard

Written by Simon Barrett

Starring Barbara Crampton, Rob Moran, Ti West, Amy Seimetz, Sharni Vinson, Nicholas Tucci, Wendy Glenn, AJ Bowen, Joe Swanberg and Margaret Laney

Running time: 95 minutes

Rated R for strong bloody violence, language and some sexuality/nudity

Rating: