Original 'Invasion of the Body Snatchers' still Halloween treat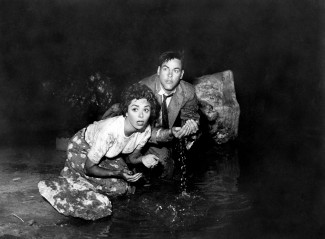 Invasion of the Body Snatchers, the brilliant horror film from 1956, follows a group of paranoid Americans as they navigate a town taken over by alien pods from outer space. The film, directed by Don Siegel and featuring a convincing central performance from Kevin McCarthy, has become iconic for obvious reasons. The McCarthy-era symbolism of the plot is clearly evident (are pod people stand-ins for suspected Communists?), and the thrills are still enjoyable more than 50 years after the film first graced the big screen.
In the movie, McCarthy plays Miles, a neighborhood doctor with a penchant for leaving his patients with a mouth full of smiles. His practice is strong, and he's taken a liking to a local girl, Becky (Dana Wynter). The two court each other like so many other cinematic couples from the 1950s: some food, some dancing, some suits and dresses, some back-before-10-p.m. enjoyment. The problem with McCarthy's utopia is that he's seeing an increase in patients lately, and many of them have the strangest symptoms. It's not that they're physically ailing; rather, these good townsfolk are claiming their loved ones are gone, completely vanished. In the place of these absent family members is a diabolical alien species hellbent on taking over earth.
Miles initially believes these ailments are caused by psychological problems and recommends a therapist to sort things out. However, after one of the "pods" is discovered, the doctor and his girlfriend realize that society is changing around them. They are on the run from this plague, which seems to have taken over every person in the neighborhood.
Siegel, working off a script by Daniel Mainwaring, is able to convey a real sense of claustrophobia throughout the film. Watching Miles and Becky try to escape before they too become pod people is thrilling entertainment. Around every dark corner there's someone lurking, wanting them to join this new experiment in human embodiment.
The worst development for these two characters is that determining who is pod and who is not is almost impossible. These new people look like the old people, and trying to build alliances for survival becomes a game of careful trustworthiness. How does someone look a beloved family member in the face and turn his or her back? Are they paranoid, or are they genuinely suspecting something malicious?
Invasion of the Body Snatchers, which has been remade and ripped off many times, is deserving of the title classic. This movie is a horror film that truly makes its audience think. What would we do? Who are these pod people? Are we watching a fictional tale or something a little closer to home?
By John Soltes / Publisher / John@HollywoodSoapbox.com
Invasion of the Body Snatchers

Directed by Don Siegel

Written by Daniel Mainwaring; based on a story by Jack Finney

Starring Kevin McCarthy and Dana Wynter

Running time: 80 minutes

Rating: