New York Comic Con 2013: Power Rangers and zombies and Doctor Who … oh my!
NEW YORK — New York City's annual festival of all things comic hit the Big Apple Oct. 10-13. The New York Comic Con, produced by Reed Pop, featured buzzworthy announcements from major publishers and studios, plus chances for fans to get up close and personal with a host of actors, artists and authors.
Although no one would call NYCC a silent place, much of the fun from the convention comes in the quieter moments. The main alleyways around Marvel and Image can be clogged like a fatty artery, but away from the hoopla there is time to have one-on-one encounters with new names in the industry. New York Comic Con offers a little bit of everything for just about everyone.
The BOOM!/Archaia tables were chockfull of top-of-the-line discoveries. Mumbai Confidential, a new noir by Saurav Mohapatra, was on sale, and the author was available to sign copies. Other great titles included Cyborg 009 (F.J. DeSanto appearing), Moon Lake (Dan Fogler appearing), Rubicon (Mario Stilla appearing), Awakening (Alex Eckman-Lawn appearing) and Spera (Michael Dialynas and Polly Guo appearing). Arguably the busiest table belonged to David Peterson and his successful Mouse Guard series.
BOOM! also hosted a Polarity signing that featured Say Anything lead singer Max Bemis ($20 NYCC exclusive prints were on sale, plus the first four issues of the comic series).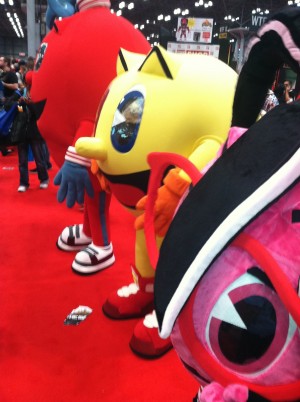 The Image and Skybound booths were swamped with people hungry for The Walking Dead merchandise. It's safe to say that these Robert Kirkman zombies have taken over Comic Con. From The Walking Dead Escape, which took place at the Intrepid on Oct. 12, to building an entire house set piece and letting fans take pictures with a car from the series, these walkers are apparently alive and well. Image typically hands out tickets early in the day for its most popular signings (including Kirkman). However, for many authors, fans could purchase a graphic novel or comic book and head right to the table.
The book publishers were out in full force. Matthew Manning signed Spider-Man Chronicle at the DK booth. Jason Fry signed copies of Star Wars: The Clone Wars: Episode Guide (convention special: $10). R.L. Stine signed free copies of his latest horror book, Red Rain. Also signing was Extinct for a Reason's Scott Cooney and Aaron Adler and Star Trek: Enterprise: Rise of the Federation: A Choice of Futures's Christopher L. Bennett.
The most organized table had to be Penguin, which pumped out free copies on a continual basis. It seemed as if every new hour brought a new stack of books, and many authors were present to sign copies.
Jim Steranko and Basil Gogos, legends in the comic world, talked with fans, while Max Brooks (World War Z) chatted with zombies and survivors alike. IFC sold DVDs for $10 and offered NYCC holographic postcards of Dario Argento's Dracula 3D. Midtown Comics, as to be expected, took up the prime spot in the middle of the convention floor, offering discounts on numerous comics and graphic novels.
Gamers were happy with previews of Watch Dogs and South Park: The Stick of Truth. Cosplaying was in full action with more Power Rangers than usual, plus plenty of zombies, Transformers, Poison Ivys, Zeldas, Doctor Whos and stormtroopers.
The autographing lines in the bottom of the Jacob Javits Center varied according to the celebrity. On Friday, it was possible to wait a few minutes and snag a scribble from Anthony Daniels, or C-3PO from Star Wars ($50). David Duchovny's line on Saturday afternoon was surprisingly manageable, but that could have been due to the steep asking price ($80, plus $5 for an 8-by-10 picture). Gillian Anderson ($60, plus $5 for an 8-by-10 picture and $20 for personalization) was by his side signing away. Hulk Hogan ($60) was present, plus John Barrowman (huge line all the time).
Sylvester Stallone was expected to sign on Sunday for an exorbitant amount of money ($395). Celebrity Authentics reports on its website that his autograph sold out, so apparently there were many interested fans. His photo op ($445) had limited quantities left, according to the website. Chloë Grace Moretz from the Carrie reboot was asking $75 for an autograph and $95 for a professional photo op.
New York Comic Con's swag was impressive this year. The question wasn't whether a fan would receive free stuff; the question was where all the free stuff would go. Bags are a hot commodity at comic cons, especially in New York where the swag is staggering.
By John Soltes / Publisher / John@HollywoodSoapbox.com