LAST CHANCE: Cicely Tyson stands out in Broadway revival of 'The Trip to Bountiful'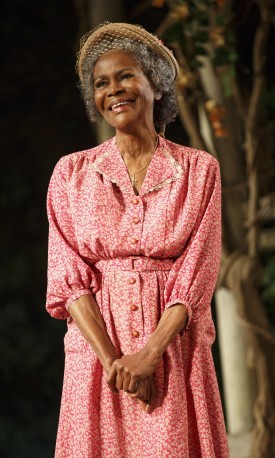 NEW YORK — Cicely Tyson won a Tony Award for her performance in The Trip to Bountiful, which finishes an extended run at the Stephen Sondheim Theatre on Oct. 9. After watching her character of Carrie Watts and spending time in her delightful company, it's no wonder the performance is so acclaimed. Tyson comes alive like no other actress on a Broadway stage right now. She imbues the character with a reality and anguish that is awesome to behold. It's one of those rare star showcases that makes theater so exciting.
The rest of the production of the great Horton Foote play has difficulty matching the excellence of its lead performance. Vanessa Williams's Jessie Mae Watts, Carrie's daughter-in-law, comes off grating to the point of distracting. Leon Addison Brown's Ludie Watts, Carrie's son, fares much better. Filling in for original star Cuba Gooding Jr. for the last few weeks, Brown is able to showcase the push and pull he feels between his aging mother and beautiful, demanding wife.
Surprisingly poignant is the talented Adepero Oduye as a traveler Carrie meets on the road. Oduye's part is one of the smallest in the two-act drama, and yet the actress is able to make it memorable. It's almost as if she's playing a younger version of Carrie, and this offers the two characters a chance to reflect on their similarities and divergent trajectories. Oduye's character, simply known as the "young woman on the bus," is trying to pick up the pieces after seeing her newlywed husband shipped off for the war. There's a sense of inevitable loss circulating this character, and Carrie knows a thing or two about loss.
The main plot point for the play is Carrie's dedicated resolve to move back to her small town on the coast of Texas. She wants to visit Bountiful one more time before she dies, and yet her son and daughter-in-law stop her passage at every turn. They believe the old woman's quest is fanciful and fraught with difficulty. They implore her to stay put and enjoy the rest of her years in the big city. But Carrie is no easy character to stop. Through several encounters of luck and cunning, she boards a bus headed to Bountiful, and her dreams start to take on a new reality.
Tom Wopat turns up in the final scenes as a sheriff, a kind man with the difficult job of trying to stop Carrie's plan at the finish line.
Foote's words are still beautiful, and it's great to see one of his classic dramas played out on a large Broadway stage. The scenery of the Watts' cluttered home is portrayed in stark contrast to the serenity of Carrie's old Bountiful estate. Visually The Trip to Bountiful can be breathtaking, and this helps us believe in Carrie's quest. Bountiful becomes an idea as much as a place to visit.
Michael Wilson's direction is nicely layered, and he has quickly become a skilled interpreter of Foote's work. At times the narrative can drag a bit, but Tyson, certainly the selling point for the entire production, keeps everything moving. Her words are softly spoken, but there's a pent-up frustration brimming beneath the surface. It's easy to believe that she wants this journey to end with one final trip to her house. Tyson has us buy into the trip as a spiritual, physical, metaphorical and deeply personal journey into the power of memories and the uncertainty of the future. This Trip is worth taking.
By John Soltes / Publisher / John@HollywoodSoapbox.com
The Trip to Bountiful

By Horton Foote

Directed by Michael Wilson

Starring Cicely Tyson, Vanessa Williams, Leon Addison Brown, Adepero Oduye and Tom Wopat

Running time: 130 minutes with one 15-minute intermission

Currently playing at the Stephen Sondheim Theatre at 124 W. 43rd St. in New York City.

Click here for more information.

Rating: