'Jason and the Argonauts' still a marvel 50 years later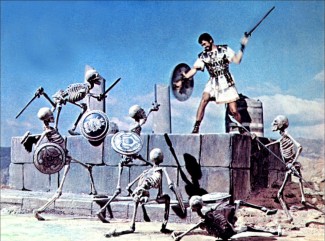 Recently, New York City's Film Forum held a month-long celebration of all things horror, sci-fi and fantasy. One of the hallmarks of the festival was a retrospective of the great Ray Harryhausen's career. On a double bill with The 7th Voyage of Sinbad was the incredibly engaging Jason and the Argonauts, a mythological classic that utilizes Harryhausen's unparalleled skill to make skeletons fight like a human army.

Directed by Don Chaffey and written by Jan Read and Beverley Cross, the film follows the adventures of Jason (Todd Armstrong) as he tries to retrieve the Golden Fleece from the tip of the world. The impetus for sending Jason on his journey is a weak part of the story (aren't the beginnings of most mythology stories rather weak?), but once the high-seas adventure begins, there's no stopping this action flick from winning over the audience.
Harryhausen, a master at making menacing monsters, employs an army of oddities to attack Jason and his Argonauts. Multi-headed creations square off against the men and their trusty swords. These battles make the film feel like a cross between a pirate flick and Lord of the Rings. The best sequence involves a gaggle of skeletons who come to life and try to stop Jason in his tracks. The special effects of these skeletons are remarkable, especially since the film was released in 1963. It's still mind-boggling to figure out exactly how Harryhausen was able to pull off this spectacle. I'd put this skeleton scene up against any modern-day big-budget blockbuster. There's more artistry in Harryhausen's creations, and this makes the film feel pure and somehow authentic (to the 1960s, not ancient times).
The storytelling can be clunky, and having Zeus and his fellow gods peer down on Jason's adventures seems too convenient a way to transition the scenes. But it's still nice to see Olympus becomes a peanut gallery of sorts, removed from the action but ever-critical.
The performances are of the swash-buckling variety. Actors grab swords, raise their arms toward the sun and then head toward the next obstacle. Armstrong does his best in the role, but the actors playing the gods (Niall MacGinnis's Zeus and Honor Blackman's Hera) fare much better, mostly because their enjoying their roles and have some fun with the dialogue.
The selling point for a 2013 audience is Harryahusen's exquisite work. This is the real deal, the golden age of special effects. For those who will complain about the all-too-convenient plot and stilted dialogue, there's only one message: Have some fun and stop complaining. Enjoy the warring skeletons with their swords and menacing skulls.
By John Soltes / Publisher / John@HollywoodSoapbox.com
Jason and the Argonauts

Directed by Don Chaffey

Written by Jan Read and Beverley Cross

Starring Todd Armstrong, Nancy Kovack, Niall MacGinnis and Honor Blackman

Running time: 104 minutes

Rated G

Rating: