'The 7th Voyage of Sinbad' delivers Ray Harryhausen goods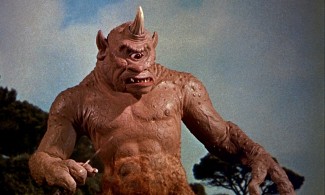 Ray Harryhausen, the genius visual effects artist way ahead of his time, has many masterpieces. One of his finest is The 7th Voyage of Sinbad, the Nathan Juran-directed fantasy picture featuring Kerwin Mathews as the title character. The film can too easily be viewed as another cheesy affair from the 1950s, but these instant critics are not enjoying the experience of this adventurous romp. The creatures on display in Harryhausen's world are truly mesmerizing, even this many years after their creation.
In the movie, Sinbad (Mathews) loves Princess Parisa (Kathryn Grant), but there's a few problems with their present situation. A magical spell has shrunk Parisa and placed her inside a genie's bottle. It's up to Sinbad and the dubious genie (Richard Eyer) to travel to the genie's homeland and find a cure. This mysterious island is home to several foreboding monsters, including a cyclops hellbent on ripping Sinbad's sailors to shreds and a dragon wanting to be released from his cave.
Despite some stilted dialogue from screenwriter Ken Kolb, the actors are able to stay dedicated to their roles. There's never a time when watching The 7th Voyage of Sinbad that the plot and characters feel manufactured. They definitely are, but the prevailing feeling is one of acceptance. Who cares if some plot holes are too big or some characters seem to be conveniently in the right place at the right time. This is a movie built on wonderment, and wonderment it delivers.
Harryhausen's work, most notably with the cyclops, is inspired and creative. His monsters look the part and, even with stop-motion rigidity, move around the sets with relative ease. The dragon sequence toward the end of the film is one of the strongest fantasy adventures captured on screen, and the ultimate duel with the cyclops is quite memorable.
Mathews is a standard, good-looking lead who says all the lines with his chest beaming toward the sun. The real joy in the cast is Eyer, who offers a creepy, crafty, almost devilish performance as the genie. In a movie with few curveballs, this central character is wonderfully difficult to pin down. Is he a good guy? Is he a bad guy? Is he to be trusted?
The 7th Voyage of Sinbad is so much fun and entertaining that it's quite easy to forget it was produced more than 50 years ago.
By John Soltes / Publisher / John@HollywoodSoapbox.com
The 7th Voyage of Sinbad

Directed by Nathan Juran

Written by Ken Kolb

Starring Kerwin Mathews, Kathryn Grant and Richard Eyer

Running time: 88 minutes

Rated G

Rating: