INTERVIEW: Hudson Horror Show prepares for John Carpenter retrospective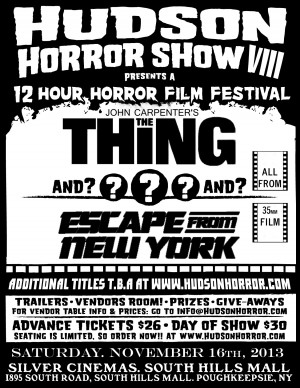 The eighth installment of Hudson Horror Show is set to scare the Poughkeepsie, N.Y., area to death. The 12-hour horror film festival, which will play Nov. 16 at the Silver Cinemas in South Hills Mall, will feature two John Carpenter classics: The Thing and Escape from New York. Other titles include Invasion of the Bee Girls and Horror Express. One more secret movie will be revealed the day of the festival.
Tickets, priced at $26, are currently available. However, with Hudson Horror's growing popularity, a sell out is likely. Recently Hollywood Soapbox exchanged emails with Chris Alo, co-producer of the event. Answers have been slightly edited.
You moved up the Hudson Horror Show from December to November. Was it a scheduling issue?
Yes, we've sort of hovered with having our fall HHS in between November and December. We've always done that to avoid crossover with all of the other great "Halloween" activities like Chiller Theatre, Exhumed Films 24 hour Horror-Thon, etc. We were planning on having this show again be in December, but personally there were too many conflicts for the Hudson Horror staff. The show kept getting bumped up earlier and earlier until we arrived on November 16th.
The first two movies, John Carpenter's The Thing and Escape from New York, should get genre fans excited. What do you love about these movies?
So many great moments in both films, it's hard to pick one out. Both are Carpenter films and both start Kurt Russell, yet they are so different from one another. I think what I love about both films is they are both "edge of your seat" movies and both have really stood the test of time, I think. I saw The Thing remake/prequel and it's not nearly as scary as Carpenter's film. It's not nearly as suspenseful as the 1951 version of The Thing.
I don't think I ever thought about it until recently, but I've come to the realization that John Carpenter could be the greatest genre director of all time. Name me another director that has done as many entertaining films as John Carpenter? I think if we were to ever do a double feature of a director, he's the guy. I'm so glad we could bring these two classics back to the big screen for one night.
A hint on the mystery movie …
We've also got a Mystery Horror Movie we are working on. Here's a slight hint, it's an awesome but somewhat lesser known horror film that I just heard may be getting the modern remake treatment. If we can work out the details, it's the perfect addition to our lineup.  If not, we'll book something just as gruesome!
Could you describe your new relationship with the Alamo Drafthouse in Yonkers?
Yeah the Alamo Drafthouse just opened a new theater in Yonkers, NY, which is about an hour south of us in Poughkeepsie, NY. I've been a big fan, myself and a bunch of other Hudson Horror staffers have been to the various Alamo's in Texas. They recently had their first ever 35mm horror screening, which was Squirm, with director Jeff Lieberman in attendance. They reached out for us to help spread the word and we were more than willing to assist. We all went to the Yonkers for Squirm and had a great time, the theater was awesome, the food was great, it's a fantastic place.
The Alamo has a massive archive of thousands of 35mm prints, so hopefully we can screen some of these very rare films in front of a Hudson Horror audience. We met Alamo CEO owner, Tim League, he got us in touch with the people who handle the archive, so that is a help and it is very exciting. Tim was extremely nice and we talked briefly so far about Alamo and Hudson Horror doing more in the future. I'm all for it!
The folks at the Alamo Drafthouse would be the latest in a long list of people that have helped us out like Grindhouse Releasing, Exhumed Films, and so many others. We have been very lucky and would not have made it this far without the help from so many people.
Is there one movie that you really want for the Hudson Horror Show but it's not available in 35mm?
Hmmm, I guess if I had to choose only one, it would be Enzo Castellari's Great White aka The Last Shark. I love Italian 80's horror and I'm a big JAWS fan, this is the absolute best of the JAWS rip offs. For those that don't know the story, Great White so closely resembles (or steals) from the JAWS franchise that Universal sued its distributor Film Ventures International back in 1982 and had the film pulled from theaters in America! As a result, Great White (which is a really fun film) has never been shown in the U.S. on TV or cable, no VHS or DVD releases, etc.
I remember reading that Quentin Tarantino tried to do a screening in Los Angeles a few years ago and Universal blocked him! So, even if we could locate a print, I don't think a Hudson Horror Show with Great White would ever happen. But JAWS at Hudson Horror? That's a possibility. Sure, it's on cable often, but it's an amazing film, it's also one of the scariest movies ever and I'm sure not many people have never seen it on the big screen.
Of all the movies you've screened so far, what one movie had the best reaction?
It's hard to pick a single film and to be honest, I'm not in the theater for each one. Between the vendors and general issues that come up at a show, I wish I could just sit and watch each movie, but it's not possible. One of the most surprising reactions was the original Conan the Barbarian. I love it, it's one of my favorite films, and I have the tattoo on my arm. But I really wasn't sure how well it would go over since it's not a horror movie. Thankfully, as always, the Hudson Horror audience was awesome and they really enjoyed it. But I was nervous before we ran it!
Would you ever consider a classic horror film such as the Universal titles?
Again, that is a very tough question. I have the utmost respect for the classic Universal films, but I don't know how well the 1931 Dracula would play alongside an Italian zombie or cannibal film.
There is one particular Universal film, and I did look into it. I am a big fan of Creature from the Black Lagoon, I thought of any of the classic Universal movies that would be the one that would go over the best at our show. I contacted Universal and they do have a 35mm print of it, but it's a 3D print, which I've seen theatrically. When 3D projection is done right, it's amazing, but when it's done wrong, it is difficult to sit through.
I know a projectionist who explained to me the logistics of proper 3D screenings; it's not something I ever want to attempt! But if we could ever get a hold of a flat 35mm print of Creature from the Black Lagoon that would be great. As far as the other Universal films, maybe not, but never say never!
Would you ever show DCP over 35mm — I can't imagine those old ones are still on 35mm.
Again, I'm going to say, never say never. The problem with DCP (besides the fact that our Silver Cinemas doesn't have digital projection yet) is that there doesn't appear to be that much available in the way of classic programming. I think eventually all of the big name titles will be available for DCP, but there is no way the smaller films ever will. Do you think any studio would spend the money for an Invasion of the Bee Girls DCP release? We can't even get a proper DVD of that. So I think the selection of rare films, not to mention vintage trailers, would always dictate that we would want to stick with 35mm as much as we could. In the future could I see us doing both DCP and 35mm? Sure, I guess so. I never thought we would make it to one Hudson Horror Show, let alone be looking to the eighth show, so why not?
By John Soltes / Publisher / John@HollywoodSoapbox.com
Click here for more information.