INTERVIEW: Creative team behind new 'Friday the 13th' documentary travels back to Crystal Lake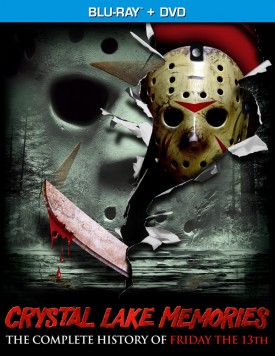 Crystal Lake Memories: The Complete History of Friday the 13th arrives on DVD appropriately enough on Friday, Sept. 13. The exhaustive film runs approximately 420 minutes and includes cast and creative interviews from every film in the franchise. Producer Thommy Hutson and writer-director Daniel Farrands (writer, Halloween: The Curse of Michael Myers) worked together on Never Sleep Again: The Elm Street Legacy, a retrospective on the Nightmare on Elm Street films. Now they're tackling Jason Voorhees and Camp Crystal Lake.
Recently, Hollywood Soapbox exchanged emails with Hutson and Farrands on all things Friday the 13th. Answers have been slightly edited for style. Click here for more information on the DVD release.
You both teamed up before on Never Sleep Again: The Elm Street Legacy — so what is it about these two horror franchises that interests you enough to devote so much time to these projects?
FARRANDS: My generation literally grew up on these films, and they were a huge inspiration to me as a kid who had aspirations to make my career in the film industry. When I was 14, I wrote a letter to Frank Mancuso, Jr. who was producing the Friday films for Paramount. This touched off a years-long relationship with Frank who really became a mentor figure for me in the business. When I got the job to write Halloween 6, I called Frank to tell him the news. He has been like my surrogate "uncle" in the film business, and I'm eternally grateful to him for the years of support and encouragement. Crystal Lake Memories feels like we've come full circle. Having edited Peter Bracke's book and producing the Deluxe Edition DVDs for Paramount (Parts IV-VIII), and now with the documentary I can certainly say we've survived more Friday the 13ths than anyone … except Jason of course!
HUTSON: A Nightmare on Elm Street and Friday the 13th were the horror franchises to watch when I was growing up; whether sneaking into the movie to see the latest film, or watching them with friends at home, finding a way to see them, and then actually watching them, almost felt like a rite of passage. Freddy and Jason were — and still are — icons of the genre and were a major, important part of horror movies of the 80s. Watching the movies, feeling terrified, being fascinated with the makeup and effects … it was a part of growing up for me and I never lost that feeling of being scared, but being safe. They were the ultimate thrill ride and being able to document the making of the films, and meet the amazing cast and crew that brought them to life, has been an incredible journey and a real honor. With these projects, it was great to showcase the hard work and the blood, sweat and tears that go into making these films. Now with Crystal Lake Memories, we're able to take Peter Bracke's book and bring it to life. It really is the ultimate campfire story!
What can fans expect from Crystal Lake Memories?
FARRANDS: Like the ads for The Final Chapter said: "This is the one you've been screaming for!" We basically went back to the template we created for Never Sleep Again for this show which chronicles the entire Friday the 13th franchise (including the in-name-only television show) and goes deep inside the making of each movie in sequential order, as told only by the people who were involved. We did not interview anyone who wasn't directly involved in the franchise in some capacity. It's an epic journey at nearly seven hours, but it's designed so you don't have to take it all in at once. Somehow we survived a filmmaker commentary where we sat through the entire show with virtually no pauses. I wouldn't advise trying it at home! At least not without a bathroom break or two.
HUTSON: It's great because we are really able, thanks to an almost seven hour running time (!), to truly showcase the making of each film, digging deep behind the scenes to tell the real tale of how the cast and crew brought each film to the screen. What's exciting, too, is that everyone involved really shared their memories, whether good, bad, or ugly, as they recount their time on the movies. It's going to run the gamut from the original film all the way to the remake/reboot/reimagining (we've discovered the jury is still out on what people like to call it!), including the TV series. With over 150 interviewees from across the franchise, it's going to be loaded with all the Friday the 13th a fan could want … and then some!
What were some of the biggest surprises you discovered after talking with the people responsible for Friday the 13th?
FARRANDS: I think that the Friday films, although reviled by most critics and mainstream press at the time as a crass attempt at commercialism, really were the training ground for a lot of rising talent. From budding directors, writers, actors and effects artists, these movies gave a lot of people a chance to hone their craft and, more importantly, brought the horror genre back in a big way. The fact that the series has lived on for more than 30 years speaks to its power and influence. It's become part of our pop culture. Anyone who hears "k-k-k-ma-ma-ma" knows exactly who's coming!
HUTSON: What seems to be the most surprising is the longevity of the franchise. The fact that decades later people still talk about the movies and watch them. Also, how many people still love them. Although they were largely ignored (at best) and loathed (at worst) by critics, audiences kept turning out to see the latest exploits of Jason, which is a testament to the power of genre fans. I think what was also surprising and interesting were the behind the scenes tales of who did what, and why some things happened, and that sort of thing. So many of these films were made by younger people just starting out, trying to get their chance in the film business and they really went for it, no holds barred, so it's always interesting and somewhat inspirational to see how far some people have come since their time at Camp Crystal Lake.
How did you come to the decision to include Corey Feldman as the narrator?
FARRANDS: As a boy, Corey created one of the franchise's most relatable heroes in the character of Tommy Jarvis, who in many ways served as the voice of the audience — he was the character we could identify with and the only one who could (at least at that point) take Jason down. Now that Corey has (like the audience — or at least most of them!) grown up, we thought he was the perfect choice to reconnect with that core audience and guide us through the making of the series.
HUTSON: Corey just seemed like such a natural idea since his character Tommy, and his portrayal of him, is so well-known. He is so good with the fans and is always supportive. Combining that with the legacy of the film and the fact that his character "killed" Jason seemed like a perfect fit to take us all back to camp.
The documentary is a tremendously long examination of the movies. What is it your intention to have such a long movie?
FARRANDS: As with Never Sleep Again, we never really had a preconceived idea of how long the show would turn out to be. Knowing that we wanted to go as in-depth as possible (and knowing that you can't interview everyone or cover each and every story), we had a notion that Crystal Lake Memories would be at least as long as Never Sleep Again. Rushing a show like this will leave fans feeling cheated, so we really just let the content dictate the running time. With 12 films, a TV series and more than 150 interviewees we certainly had our work cut out for us, but we hope fans will appreciate the effort and love (and yes, even the insanity) that went into it.
HUTSON: We never go into these projects thinking they should be a certain length; we always let the content dictate how long the show should be. At the end of the day, it's about telling the best, most interesting and entertaining story. As things start to play out and come together, you realize you'll need a certain amount of time for different movies and different stories. The other factor is there were simply more movies to cover in the Friday franchise, so we knew we'd have a running time in the ballpark of Never Sleep Again. It was a huge undertaking, but we're really excited that fans will get to sink their teeth into every film in a way that tells the best story possible.
For the record, what are your favorite horror movies and why?
FARRANDS: The original Halloween has always been my favorite horror movie. It single-handedly created the modern horror film, and that template hasn't changed much since. It's the classic tale of good vs. evil, but the simplicity of the piece, as well as the acting, the mood, the cinematography and of course the iconic mask of Michael Myers all contributed to it becoming a true classic of the genre — and cinema itself. I also love The Shining, A Nightmare on Elm Street (particularly I, III & VII), Jaws, The Silence of the Lambs, The Exorcist, Poltergeist, Rosemary's Baby, Dawn of the Dead — and, oh yeah, Friday the 13th!
HUTSON: I love the original A Nightmare on Elm Street. Looking back, I was probably a tad too young to be seeing it in the theatre, and I was so terrified I wanted to leave. I didn't, and the power of feeling scared, but somehow deep down knowing I was going to be just fine, really stayed with me. There was such style in that film and its premise. I'm a big fan of movies with great story and great characters that scare you, make you think, leave you guessing. I love [David] Cronenberg's The Fly, [John] Carpenter's The Thing, Poltergeist, Halloween, Scream, Night of the Living Dead, Alien, Psycho.  Oh, and a little movie called Friday the 13th, of course!
Any plans for a Halloween franchise documentary?
FARRANDS: Since I wrote one of the Halloween films, it might come across as a little biased if I were to tackle a franchise documentary on the series. That said, if there's one thing I've learned over the years it's to never say never. We don't have any immediate plans for another genre retrospective, and frankly a lot of other people are already writing books and making documentaries of their own. If in some small way we cleared the path for others wanting to chronicle the making of movies that inspired them or changed their lives in some way, I feel like we might have done something cool that, like the Friday films themselves, could live on through future generations of filmmakers. And I have a funny feeling that Jason, Michael and Freddy will still be around to see it.
HUTSON: After the over year-long trek through the woods to finally unleash Crystal Lake Memories, the next project I want to work on is getting a good night's sleep. But, honestly, there are always films that have a story and a fan base that wants to hear them. I'm glad that, in whatever tiny way, we were able to pull back the curtain on movies that inspired us, inspired others and paved the way for a new generation of filmmakers, artists and craftsmen who love the genre and movies in general. These aren't just stories about horror films; they're stories about how movies that made an impact were created and why they stay with us. As for what's next? I'd tell you, but I'd have to kill you…
By John Soltes / Publisher / John@HollywoodSoapbox.com
Click here for more information on Crystal Lake Memories.