INTERVIEW: Amber Iman brings Nina Simone to life in 'Soul Doctor'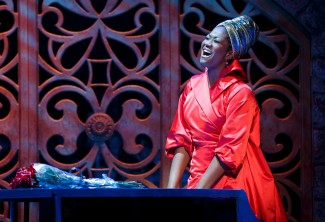 On Thursday, Aug. 15, Amber Iman will officially make her Broadway debut. The actress, who is currently appearing as Nina Simone in Soul Doctor, said the exhilaration of overcoming this professional hurdle is like going from "zero to 100 over night."
Iman has acted in off-Broadway's Rent and A Civil War Christmas, but earlier in 2013 she found herself unemployed, looking for a job and thinking about waiting tables. A few months after those rough times, she's now on Broadway, opening a new musical about the life and times of rockstar rabbi Shlomo Carlebach and his interesting relationship with jazz great Nina Simone.
"It couldn't really happen any other way," Iman said recently during a phone interview. "It's been really fast. It's been really no time to like sit in the moment, but just go and do and enjoy it and embrace it. So I'm really excited, and yeah I can't wait for us to start putting this thing up and for people to start coming to see it. It's a really exciting time."
The actress' first introduction to Soul Doctor was through YouTube where she caught a couple clips from its previous incarnations. "I remember saying to myself, 'I would love to see the show.' I was like, I hope I can get tickets because it looks pretty amazing. And just through a series of wonderful and fortunate events, I kind of got myself into the audition process."
Auditioning for the show, Iman said, was a lengthy process. She had more than five callbacks, and she needed to sing "I Put a Spell on You" for the creative time.
"They put us through the Nina ringer," she said. "That's what I called it. It was a lot of hard work, but I was so glad. I remember doing the audition process. I was like, no matter what happens, to stand in a room and sing these amazing songs and to tell a really beautiful story, I was just happy to be here. So to go through the audition process and to come out on top at the end was kind of spectacular."
Simone, known as the high priestess of soul, left an impressive catalog of music and heavily influenced several genres, especially jazz. Iman said she knew as much about the singer as the average soul/jazz music listener knows. To become an expert, the Broadway actress listened to Simone's music, and eventually it was easy to form a positive opinion about the legendary singer.
"Nina is one of those artists, unlike a lot of artists today, where if you buy a record and you listen to it from start to finish, you don't know who they are … you don't know what they stand for, you don't know their message, you don't what makes them happy, sad, hurt, the pain that they've been through. You don't have any idea. … But if you listen to a Nina album, you feel like you're having a conversation with her in your living room over some tea. And she'll give you everything from 'Mississippi God Damn' to revolutionary songs to the love and the sexy, I'll-put-you-in-a-mood music to outrage for her feelings about [what] she sees not only in this country and what she's dealing with, but suffering from … heartbreak, from dealing with men who were just not worthy of her, of men who didn't know how to love her. Like there's so much you learn from her just from listening to her music."
Iman said she danced around in her apartment to the songs, and that was all the research she needed.
Her Soul Doctor acting team has been through a lot in the rehearsal process. The show's Broadway transfer (it was previously seen in Florida and off-Broadway at the New York Theatre Workshop) came together rather quickly, so bonding was necessary. "Those experiences like that always force you to kind of come together and to bond and to love on each other and to hold each other up very quickly," she said. "So having Eric [Anderson, playing Carlebach] as almost our fearless leader is wonderful. He's an amazing performer. He's an amazing guy. We have this thing where we always check in with each other. I check in with him. He checks in with me. Are you okay? How you feeling? What you need? You need a hug? It's very much one of those environments where we take care of each other, and we're here for each other."
Although Iman had knowledge of Simone's legacy, she was completely new to Carlebach's story. In his prime, the rabbi became a cultural phenomenon, offering concerts around the world and attracting diverse audiences. He coupled traditional melodies with the vibe of new American music, altogether creating a sound unheard of throughout the world.
"It was definitely interesting for me to sit down and read about this wonderful man and all that he's done, the traveling and changing the world," she said. "We're all aware that we have a unique opportunity to tell a very unique story at a very unique time, not only in the summer but a unique time in our country."
Iman said she hopes people make room in their schedule for Soul Doctor, which is playing an open-ended engagement at the Circle in the Square. She cites the music and its unique quality among other Broadway shows as strong selling points. "I hope, and I'm pretty certain, all of those things put together … will kind of attract people to say, 'We don't know what it is. We're not sure. We've never heard of it, but it looks kind of good. It feels different. It probably feels right.' And I think if people allow themselves and open themselves up, I think they will walk away with something unique and wonderful and life-changing and a beautiful night of theater."
The audience members with the most profound appreciation will likely be Iman's family members.
"I have a crazy family that's trying to see it 19 times before it opens, and they call me and bug me every day about how many tickets can they get, and when, and can we go out to eat," she said. "Everyone in my family is incredibly excited because they're all so invested in me, and they've all helped me get here. And whether it was cooking meals or giving me $20 when I only had $2, or you know they've been watching me since I was young, and so now that I have finally 'made it,' they want to be here every step of the way. But there's still a lot of work to be done, and I'm excited about that work."
By John Soltes / Publisher / John@HollywoodSoapbox.com
Click here for more information on Soul Doctor.